Bairro Alto Hotel is one of the five-star luxury boutique hotels located in Portugal. It's located at the heart of the capital city, Lisbon. The hotel's building is a historical one constructed in the 18th century. Also, it's listed in the 2020 Condé Nast Traveler Hot List, and it's a member of the Leading Hotels of the World.
Thanks to its location, the hotel is close to a metro station and several shopping places in Lisbon Old Town. While staying in the hotel, you can easily visit the nearby attractions like the National Museum of Natural History and Coliseu dos Recreios. There are also several galleries and restaurants located in the neighborhood.
Let's get to know more about Hotel Bairro Alto.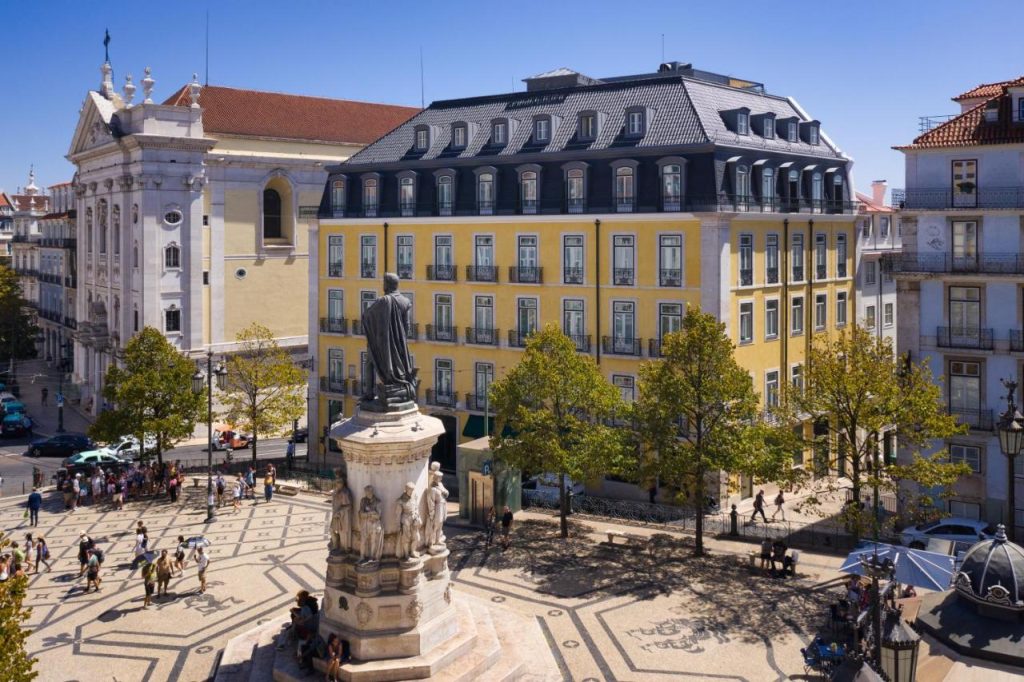 Amenities and Facilities
The amenities that the hotel provides are an airport shuttle, an onsite spa and fitness center, and a terrace. Not to mention that its rooftop and terrace have stunning views of the city. You can ask for a bicycle rental or join walking tours as well.
You can benefit from free WiFi throughout the building. The hotel also provides cleaning and laundry services. There are tea and coffee makers in all rooms.
At its onsite restaurant, you can enjoy delicious meals as well. Breakfast also comes in different options including American, a la carte, vegetarian, and more. Cooked-to-order breakfast is available.
Onsite valet parking is available at a daily fee of €25.
Note that pets are not allowed in the hotel.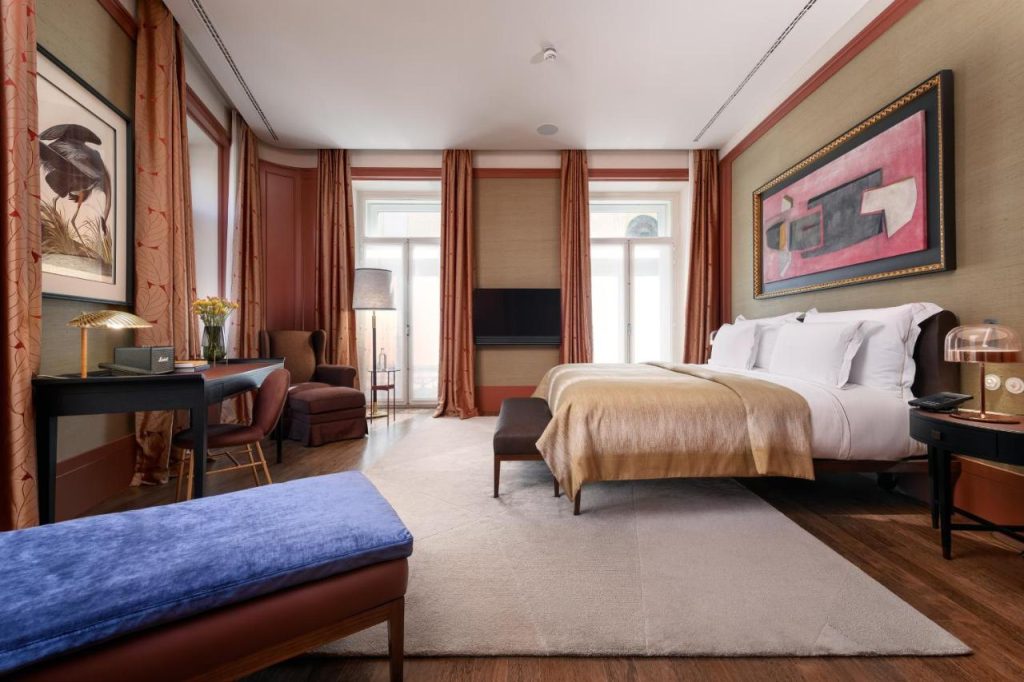 Rooms
There are different room options at the hotel including single and double rooms and suites. Out of 87 rooms, two of them are signature suites, and eight of them are suites. There are also 12 junior suites as well.
You can enjoy the views of the Tagus River as well as Chiado and Bairro Alto views in your room. A 24-hour room service, hair dryers, bathrobes, and air conditioning are also available in rooms.
Foods, Drinks, Restaurants, and Bars
Cooked-to-order breakfast costs €32 for adults, and €16 for children. It's available from 7.30 a.m. until 11.30 a.m. on weekdays. On weekends, breakfast is available until noon.
There's a restaurant called Bahr, and a cocktail bar in the hotel. There's also a rooftop area of Bairro Alto Hotel Rooftop Bar to get fresh air and enjoy the view.
BAHR
Located on the fifth floor, BAHR offers the Tagus River view from its terrace. It also includes a bar. What's more, you can visit the place no matter if you're a guest or not. Bairro Alto Hotel Restaurante also has an award-winning chef. You can find an a la carte menu and Portuguese cuisine here. It's open for breakfast, lunch, and dinner. It also offers a cocktail hour as well.
The Patisserie
Besides Bairro Alto Hotel Restaurant, you can visit The Patisserie for light food. It's situated on the ground floor of the hotel and serves freshly made pastries.
18.68 Cocktail Bar
The bar offers a range of drinks including special cocktails, wines, and other beverages. It is an elegant bar that offers a snack menu as well.
Wellness and Fitness Facilities
There's a fitness and spa center in the hotel. You can use the sauna, steam room, and several massage types at this center. The fitness center has a personal trainer and fitness classes.
Business, Meeting, and Event Facilities
There are three meeting rooms and one auditorium and one foyer at Bairro Alto Hotel. You can hold meetings and other events here.
Check-in and Check-out Times
Check-in: Starts at three p.m.
Check-out: Until 12 a.m.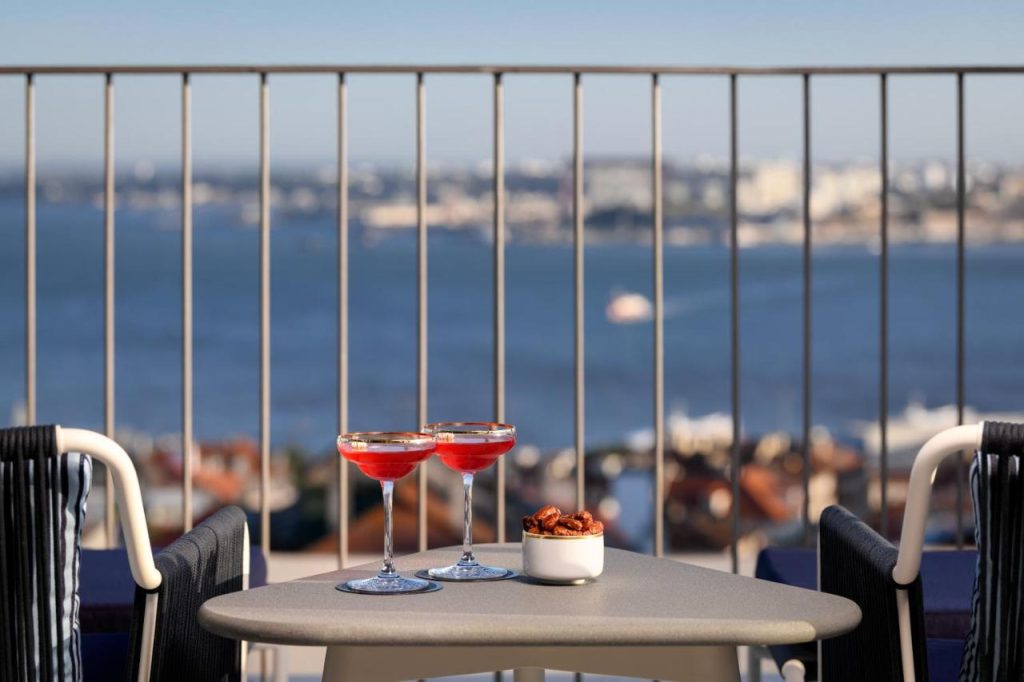 How To Reach The Hotel: Address
The address of the hotel is Praça Luis De Camões 2, Misericordia, 1200-243 Lisbon, Portugal.
The hotel is one minute's walking distance away from the Pç. Luis Camões Stop. It takes around half an hour's drive to reach the hotel from Humberto Delgado Airport (LIS). If you use the metro, you can leave at MetroBaixa/Chiado Metro at Chiado. The hotel is 100 meters away from the station.
The nearby attractions in the neighborhood include The National Museum of Contemporary Art, St. George's Castle, and Camoes Square.
FAQ
Is there a rooftop bar at the hotel?
Yes, Hotel Bairro Alto Rooftop Bar of BAHR offers you both views of the city and great drinks.
What are the types of rooms at Bairro Alto?
Bairro Alto Hotel offers a variety of rooms, including standard rooms, superior rooms, and suites. All rooms are equipped with modern amenities, such as high-speed internet access and air conditioning.
Does Bairro Alto Hotel have a restaurant?
Yes, Bairro Alto Hotel has a restaurant on-site that serves a range of local and international dishes. The restaurant also offers a selection of fine wines and other beverages.
Does Bairro Alto Hotel have a wellness center?
Yes, Bairro Alto Hotel has a wellness center that offers a range of treatments and services, including massages, facials, and body treatments. The wellness center also has a sauna and a steam room for guests to relax in.
How can I make a reservation at Bairro Alto Hotel?
To make a reservation at Bairro Alto Hotel, you can visit the hotel's website and book a room directly through the online booking system. Alternatively, you can contact the hotel directly by phone or email to make a reservation.