With its festivities and attractions, Lisbon can easily fill up your chart for a 1-week holiday. Day trips, city sightseeing, and nearby beaches are all within reach. Do not forget the vibrant nightlife, high-quality food, and generally mild climate that allows increased action.
You'll need a Lisbon Portugal itinerary for your journey. That's why we're here for you.
Essentials About Lisbon
First things first, let's start with a little introduction to what you should know before visiting Lisbon.
Money:

Euro (€)

Language:

Portugal's official language is Portuguese in Lisbon.

Population:

500,000 people.

Famous for:

Lisbon is an old town with numerous structures and monuments to appreciate. It is the capital of Portugal and has more history around the globe.

Accommodations:

Lisbon has options for everybody. In the city, you may find anything from expensive hotels to really affordable flats. Lisbon has so much more to offer, from breathtaking terrace views to fantastic amenities and services.

Is Lisbon Safe?

Lisbon is a secure place to go since the Portuguese are one of the safest European nations.
How to Get Around Portugal in One Week
Renting a car and driving across Portugal is the most convenient method to see every destination on our itinerary. You can your Lisbon days as you wish.
With railroads linking all the big cities and affordable buses that can take you practically everywhere. Portugal has a strong public transportation system.
Yet, a vehicle is the most convenient way to go to some of the off-the-beaten-path villages on your one-week in Lisbon plan. You won't always need it, though; in larger cities like Porto and Lisbon for instance, it's simpler to get around on foot.
Lisbon 7 Days Itinerary
Here is your ultimate Lisbon itinerary for 1 week.
Day 1 – Alfama, Baixa, Cais do Sodre and Bairro Alto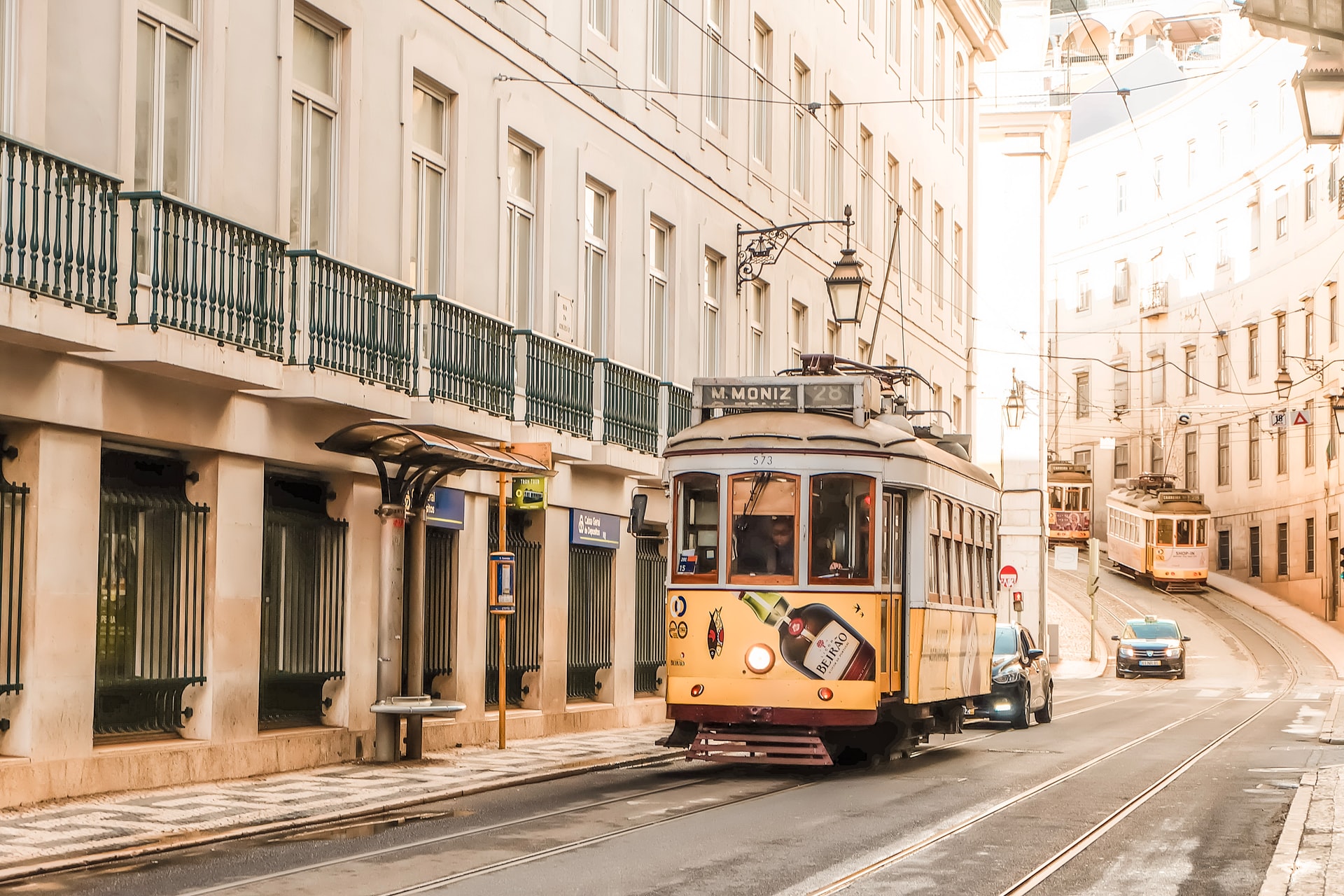 This busy first day visits the Alfama, Baixa, Cais do Sodre, and Bairro Alto districts. These four regions provide you with an appetizing introduction. It's a perfect starting point for our Lisbon travel itinerary.
Alfama Highlights
The ancient Lisbon castle

The Se Cathedral

The Miradouro de Santa Luzia viewpoint

The exterior of the Casa dos Bicos
Baixa Highlights
The magnificent Praça do Comércio

Arco da Rua Augusta's views over the city

The Elevador de Santa Justa

The Rossio Square, the heart of Lisbon

A glass of Ginja – a sweet cherry liquor
Cais do Sodre Highlights
The Timeout food market

The Ribeira das Naus water front

A ferry ride from Cais do Sodré to Cacilhas

A ride on the Bica Funicular
Bairro Alto Highlights
The bustling Praça Luís de Camões

The view from the Miradouro de São Pedro de Alcântara

The Largo do Carmo and ruins of the Convento do Carmo

The Igreja de São Roque
Day 2 – Belem, Alcântara and Estrela districts
You may visit as many as three districts but you should prioritize Belem since it's the scenic western part of Lisbon that hosts lots of parks and gardens embraced by the Tejo River. The district contains the extravagant Jeronimos Monastery, the charming Torre de Belem, and Padrão dos Descobrimentos, and is reached by riding the E15 tram.
Highlights of Alcântara
LX factory's chic charts

Museu da Carris

Doca de Recreio de Santo Amaro
Highlights of Estrela
The Basílica da Estrela

The Palácio de São Bento

Tram 28's quiet route
Highlights of Belem
The Torre de Belem

The Mosteiro dos Jerónimos

The Padrão dos Descobrimentos

The pleasant stroll along the estuary

Pasteis de Belem, a delicious custard tart

The Berardo art museum

The Museu Nacional dos Coches

The MAAT museum
Day 3 – Parque das Nações – North Central Lisbon Area
The Parque das Nações has actively become the contemporary and corporate attraction site of the city since its first opening for the Expo 1998. Located in the eastern section at the banks of the Tejo Estuary, it accommodates bold architecture, modern designs, and aqua gardens.
The second activity for the day should be treading the enjoyable pathway from the Calouste Gulbenkian Museum to the Praça dos Restauradores. This 3.5km downhill route passes through the Parque Eduardo, Praça do Marquês de Pombal square, the tree-lined avenue of the Avenida da Liberdade before ending at the Praça dos Restauradores.
Highlights of Parque das Nações
Lisbon Oceanarium (great for families)

The cable car along the waterfront

The Torre Vasco da Gama, the tallest building in Lisbon

The modern Vasco da Gama shopping center

The Casino Lisboa

The striking modern architecture
Afternoon highlights
Museu Calouste Gulbenkian, Lisbon's finest museum

The Miradouro do Parque Eduardo VII viewpoint

Praça do Marquês de Pombal

A ride on the Ascensor da Glória Garden

Jardim Botânico
Day 4 – Day Trip to Sintra
Sintra lies within the Serra de Sintra, and these pine-covered hills conceal extravagant palaces, magnificent mansions, and ancient castle ruins. Climbing trails and hiking paths with enjoyable panoramic views accompany historical heritage. There is a direct train from Lisbon to Sintra, and a bus service (route 434) connects the station to the main tourist sights. Since Sintra gets quickly crowded during the day, start early. It's a great choice to spend 1 week in Lisbon. It's worth sparing a couple of days to Sintra since the sightseeing opportunities are many:
The Palácio Nacional de Sintra

Remains of Castelo dos Mouros

The Palácio Nacional da Pena (highlight of the day)

The Parque e Palácio da Pena• Quinta da Regaleira and gardens (highlight)

Exploring the historic center

Palácio de Seteais

Palácio de Monserrate

Vila Sassetti with nearby hill hiking paths
Related Articles:
Day 5 – Cascais Day Trip
Portuguese fishing tradition goes hand in hand with some great examples of 19th-century architecture in this hub. Originally Cascais was a minor fishing harbor but was transformed when king Luís I (1861-1889) decided it would become his royal courts summer retreat. Today, Cascais is a multifaceted holiday spot that offers scenic beaches, magnificent historical sites, and charming authenticity in the town center. Cascais is connected to Lisbon by an easily accessible, regular, and affordable train service It's one of the perfect choices to spend one week in Lisbon. A day trip should include:
The Condes de Castro Guimarães villa and museum

The pretty Praia da Rainha beach

The Boca do Inferno cliff formation

The Parque Marechal Carmona

The Cidadela de Cascais
Day 6 – Day on the Beach or A Day Trip To Obidos
The vast number of nearby beaches well connected to the city center glamorizes the tourists. West of Lisbon is home to the popular beaches of the Oeiras-Estoril-Cascais line, all equipped with sandy coasts and cozy resort towns well-suited to families. South of Lisbon, the virgin beaches of the Costa da Caparica coast extend almost over 25km along the western side of the Setubal Peninsula. The water is ideal for surfing. It's one of the perfect matches for water lovers to spend 1 week in Lisbon.
The Praia de Carcavelos is a vast sandy beach, with clean sea waters and excellent tourist facilities, and is only a short train ride from central Lisbon. Also, Obidos is a classic Portuguese-walled town and is one of the most picturesque towns close to Lisbon. If you are not interested in enjoying the beach or the weather gets worse, Obidos should be the alternative end of the spectrum.
Day 7 – Day Trip To Setubal or Sesimbra
For the final day, it is suggested to visit Setubal or Sesimbra. Setubal is a busy port city with an impenetrable fort, a lively daily market, and a characterful historic center. Departing from Setubal's harbor are ferries to the paradise beaches of the Troia Peninsula. Sesimbra is a traditional beach resort that is a favorite with Portuguese holidaymakers. The town has a glorious sandy beach, is famed for its seafood restaurants, and has a distinctly Portuguese atmosphere. Situated between Setubal and Sesimbra are the jagged hills of the Serra da Arrabida and the beautiful Portinho da Arrábida coastline. Setubal is connected to Lisbon by train and bus services while there are regular buses to Sesimbra.
We hope you like our complete Lisbon itinerary for one week.
FAQ
Is 1 week in Lisbon too long?
Although 1 week in Lisbon may seem like a long time, there is a lot to see and do in this historic city. From exploring the narrow streets of the charming Chiado district to soaking up the sun at one of the city's many parks, there is plenty to keep visitors occupied. What's more, 1 week is just enough time to sample some of Lisbon's famous seafood dishes and refreshing white wines. With so much to offer, it's no wonder that Lisbon is one of Europe's most popular tourist destinations. So if you're wondering whether 1 week in Lisbon is too long, the answer is no!
How can I spend a week in Lisbon?
When planning your trip to Lisbon, there are several things you should consider. For starters, it's important to decide what type of experience you want to have during your time in the city. You might choose to take day trips out into the surrounding countryside or spend your evenings exploring the many restaurants and bars in central Lisbon. Additionally, it's important to think about how much time you have and how much you want to pack into each day. A week is a good amount of time to get a real sense of this exciting city, but it can easily be whittled away if you're not careful with your schedule. In short, whether you're looking for an adventurous outdoor experience or a more relaxed urban adventure in Portugal's fascinating capital city, there will be no shortage of things to do while spending a week in Lisbon.
How to get around Portugal?
While exploring Portugal, there are a few different methods for getting around. One option is to use public transportation, such as buses and trains. These services can often get you to most of the major cities as well as some of the smaller towns, and they are generally affordable and convenient. Additionally, many cities in Portugal offer taxis as another viable transportation option. Whether traveling individually or in a group, taxis can be a quick and easy way to get around town.
If you prefer to explore on your own, car rentals may also be an option. Whether you wish to drive on your own or join a tour, renting a car can give you the flexibility and freedom to visit off-the-beaten-path destinations at your own pace. Finally, if you are adventurous at heart and love to hike or bike around new areas, then Portugal's extensive network of walking trails and cycling paths might be just what you are looking for. From the rugged coastline of the Algarve region to the rolling vineyards of the Douro Valley, these scenic trails offer endless opportunities for outdoor fun and exploration.
How to get to Lisbon from the airport?
If you are traveling to Lisbon from the airport and want to get around the city, there are several options available. One of the simplest and most convenient choices is to use public transportation, such as taxis or buses. Both of these options are relatively affordable and get you around quickly and easily. Alternatively, if you would prefer to get around on your own, you can rent a car or use a ridesharing service like Uber or Lyft. While these options can be more expensive than public transit, they may be more convenient depending on where you are staying in the city. Ultimately, the best way to get around Lisbon depends largely on your travel preferences, so consider your budget and travel goals when making your choice.
How much pocket money would I need for a one-week trip to Lisbon and Porto?
To determine how much pocket money, you would need for a one-week trip to Lisbon and Porto, first consider your travel expenses. This included transportation to and from the airports, as well as any costs associated with getting around while in the cities. Based on my research, it is estimated that you would need to budget approximately $300 for these expenses. In addition, you also wanted to make sure that you had enough money for food, as well as any sightseeing or entertainment activities that you might want to participate in. After careful consideration, you decided to set my total budget at around $500 for the week. With this amount of pocket money in mind, it should be easy for me to have an enjoyable and affordable trip to Lisbon and Porto!
Is it possible to visit Lisbon, Porto, and Lagos in one week?
There is no doubt that Portugal's beautiful port cities of Lisbon and Porto are must-see destinations for anyone visiting the country.
To start your trip, we recommend spending a few days in Lisbon getting a feel for the city and soaking up all that it has to offer. This vibrant port city combines historic buildings with modern cafes and lively entertainment districts, making it perfect for those who love exploring new places or simply chilling out with a glass of port wine by the coast.
Finally, after spending some time exploring both Lisbon and Porto, your trip would not be complete without a visit to the gorgeous coastal town of Lagos in southern Portugal. Renowned for its picturesque fortresses standing guard over golden beaches fringed with palm trees and crystal clear waters perfect for diving and snorkeling, Lagios exudes old-world charm while also offering plenty of fun activities that will keep you busy day and night.
How many days in Lisbon do you need?
When planning a trip to Lisbon, one of the first considerations is how many days you need to fully explore this vibrant and exciting city. While there is no definitive answer to this question, most travelers recommend allowing at least 3-5 days to experience everything that Lisbon has to offer. This allows plenty of time for wandering the charming streets and relaxing in sunny plazas, as well as exploring the city's vibrant culture and diverse cuisine. Whether you're interested in heading out on day trips to nearby beach towns or going on hikes through charming hillside neighborhoods, you'll find that there is always something new and exciting in Lisbon waiting for you. So if you're looking for an unforgettable travel experience, be sure to plan your trip carefully so that you can enjoy all that this truly remarkable city has to offer.
Is Lisbon a walkable city?
When it comes to walkability, Lisbon is truly one of a kind. With its scenic city streets and sidewalk-lined walkways, this picturesque city invites visitors to walk from place to place. Whether you're exploring the quaint alleys of the Alfama neighborhood or strolling along the banks of the Tagus River, there's always something new and exciting to discover in this walkable city.
But what sets Lisbon apart when it comes to walkability is its incredible mix of old and new. From colorful buildings dating back centuries to gleaming high-rise towers that seem straight out of the future, this dynamic city offers something for everyone. And thanks to the many bike-share options available around town, it's easy to get wherever you need to go without breaking a sweat.
Which is better Lisbon or Porto?
There is no easy answer to the question of which city, Lisbon or Porto, is better. While both cities have their individual strengths and appeal, it really depends on what you are looking for in a travel destination. If you are interested in cultural heritage, then perhaps Porto should be your first stop. From its many beautiful churches and medieval palaces to its quaint cobblestone streets and bustling port areas, there is no shortage of historic sites to explore in Porto. However, if you are looking for a more vibrant city with buzzing nightlife and trendy shops and restaurants, then Lisbon might be your ideal choice. With its eclectic mix of traditional neighborhoods as well as modern shopping districts, Lisbon offers something for everyone. Ultimately, choosing between Porto and Lisbon comes down to personal preference – so visit both cities and decide for yourself!
What part of Lisbon is best to stay in?
One possible option is to stay near the bustling center of Lisbon. Here you will find a wealth of attractions and activities, as well as plenty of dining options and shops. However, this area is also very tourist-heavy, so if you prefer to stay in quieter surroundings then it may not be the best option for you.
Alternatively, another good choice would be to stay near one of the city's beautiful parks. While these areas may be slightly farther away from the main sites and attractions in Lisbon, they offer a more tranquil environment that can make for a relaxing stay. So whether you are looking for vibrant nightlife or quiet escapes into nature, there is really no wrong answer when it comes to choosing where to stay in Lisbon.
What is the best month to visit Lisbon?
When it comes to planning a trip to Lisbon, one of the most important considerations is the best time of year to visit. While some travelers prefer sunny, summer months filled with warm weather and clear skies, others prefer the cooler, slower pace of spring or fall when the crowds are smaller and the weather more comfortable. Ultimately, there is no definitive best month for visiting Lisbon. Different seasons offer unique advantages and disadvantages depending on what type of experience you are looking for. For example, if you are hoping for colder temperatures and fewer crowds, then you may want to consider visiting in October or April. Conversely, if you love warmer weather and packed events calendars, then July or August may be your best bet. Ultimately, only you can decide what kind of trip best suits your tastes and needs when it comes to exploring Lisbon. However, whichever month you choose to visit this charming city, you can be sure that there will be plenty of great things to see and do at any time of year.
Is Madrid or Lisbon better?
For starters, Madrid has a much more vibrant atmosphere than Lisbon does. There are endless entertainment opportunities here, whether it's visiting museums or hitting up the local bars and clubs. The food in Madrid is also second to none. From traditional Spanish dishes like paella to fusion cuisine cooked up by cutting-edge chefs, there's something for everyone to enjoy here.
With all of this in mind, we believe that Madrid is the better option between these two great European cities. Whether you're looking for delicious food or exciting nightlife, you won't be disappointed by what this incredible city has to offer. So if you're thinking of taking a trip to Europe anytime soon, be sure to put Madrid at the top of your list!
What's Next?