Living in Lisbon comes with great advantages for all residents. It attracts people with its low cost of living, rich culture and cuisine, warm climate, and strong infrastructure. The capital city of Lisbon gets more than 300 days of sunshine a year. 
When you live in Lisbon, you enjoy both its historical beauties and the vibrant lifestyle. The nightlife in Lisbon is one of the examples of this vibrancy. 
Lisbon offers developed healthcare and education systems for the locals and expats as well. So, even foreigners in Lisbon can benefit from amenities in Lisbon as much as locals can.
Let's dive into more detail about this great city located in the heart of Portugal.
Where is Lisbon?
So, where is Lisbon located exactly? Lisbon is the capital city of Portugal, located on the Atlantic Ocean. Being the largest city of Portugal, Lisbon is located on seven hills. Following Athens, Lisbon is also the second oldest European capital. There are also beaches you can reach within Lisbon in a short time. When you go to the west of Tagus River, you'll have options like Carcavelos, Guincho, or Sintra-Cascais National Park. These are only a few destinations you can enjoy near Lisbon
How To Get to Lisbon
After the answer to the question "Where is Lisbon?", we can continue to the question of how to go to Lisbon. 
Lisbon's airport is Humberto Delgado Airport. It's easy to reach here from Alfama district, taking 15 minutes to arrive. The airport serves over 20 million passengers in a year.
Many flights from the US, Canada, and Europe are available for traveling to Lisbon. From the west coast of the US, it takes around 13-15 hours to arrive at Lisbon. If you take off from the East Coast, it'll take a few hours less. In addition, regular flights between London and Lisbon are also provided through TAP Portugal and EasyJet.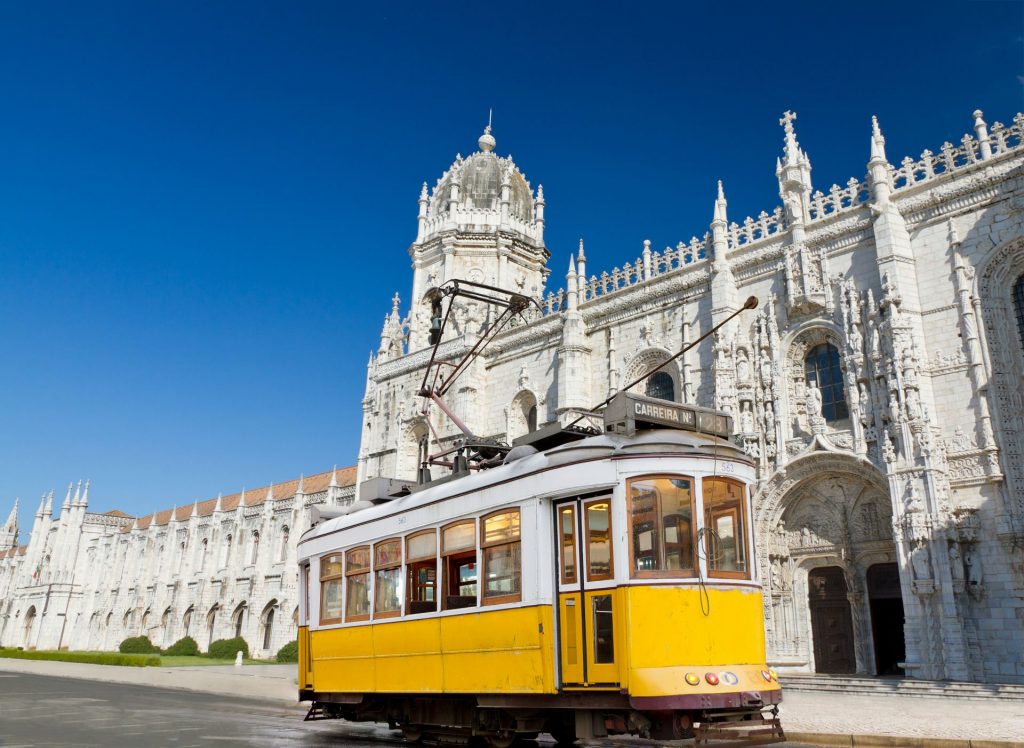 Cost of Living in Lisbon Portugal
Lisbon Portugal cost of living is very low when compared to other European countries. Similarly, Lisbon offers affordability in many ways. Transportation, rents, shopping, and eating outside are all affordable in Lisbon. Monthly transportation in Lisbon costs around €35-40. You can easily make a budget-friendly journey plan in Lisbon.
Let's look at examples of the cost of living in Lisbon Portugal below:
Monthly utilities including electricity, water, heating, and cooling for an 85 m2 area cost around €120
Internet costs around €35
Eating outside costs around €40 in a mid-range restaurant for a meal for two people
Monthly rent for a two-bedroom apartment (furnished) costs between €1,100-1,550
The monthly grocery cost for a couple is around €310
The average entertainment cost such as eating out or joining cultural activities is around €220.
Accommodation: Best Places to Live in Lisbon
Well, where to stay in Lisbon? Cost of living Lisbon Portugal in terms of accommodation is considered ideal compared to other European capitals. In addition, you have many options in terms of both duration of renting and the size of apartments. Usually, they require a one-month deposit. For sure, rental costs differ depending on the location and size of the property. 
Students can prefer living in shared apartments and shared houses. They usually cost an average of €400 for a student who rents one room.
If you consider living in Lisbon Portugal for a short time, Airbnb can be practical and useful for you. You can also try joining Facebook groups to find accommodation that suits you well.
You may ask about where the best places to live in Lisbon are. Well, there are many good places for both expats and locals to live in. Mostly, expats prefer the Cascais area. In addition, Sintra, Belem, Alfama, Bairro Alto and Baixa are other popular and preferred areas. Among them, Sintra is even a UNESCO World Heritage site. You can enjoy nature and find different activities to do in these.
Transportation
The transportation system in Lisbon is quite developed and diverse. Buses, a metro, trams, trains, funiculars, and boats are in service in Lisbon. You may have seen the yellow trams among Lisbon photos. They're practical for the regular passengers and attractive for tourists as well. They also cover a long enough distance to carry passengers. They've also become a symbol of Lisbon. Especially the famous Nostalgic Tram No. 28 attracts tourists and expats in Lisbon. Tram No. 15 is also popular, however, it's always crowded and it covers a long distance. It costs €3 for a single ride on a tram. However, you can buy a Lisboa card as well.
Another option is to travel by bus. You can use a bus to travel from the airport to the city for an affordable journey. You can reach any destination in Lisbon by bus. You can also apply for a Lisboa Viva card to benefit from discounts.
Metro is another transportation method in Lisbon. There are four metro lines in Lisbon in total, covering again a large area. It offers a faster ride compared to the other transportation options in Lisbon. 
Alternatively, a taxi is another option yet less affordable. 
Language in Portugal Lisbon
The official language in Portugal is Portuguese. However, moving to Lisbon Portugal is not a big issue when it comes to language. Because Lisbon is one of the tourist and business hubs in Portugal, it's not that hard to communicate with people. Most people in Lisbon know English to a certain extent. So, this makes it easier for digital nomads in Lisbon because they don't need to learn the official language.
In more small and rural areas, however, it may be difficult to communicate with locals if you don't know some Portuguese. If you want to learn the language, you can find many schools for this. In addition, certain apps and conversation groups are available in Lisbon as well. Examples of them include Duolingo, SoundHound, Fluentu, Italki, Tandem, and Gymglish. 
Climate in Lisbon
The Mediterranean climate in Lisbon makes the city experience warm winters. In fact, Lisbon is the city that experiences the warmest winters compared to other big European cities. In this sense, this makes Lisbon the ideal city for the ones who want to retire to Lisbon.
Summer usually lasts six months from May to October. August is the hottest month in Lisbon. The city feels the coldest period in January and February. 
Shopping and Markets
Usually, malls are open from 10 a.m. until 11 or 12 p.m. At weekends, they become quite crowded. 
You can find fresh vegetables and fruits almost anywhere in Lisbon. Fresh fish, olive oil, and cheese are other popular foods in Lisbon as they're in Portugal. There are also farmers' markets taking place every week in many towns. You can find food, cloth, flowers, and even live chicken in these markets.
Bakeries are also available in many corners of the city. They offer different types of coffees and great desserts, including traditional ones. Pastel de nata is among these desserts.
Going Out in Lisbon
You can see many Portuguese people eating out at lunch or dinner time. You'll also find that many restaurants and cafes are available in the city. In fact, Portuguese people really love meeting with their friends and family outside.
There are also restaurants that specialize in certain food. For example, some of them offer great fish and seafood. Some others offer Piri Piri chicken, and some sushi or pizza. They're usually open until midnight.
Another way to enjoy your time in Lisbon is to listen to traditional Fado music in bars. You can also enjoy jazz and classical music performances held in certain places.
Healthcare in Lisbon
In Portugal, both public and private healthcare services are available for citizens. However, healthcare in Portugal for expats is usually handled through private health insurance. This makes expats wait for less and reach more health services. You can easily find English-speaking doctors in private hospitals as well. If you want to retire in Lisbon Portugal, private insurance is suggested because of the fewer wait periods. of doctor appointments.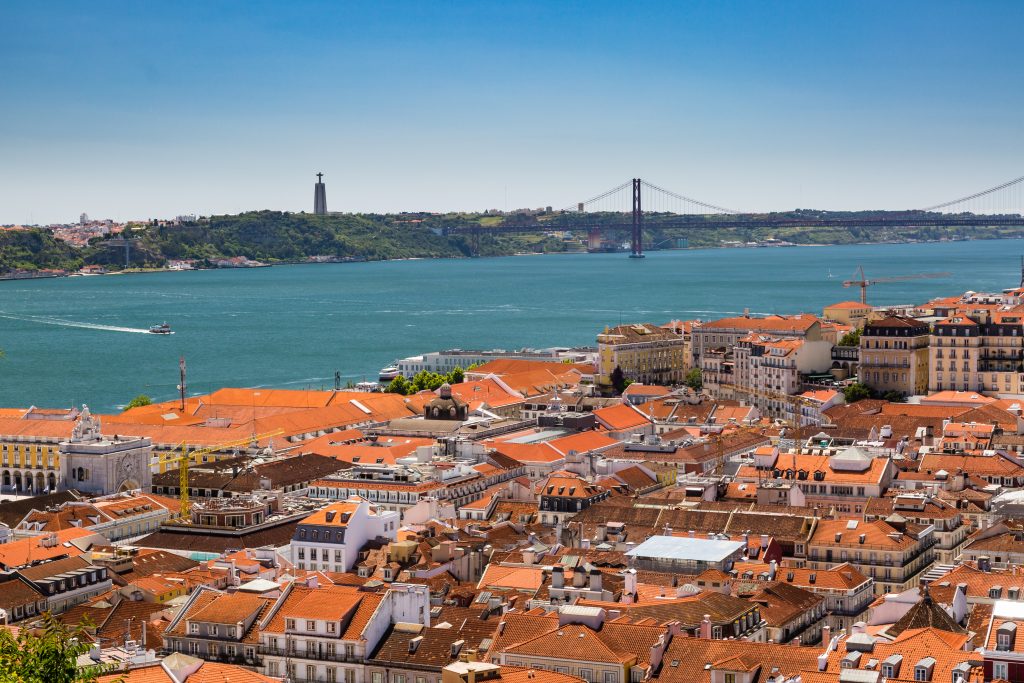 The Expat Community in Lisbon
International living Portugal becomes a reality thanks to the growing expat community in Lisbon. These communities help you in many ways including finding accommodation or communicating with new people. So, if you plan to move to Lisbon Portugal, don't hesitate because there are many people there like you, living similar experiences as you do. 
In short, living in Lisbon is both enjoyable and affordable for people from different professions and backgrounds. Both digital nomads in Lisbon and expats in Lisbon can enjoy living in Lisbon just as a local would do thanks to the hospitable people here. 
You Can Live in Portugal Via Portugal Golden Visa
The Portugal Golden Visa system, commonly known as the residence permit for investment activity (ARI), is a non-EU citizen residency by investment initiative.
In a word;
It offers you a variety of relatively low-cost investment options for getting your residency permit.
You simply need to visit Portugal for a total of 7 days annually.
It entitles you to visa-free travel across the Schengen area.
 Within5-6 years, you may can get a Portuguese citizenship.
Portugal is a peaceful, safe, and economic country with a good standard of living, well-developed facilities, a pleasant environment, and well-developed health and educational institutions.
FAQ
Is it good to live in Lisbon?
Living in Lisbon is warm and inviting. It has a range of cultural characteristics and a dazzling assortment of incredible architecture, art, and entertainment.
How is the weather in Lisbon Portugal?
The weather in Lisbon Portugal is can be considered semi-Mediterranean.
Is Lisbon Expensive?
Living in Lisbon is pricier than in other Portuguese cities such as Porto or Coimbra, although it is much less costly than in other European cities such as Paris or Madrid.
Is Lisbon safe?
As the capital, Lisbon has a little higher crime rate than the rest of the country, however, it is a quite secure and calm location to live.
Is is worth traveling from Lisbon to Porto?
If you're living in Lisbon and have not yet been to the rival metropolitan, Porto, then you're certainly missing out. You can read about our guide on going from Lisbon to Porto. Porto has lots of charm to it and would be best to pay it a visit, particularly in the spring.