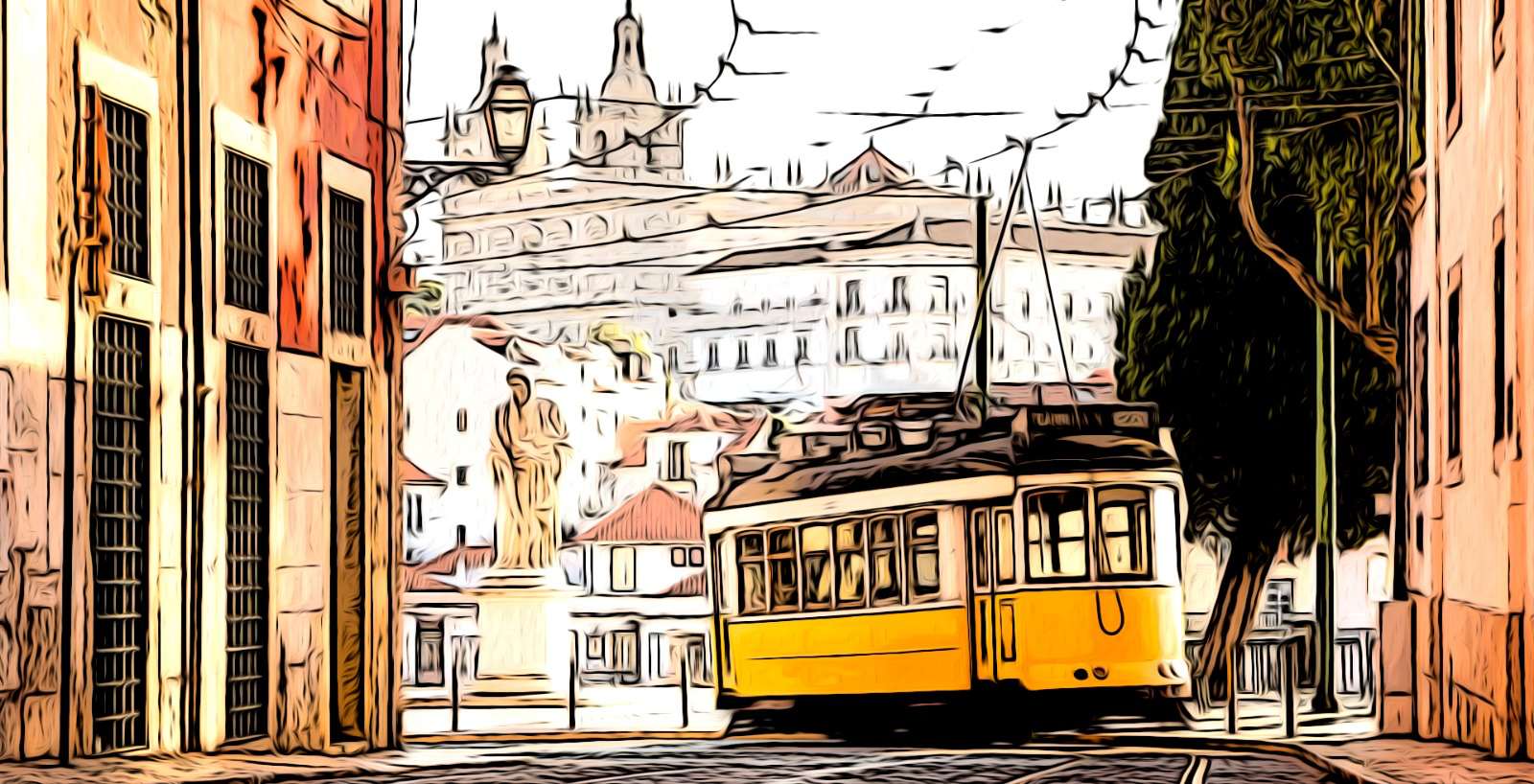 The Ultimate Lisbon City Guide for 2023
Lisbon is the capital city of Portugal. With its population of over 505 thousand people, it is the 11th most crowded city amongst European Union cities. Lisbon's population constitutes over a quarter of the total population in Portugal. The city is one of the most popular tourist destinations in the world. As a result, Lisbon's Humberto Delgado Airport welcomes more than 20 million visitors per year.
Historically, Lisbon is one of the oldest cities in Europe. Under the Phoenicians' reign, Lisbon was used as a trade port with its strategic location during 1200s BC. The city that spent several centuries under Rome's reign and then several centuries under Muslims' reign offers many antique beauties to its guests.
Apart from its historical attractions, Lisbon also offers a vibrant, modern city life with attractions for both who seek peace and adventure. The city's nightlife is among the bests of Europe.
Why Lisbon?
Lisbon is a city that combines its cultural and historical heritage with its modern city life very well. Packed with significant traces of Phoenician, Roman and Moorish influences, the capital has no shortage of historical and cultural context that may lure visitors from everywhere and all ages. Also, Lisbon has a vibrant nightlife which caters to the younger visitors. For people who seek fun and adventure in their journeys, Lisbon has something to offer any moment of the day.   Portuguese cuisine is not one of the most famous cuisines in the world; however, -especially in terms of seafood- Lisbon has many delicacies to offer. The city even has great beaches to spend time under the sun in the beautiful Mediterranean climate.
Thus, Lisbon is a destination where everyone can enjoy their time. Involving cultural, historical, and artistic attractions together with the modern activities and paradisal beaches, the Portuguese capital offers a whole package to its visitors.
Where to Visit in Lisbon?
Lisbon has several districts that are especially popular among tourists. These are the historical and cultural centers of the city. Namely Belem, Bairro Alto, Alfama, Estrela, Chiado, Sao Bento, and Baixa are the places where tourists spend most of their time. City's important artifacts, buildings, museums, and attractions are mostly concentrated in these neighborhoods.
In Baixa, there is everything including top-quality restaurants, great shops, and clubs. Chiado is the next-door neighbor of Baixa where art galleries and design workshops dot the area. Bairro Alto is the place where the city's vibrant nightlife is focused. There are also many bars with live music and street art pieces in the district. Alfama is the picture-perfect neighborhood of Lisbon that often shows off in postcards. With its narrow streets, Azulejos buildings, and tram numbered 28; Alfama takes its visitors back in time. Belem is a bit far from the city center but a traveler needs to stop by here. Famous Belem Tower, Jeronimos Monastery, and Padrao Dos Descobrimentos are located here.
When to visit Lisbon?
Lisbon, typically, is under the influence of the Mediterranean climate with mild winters and hot summers. Lisbon having an ocean coast makes the capital a little milder which results in longer summers. In June, July, August, and September, air temperature is usually around 35 C degrees. During summers, Lisbon is full of robust festivals, activities, and concerts. To experience the city's essence fully, summer would be the best time to visit Lisbon. April and May are also good times to visit since there are festivities during these months, too. Also, the weather is quite nice during spring in Lisbon. However, these attractions cause the city to get crowded with tourists. Visitors from all around the world rush to the beautiful capital. Hence, visiting Lisbon in winter might mean missing the outdoors activities of the summer, but it also means that the city will be much less crowded and open to be explored.
When to go in Lisbon   Winter in Lisbon Rainy Day in Lisbon
How Long to Spend in Lisbon?
Lisbon, as said, offers so much to its visitors that it is hard to put a timeline as to how long would be the ideal trip to this beautiful city. If the aim is to merely see everything in Lisbon, a few days might be enough. Yet, if the visitors want to experience the city to the fullest, every activity needs its own time.
In 24 hours, tourists might arrange a program involving Bairro Alto, Alfama, and the Lisbon Castle with plenty of time to spend in each. If there is an extra day, Baixa and Chiado districts may be added to the program with a small trip to Belem. If the journey is for three days, visitors might enjoy a night out at Bairro Alto and spend some more time in Belem with a few additional visits. One week is probably the ideal period for a fulfilling Lisbon trip. During this period, visitors may feel the atmosphere of Lisbon wholly while being able to spare enough time to each destination in the city.
A Budget-Friendly Guide for Lisbon
Transportation in Lisbon
Lisbon has a good transportation network that connects every part of the city with reasonable fees. A rental car might of course be needed when traveling into regions in-depth with inefficient public transportation, but in general, public transportation of Lisbon should be enough to take tourists everywhere.
Lisbon's famous yellow streetcars are the most popular transportation option within the city. These vintage cars connect the city's narrow and acclivitous streets. These cars have been working for the city's transportation for almost 150 years now. One trip tickets for these cars cost 2.90 euros. So, it would be more logical to buy daily tickets which cost around 6 euros. Lisbon's subway network is not highly developed, but it is efficient. However, to be able to travel through the city's unique atmosphere, the subway is not the ideal choice. City's more developed bus network might be a better idea when it comes to observing the city during trips. One trip tickets for the metro costs 1.40 euros and costs 1.80 euros for the buses.
Lisbon's Trams          Lisbon Metro Guide
Aerobus in Lisbon           Lisbon Ferry Guide
Beaches of Lisbon
When it comes to capitals, it is often very hard to find clean, untainted, and quiet beaches around. However, Lisbon, with its long coastline, does not lack superb beaches either. Especially on the west coast of the city, there are many beaches. The climate of the city allows the weather to be nice and warm throughout the summer. Therefore, the city's atmosphere is quite fitting for summer getaways. The city has many beautiful beaches which are easy to be reached from the city center. Most of these beaches do not need more than one hour from anywhere in Lisbon. In these beaches, tourists can have a drink, eat delicious meals, read their books, walk, swim, surf and enjoy the good weather. Some of the most famous beaches of Lisbon are Cascais, Praia do Guincho, Praia do Cresmina, and Costa Caparica.
Lisbon's Beaches      Beaches in Cascais
Silver Coast Portugal        Surfing in Portugal
What to Eat in Lisbon?
While not a very famous one, Portuguese cuisine is delicious. Neighboring French and Spanish cuisines are far more famous than the Portuguese. However, it does not mean that Portuguese cuisine is not existent. Most of this cuisine consists of rice and potato-based meals. Usually, casseroles, grilled meat, and some fish accompany rice and potatoes. Barbecued sardine and pork stew are some of the essentials of Portuguese cuisine. Bacalhau, Francesinha, Cozido a Portuguesa, Pastel de Nata and Bola de Berlim are some of the most famous dishes of Portuguese cuisine. Portugal also has its coffee named Galao, which must be tried without leaving Lisbon
    Where to Eat        Best Restaurants in Lisbon
Quality of Life
The capital of Portugal is a shining star on the west coast of the Continent. People from all over the world fly to this beautiful city, sometimes as new residents, sometimes as tourists. One thing is certain though, Lisbon never ceases to amaze. Compared to a lot of the other popular capitals of the world, Lisbon's quality of life is exemplary. The city offers minimal traffic, amazing and efficient transportation options, plenty of beautiful parks and playgrounds for children. For families, Lisbon is a great option to consider both for living and vacation.
Neighborhoods of Lisbon are planned efficiently also. Each one carries the qualities of a small city. It is very likely to have everything within walking distance. Also, most of the locals speak very good English. So, the language and communication will not be a big problem for visitors. Many other small perks make day to day life much easier. How long it takes to travel to work or school, where to find quality food, where to entertain the kids are all problems that are more than usual in popular capitals. Yet Lisbon outclasses other capitals in each of these characteristics.
Cost of Living in Lisbon
Portugal is a member of the European Union, and is in the Eurozone, which means that the country's official currency is Euro. This is always a disadvantage for countries that use other currencies. However, Lisbon is one of the most reasonably priced capitals tourists may ever go to, especially in Europe. It is possible in Portugal to drink a cup of coffee for around 1,5 to 3 euros. A meal in a medium quality restaurant would cost around 8 to 15 euros and a beer usually costs around 2 euros. For museum entrances and transportation fees, tourists can obtain a Lisboa Card which has different versions for 1 day, 2 days, or 3 days. These cost differently, but definitely worth the money. Lisboa Card can be obtained at the airport.
A Budget-Friendly Guide for Lisbon
Day Trips from Lisbon
Lisbon is surrounded by natural wonders, ancient ruins, historical monuments, and magical castles. Many beauties around the Portuguese capital wait to be explored by the tourists. These destinations are within a very close range of Lisbon by any means of transportation. Some of the city's best beaches are among these destinations together with charming villages that take visitors back in time. Also, these places usually are stripped from the capital's crowd. In peace, many spots around Lisbon are day trip options. Some of them are Sintra, Palacio Nacional de Queluz, Cascais, Evora, Batalha, Fatima, Costa de Caparica, Serra de Arrabida, and Sesimbra.
One Day in Lisbon        Two Days in Lisbon
Three Days in Lisbon       1 Week in Lisbon
What to Pack for Lisbon
What to pack for Lisbon, of course, differs according to the season. Considering that the most popular tourism period of the capital is summer, the essentials of the backpack are light items. Several t-shirts, shorts, skirts and swimsuits are musts of the list. Ocean winds of the capital might make the weather cool at nights even in summers. So, it would be a good idea to pack one or two jackets just in case. Considering the amount of sunny days, a hat and a powerful sunscreen are not to be forgotten before the trip. Finally, a smaller pack for daily use would be ideal since traveling around with a huge backpack might take the joy out of the trip.
Enjoying Lisbon
Lisbon is a city that knows how to have fun. Therefore, just getting along would probably result in an awesome vacation. Lisbon has lively activities at night as much as it has in the daylight. Portuguese people –as many people around the Mediterranean- love to eat, drink and have fun. It means that if the tourists can get a glimpse of the colorful population of the locals, they need not bother looking for eccentric activities around.
To enjoy Lisbon to the fullest, it is essential to breathe the air of the city which is full of history, art, literature, and music. No Lisbon trip is ever finished without a trip to beaches, to Gulbenkian Museum, to a restaurant with the company of Fado, to a coast diner, and to narrow cobblestone districts of the city with its picturesque yellow streetcars.
Moving to Lisbon
Lisbon is a popular destination for people from all around the world to move to these days.  The relocation reasons may vary from career moves to education or retirement, among many others.  Though, what is stable is the hospitality of the Portuguese people against those who decide to move to Portugal.  There are many ways to arrange for a residence permit in Portugal.  In case you are an EU citizen, you automatically get the right to reside in Portugal.  If not, Portugal's residence by investment program has been on the rise in recent years; you can read more about the Portugal Golden Visa.  Some other options for non-EU citizens include the D7 Visa or your company or your Portuguese spouse to sponsor you.
Most Popular Lisbon Articles