Portugal is a popular destination for tourists around the world. The country offers a great experience too if you choose it for glamping. The beautiful coast throughout the ocean attracts many tourists each year. Because it's also relatively an affordable country, glamping in Portugal becomes much more affordable as well. Also, you have many options in terms of location and types of glamping in Portugal. Glamping in Portugal appeals to everyone: You can bring your family, your partner, or friends for a change or on special days.
What Is Glamping
First of all, let's begin with the word: It's the combination of the words "glamorous" and "camping", which suggests a luxurious camping experience. So, it offers a bit more comfortable camping experience compared to traditional camping practices. 
In this type of camping, you're not in charge of everything. Also, you don't need to sleep in a sleeping bag like in an ordinary camping experience! Instead, you generally have a normal bed. Glamping destinations generally offer you a kitchen to cook as well. There will be tents but the interior design is more developed than usual camping tents. You also have other choices than tents. They can be cottages, caravans, special tents like teepees or yurts. 
How Glamping Is Different Than Camping
Glamping sites can provide you bathrooms and even the basic needs for bathing such as soap, towel, shower gel, and so on. Also, there are several accommodation types to choose from. They include tents, yurts, teepees, three houses, and so on. Furthermore, you don't need to set your camp because they will have already set them up for you. Within lots of glamping options, you can find extra services like air conditioning, Wi-Fi, and heating. So, glamping is like an experience of a hotel in the middle of nature.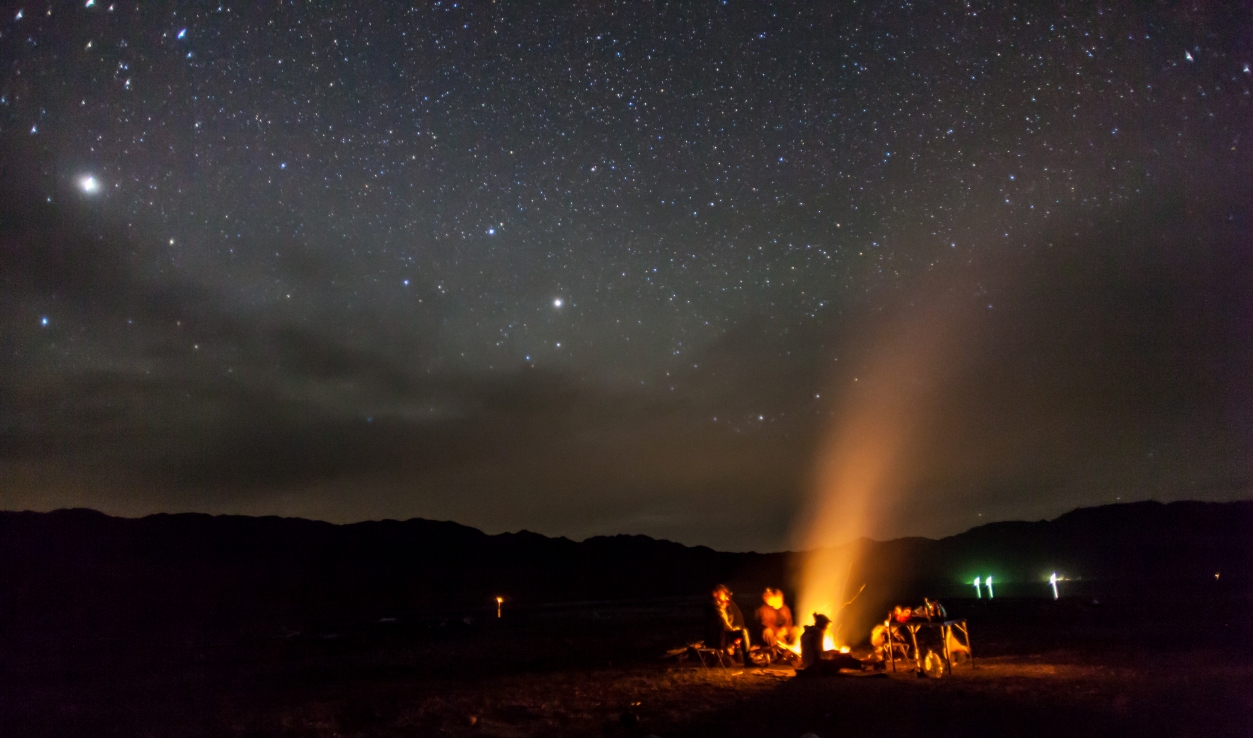 Why Go Glamping 
It's a well-known fact that Portugal has many natural beauties such as the beaches and the mountain views. Glamping offers you this experience in a more luxurious way than usual camping. So, you can enjoy the serenity in nature, and you don't have to worry about basic needs like fire to cook or bathroom. Glamping can also be a great alternative for surfers who prefer to be close to nature but favor some luxury as well.
Glamping is also a good choice because glamping locations are located in and around the woodland. So, you can go hiking and get as much fresh air as you want. Discovering the famous regions such as the Algarve and Sintra is another reason to go glamping near Lisbon. Besides the beaches, it's also a possibility to enjoy your time in Sintra-Cascais National Park. That means you can also be close to Lisbon whenever you feel like going back to city life. 
What Are the Benefits of Glamping 
Comfortable and Luxurious
Unlike traditional camping, you have access to many amenities when you choose glamping. First of all, you don't need to think of everything to bring to the glamping area because the renters will provide many things you may need during your experience. 
Also, you don't have worries about setting up or collecting your tent. The owners/renters of the glamping area will take care of these issues before you arrive and after you leave.
The existence of kitchens will provide you an easier and comfortable camping experience compared to the ordinary camping experience.
Affordable
Considering the luxury it provides, glamping is quite an affordable experience. Furthermore, you get this luxury in the middle of nature, where most people lack during their daily life. 
Different Options 
According to your or your partner's/family's/friends' needs, you can choose from a pool of options. If you bring friends or families with you, larger tents/houses will work better for you. Also, depending on the number of people, the renters can arrange the beds and the conditions of the glamping setting. 
Types of Glamping
You have several options when it comes to the type of glamping. Your options include accommodations such as yurts, tree houses, tents, teepees, and so on. For sure, you won't lose anything from your comfort when you choose any of them. They only differ in technical qualities such as the texture of the tent/house/cottage, or the size. Note that other issues like the existence of a special kitchen and bathroom may change depending on where you choose to go.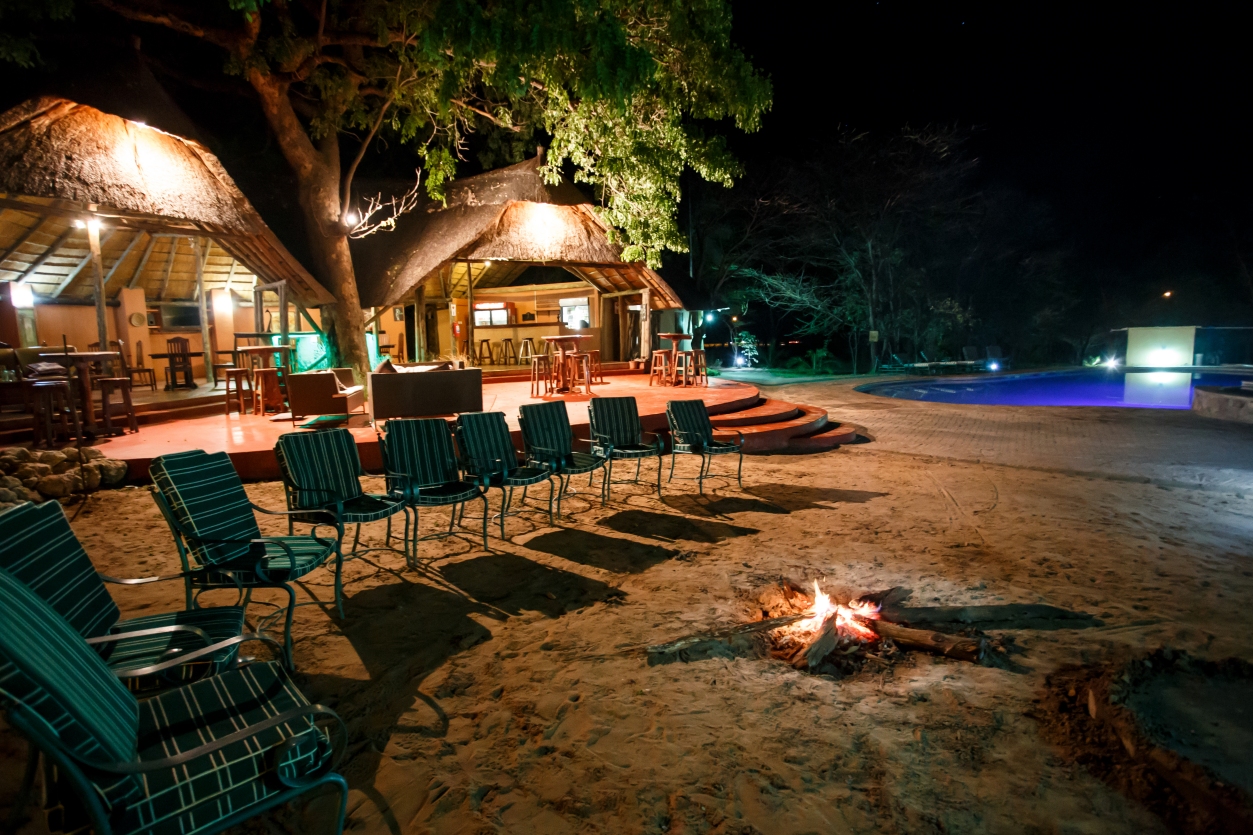 Let's now look at some types of glamping tents and houses.
Treehouses
They are usually made of wood. You can find tree houses in different locations and at different heights. Note that it may not work well for you if you have a fear of height. It's also better to check the available amenities offered within this option. If you want to be near Lisbon, you can find treehouse rentals in the Algarve, especially in Faro District. The daily rent for a treehouse in this region will be around €100-150.
Yurts
The structure of a yurt is generally circular, and it's covered with a texture like a usual tent. Yurts pertain to Central Asia where they were the main home of the Mongolians. It's also portable and sufficiently insulated. In many of the yurts in Portugal, you can find a kitchen, Wi-Fi, barbecue, and even coffeemakers. 
Tents
Tents may come in different shapes like safari tents, and bell tents. 
Safari tents have a rectangular shape and they're large enough. Generally, the roof and the walls are made up of canvas resistant to weather. These types of tents also have an old history, like a hundred years. It's now preferred by vacationers like glampers. Inside of the safari tents offers a usual house interior with their luxuries. You can find such tents in regions like Alentejo, and Braga. 
Another tent option is the canvas bell tent which is quite popular around the world. Its structure is quite simple. It's covered by a cotton canvas. They also come in different sizes and are capable of accommodating lots of people inside. The look and style are quite similar to traditional tents. 
Teepees
Also known as tipis, teepees are cone-shaped tents descended from Native Americans. Its shape enlarges from top to bottom. Wooden bars are tied together at the roof of the tent. While they used to use animal skin in the past, today they use a heavy fabric or canvas resistant to the weather. The simplicity of its shape and style will make you feel more like you are in the middle of nature.
What to Pack: Glamping Essentials 
Before you pack your bag, make sure what types of amenities will be available for you on the glamping site you choose to go to. It's good to know beforehand about the bathroom and fire conditions, electricity, and heating. Besides these, the following list may be of help for you if you aren't sure what to pack:
Insect repellent spray: You may need it because after all, you're in the middle of nature.

Blankets: It's advisable to check if the glamping site provides blankets. Still, an extra blanket won't hurt.  

Snacks: They can be of help for a short time when you first arrive at the camping area.

Slippers: If you're sensitive about hygiene, and prefer comfort, extra slippers can be better.

Toiletries: Again, if you aren't sure about the supplies provided, basic toiletries can be of help.

Beverage: If you have a certain choice of drink, it's advisable to bring it with you in case you may not find it around the camping area.

Flashlight: It's always better to carry around a flashlight in case of an unexpected situation. 

Shoes suitable for hiking: It's advisable to carry training shoes if hiking is among your plans. 

Extra clothes in case of a sudden change of weather.
Good To Know Before You Go Glamping 
If you wonder when the best time is for glamping, spring is the popular answer. Neither cold nor too hot, spring can offer the time you can benefit best from this experience.  
However, if your plan is to enjoy a quiet holiday, September and October will be better for you. There won't be much crowd during this period. 
Get ready for the sound of nature. You may hear noises you haven't heard before. Note that it's quite normal now that you're in nature with other living beings. In fact, they may also be even relaxing to listen to nature.
If you plan to bring your little children, make sure to bring the necessary equipment for their food. Also, bringing cleaning products like hand wipes can make your experience more comfortable. Also, if you choose a location where you can go hiking or biking, your glamping experience can become more enjoyable with your family. 
Besides a flashlight, an extra firelighter and a few boxes of matches would be quite useful in case of any unexpected situations. 
Make sure which type of glamping will work best for you. If you prefer a more traditional camping experience, teepees and tents can be better for you. On the other hand, if you have hesitations about your security, camper vans or tree houses can be more appropriate options for you. The reason is that these options offer locked doors and enduring walls against harsh weather conditions. 
Additionally, you can make your experience more enjoyable if you choose a location near a concert or festival. Especially if you visit there for a short period.
Best Glamping Sites in Portugal 
You have many options for glamping in Portugal in terms of location. These include the Algarve, Setubal, near Coimbra, Madeira and the Azores.
You can reach beautiful beaches from Lisbon by only a train. If you choose your glamping area near Carcavelos, Estoril, Praia do Guincho, or Ericeira, you'll have a chance to enjoy surfing and fishing activities. Furthermore, Estoril is also a popular place for golfing as well as Albufeira and the Algarve. 
Faro is an available option if you prefer bell tents. In the Alentejo, teepees, and yurts are available. For tree houses, you can choose the region around Aljezur. 
Private cabins are available in Cascais if you want to be near Lisbon. Also, you can find yurts in Sintra-Cascais national park.
Setubal is also a good option if you prefer a location close to Lisbon. Here you can rent different types of glamping tents or houses such as teepees, pod rentals, tiny houses, safari tents, and cabins. You can also find eco-friendly caravans and cottages in Setubal as well. 
Sintra is another glamping destination near Lisbon. Wonderful holiday cabins, cottage rentals, and tents are available in Sintra as well. Also, the prices are again quite affordable in these areas, being around €85 a night. 
We've listed some glamping sites in Portugal for you.
Rêves Étoilés is located in Setubal. The site provides a bar, a shared lounge, and a terrace. Air conditioning is available, too. Hot tub and hairdryer are available in units, along with free toiletries.
All rooms include air conditioning and a private bathroom in Glamping Sintra. Every room has a patio with views of the garden.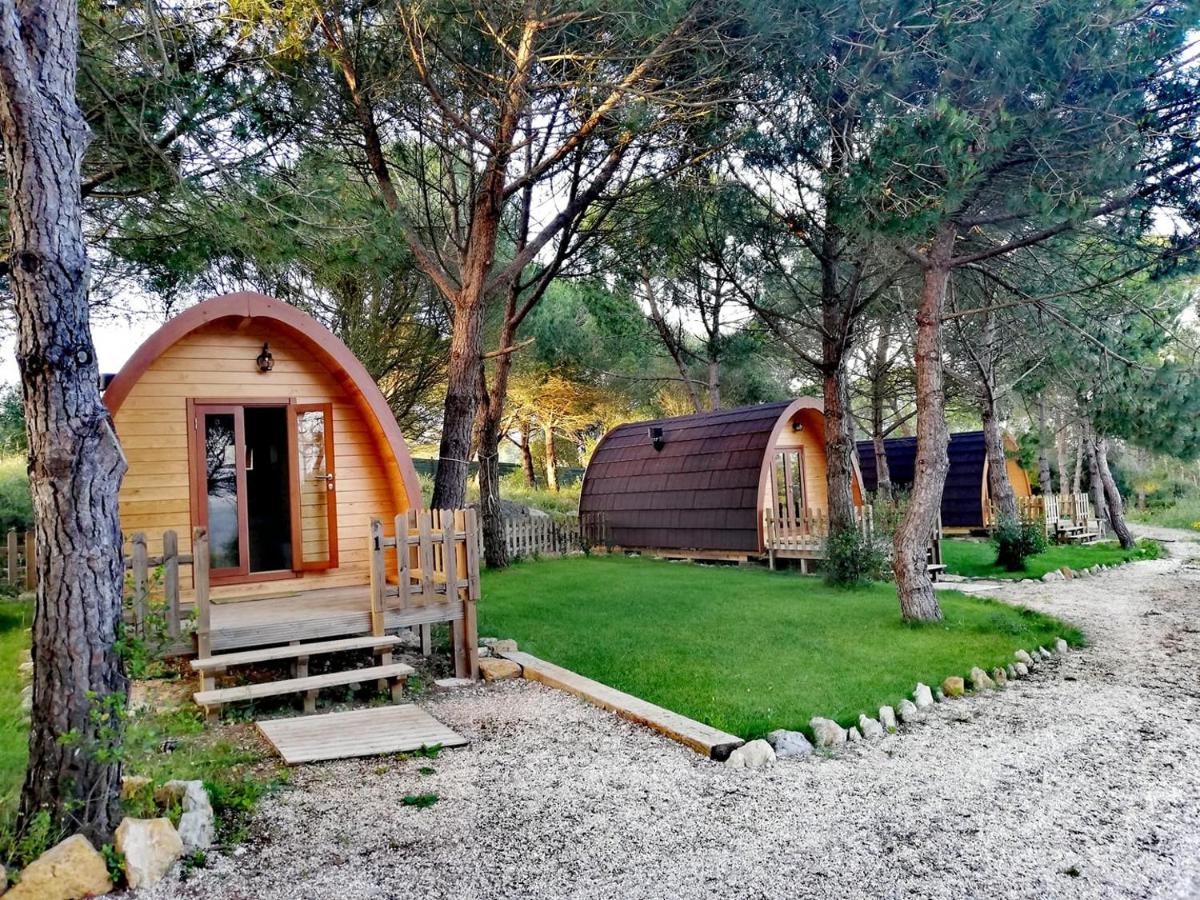 Soul Glamping is located in Estreito da Calheta, Madeira. The units have air conditioning and a TV. The units also have a private bathroom with a hot tub and free toiletries.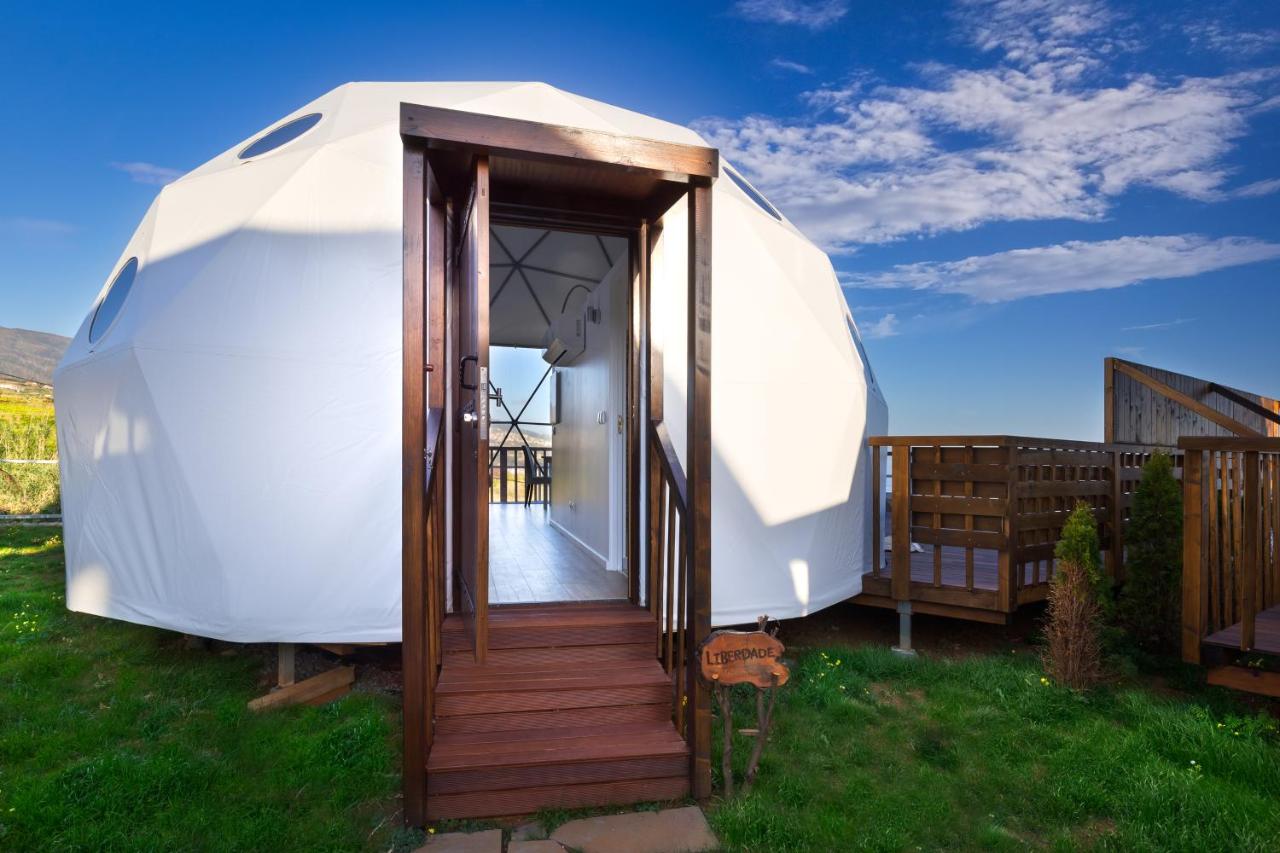 Located in Santa Comba de Rossas, Glamping Hills offers a swimming pool, a terrace, and a dining area. The units on this site have also a DVD player and a kitchen.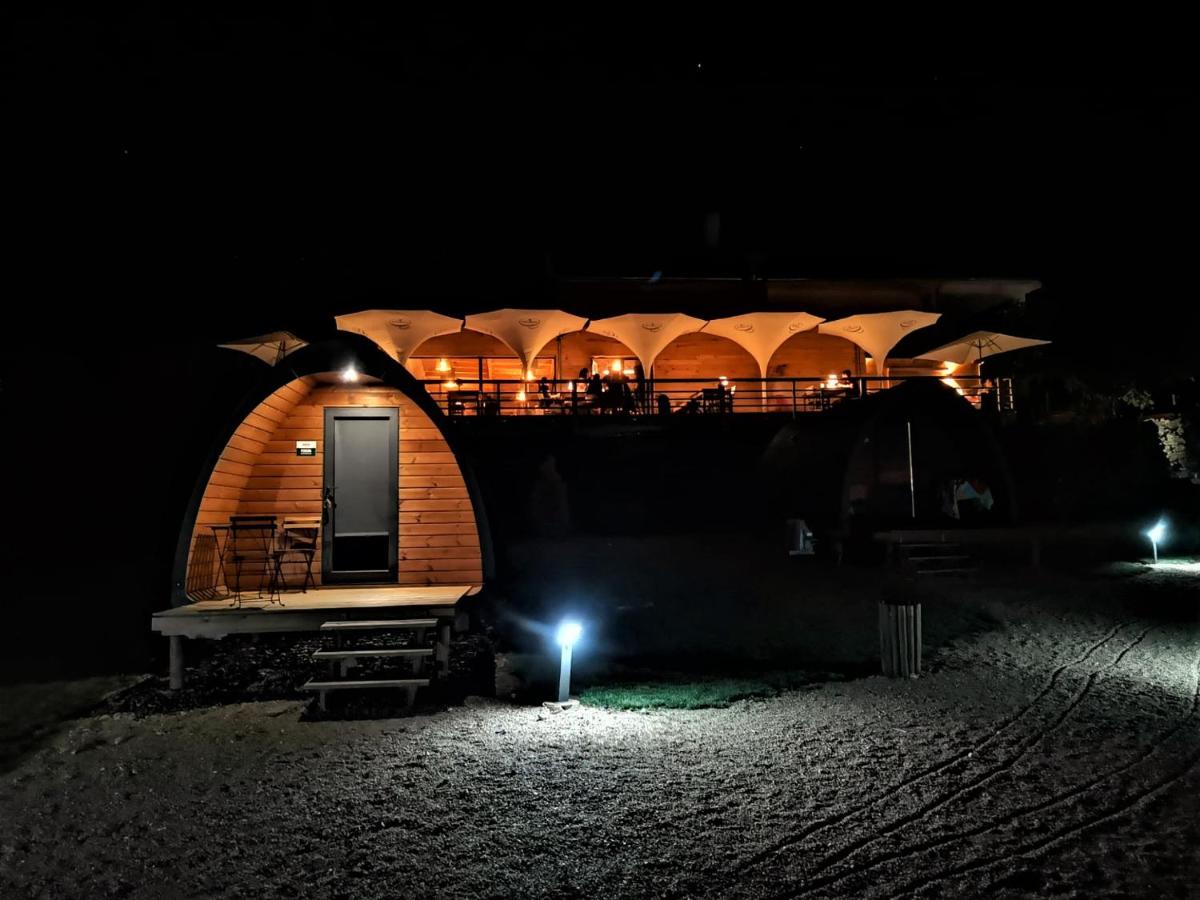 Quinta dos Corgos offers a swimming pool and a nice garden. The tents have a free kitchen, coffee machine, and a garden. Quinta dos Corgos is situated in Tábua.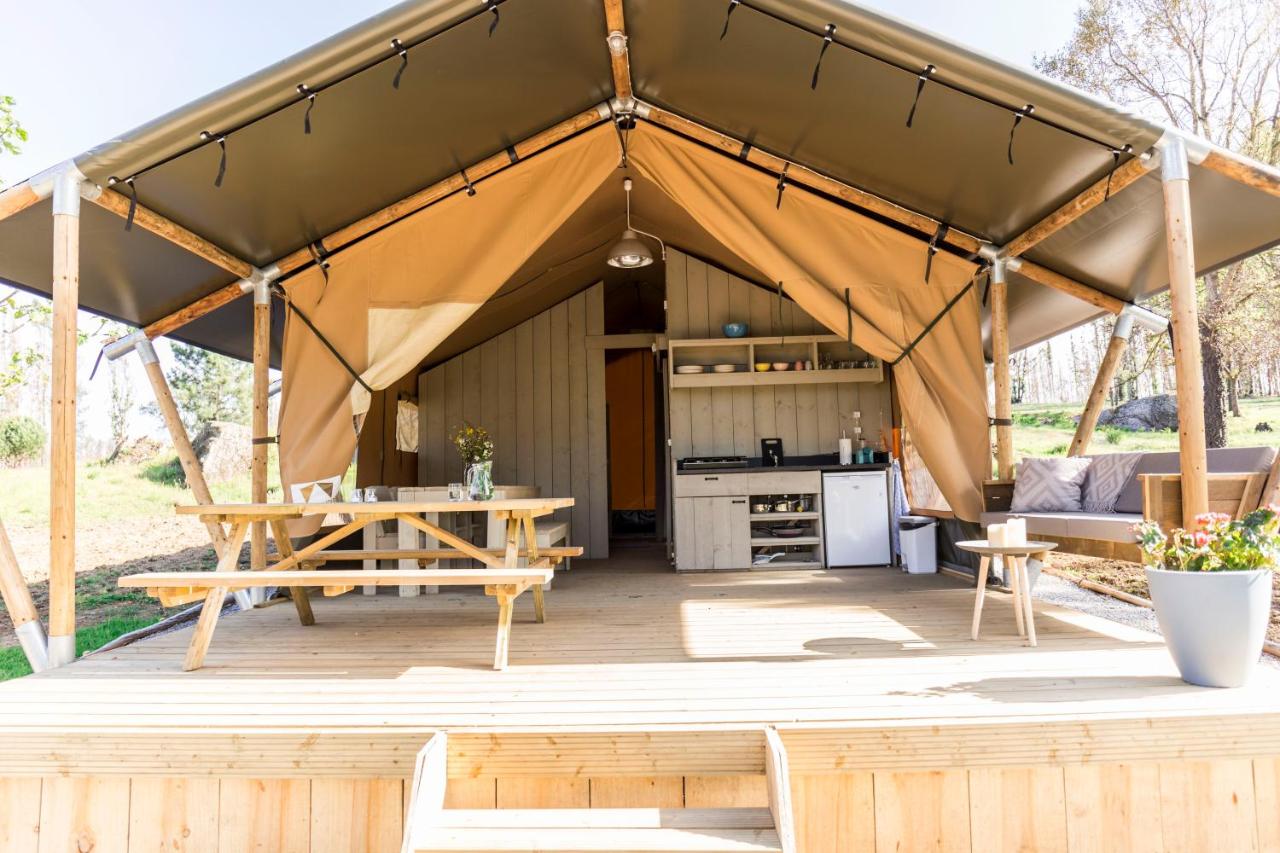 Calheta Glamping Pods – Nature Retreat offers an equipped kitchenette with a microwave, fridge, kettle, and a coffee machine. The units also have a private bathroom with a shower and a hairdryer.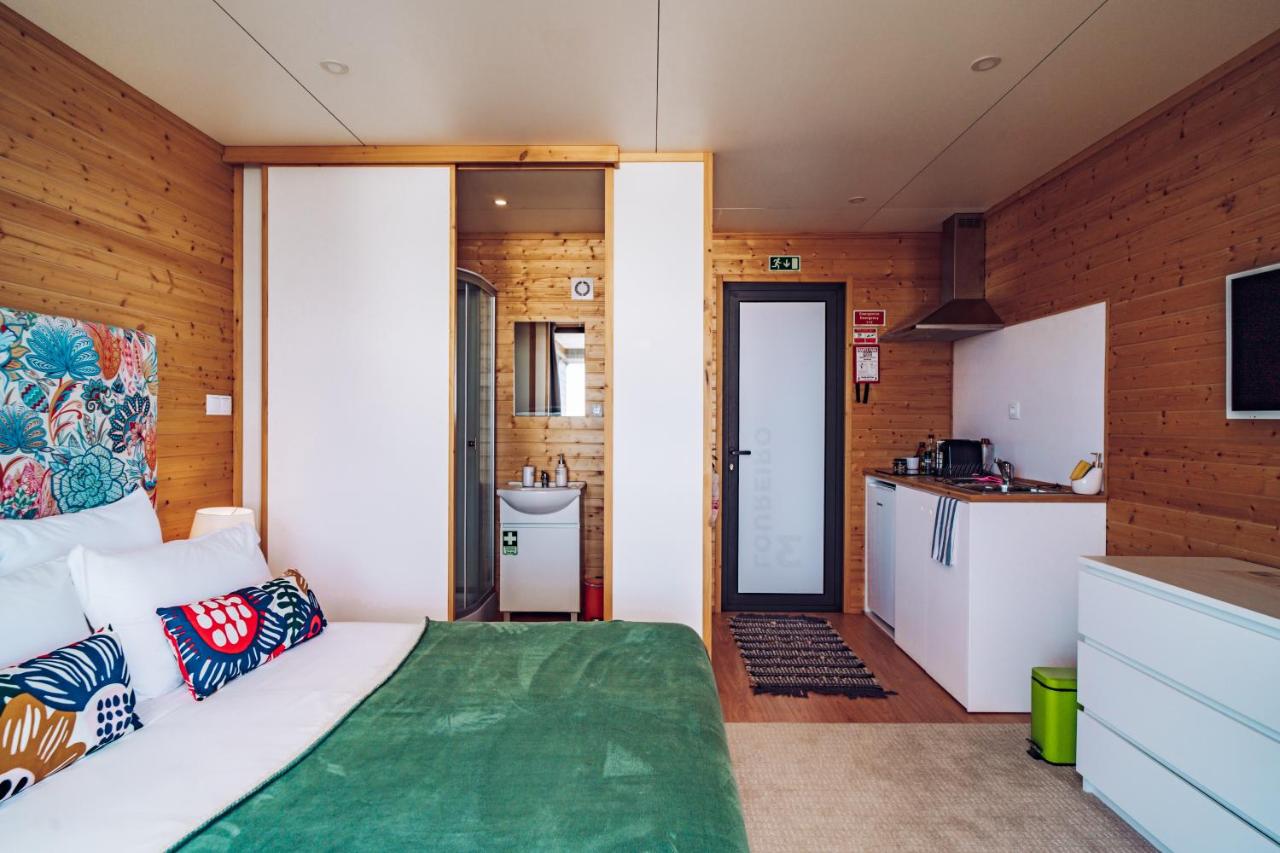 Quintal Yurts is located in Zambujeira do Mar. The site offers an equipped kitchen where you can prepare your meals. There are also barbecue facilities.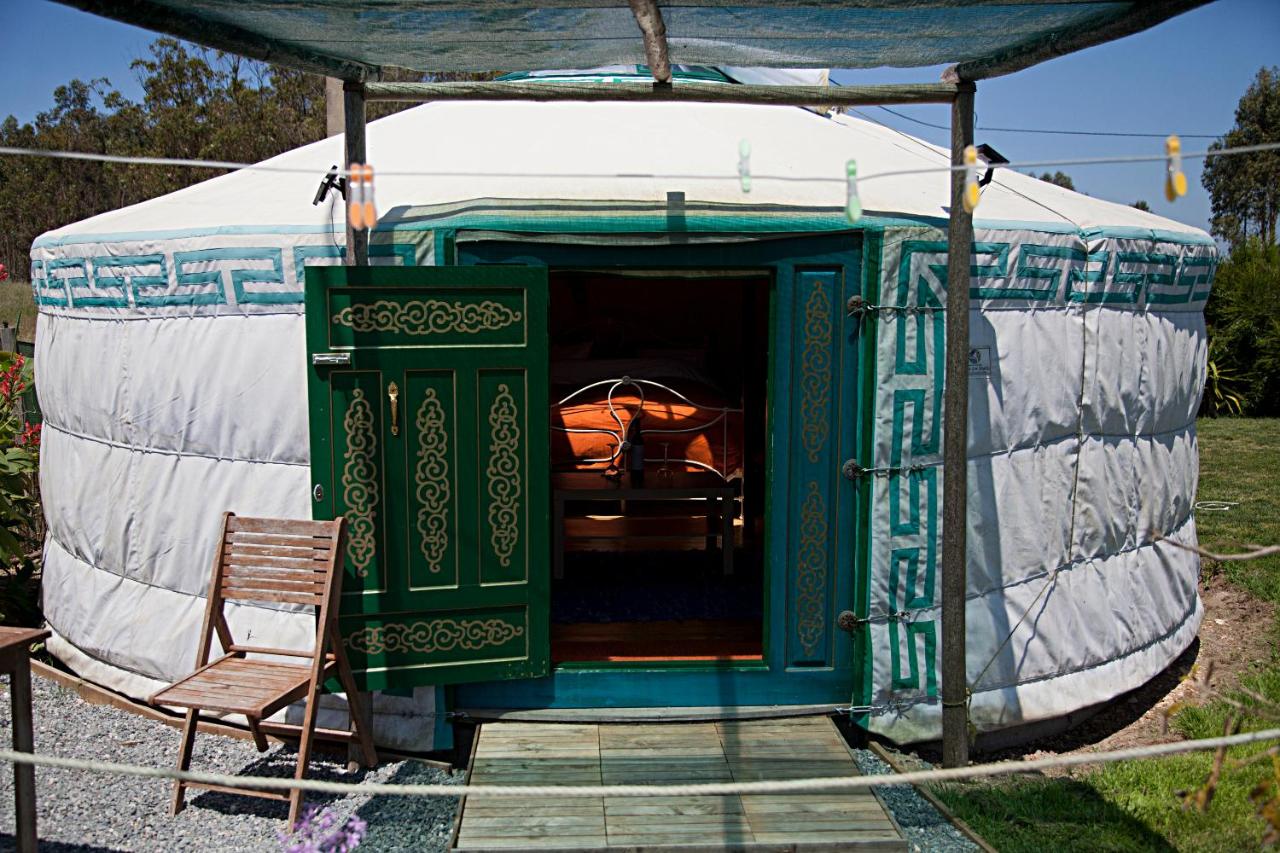 Retiro Atlântico is located in Urzelina. All units offer a private bathroom with a shower. There are also barbecue facilities.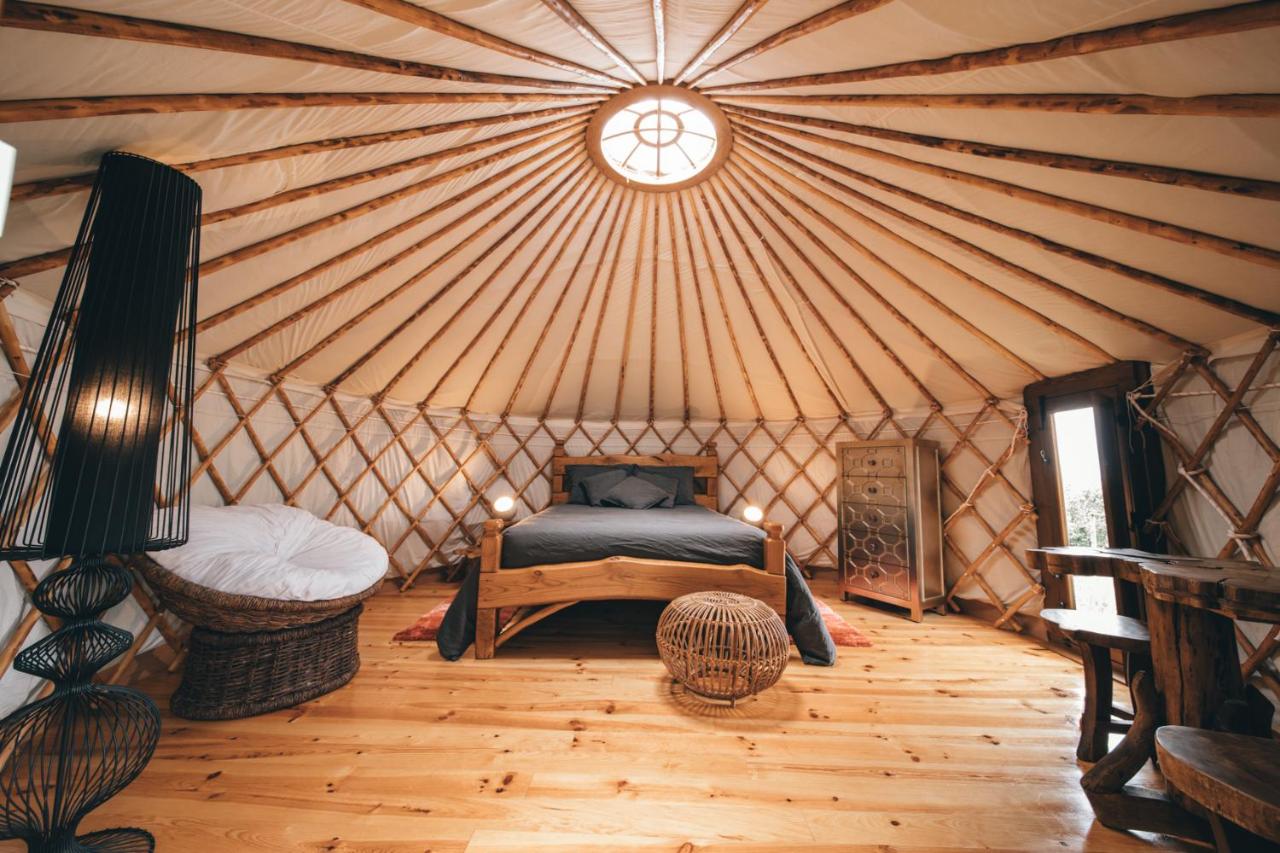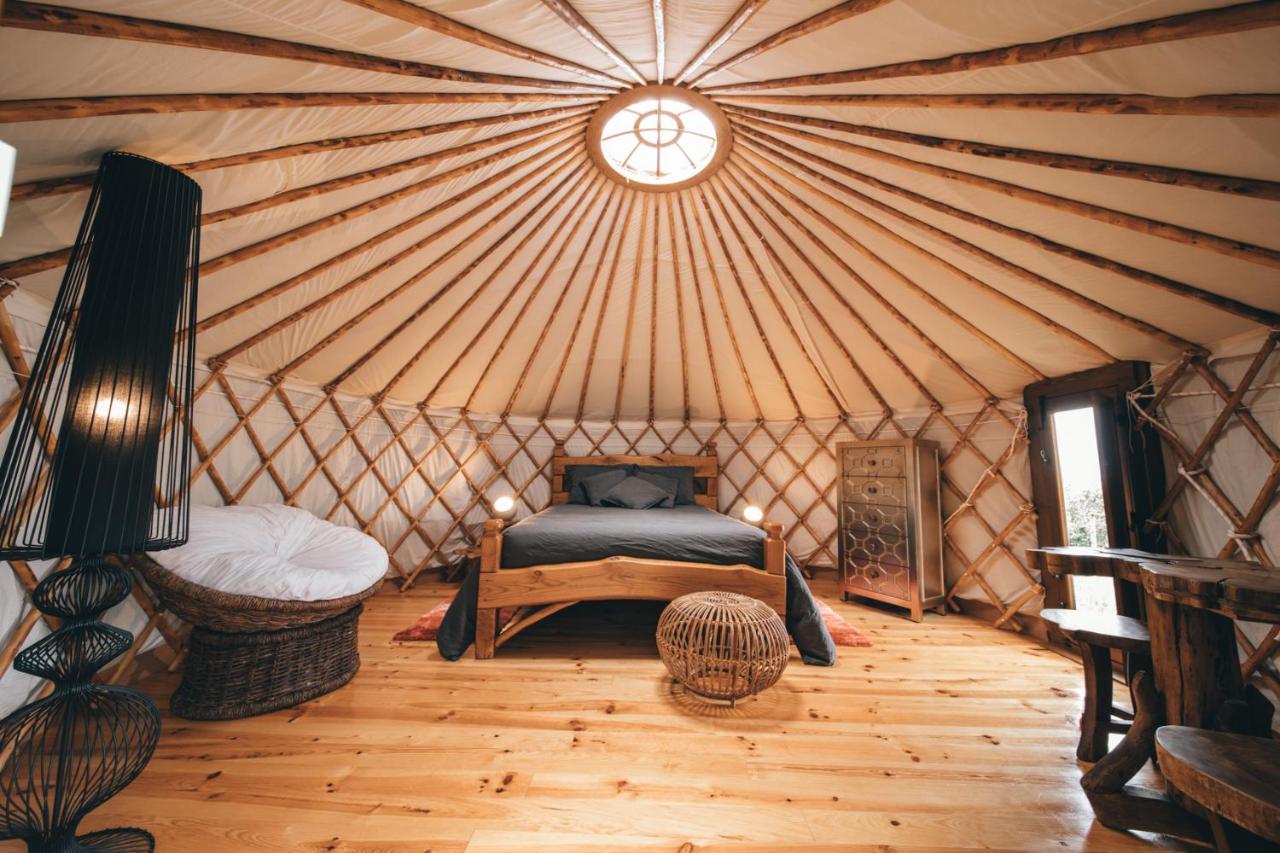 Azul Singular is located in Horta. Units offer a kitchen, a dining area, and a private bathroom. Fridge, kettle, and a coffee machine are provided, too.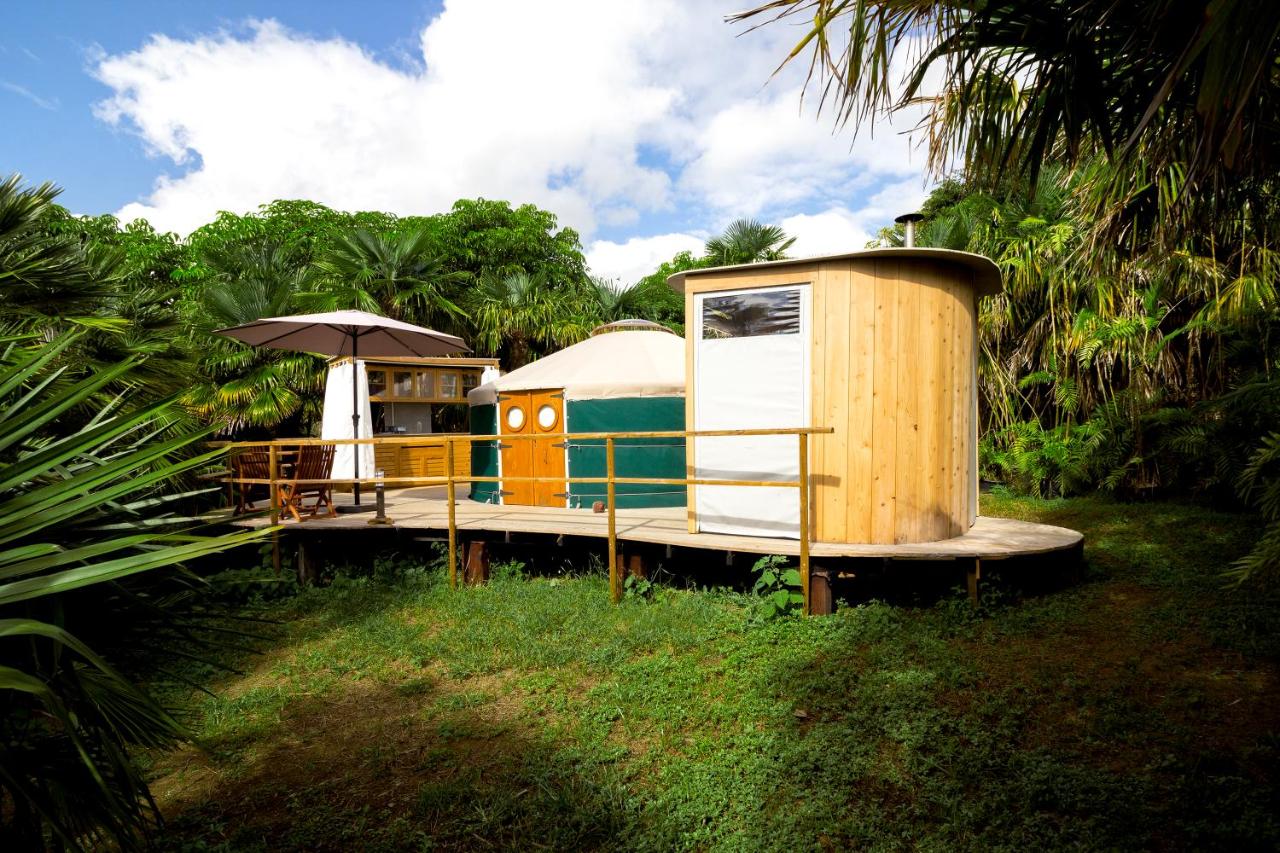 Parque dos Monges is situated in Alcobaça. The site offers a swimming pool and views of the lake, The units offer a fully equipped private bathroom with a shower and free toiletries.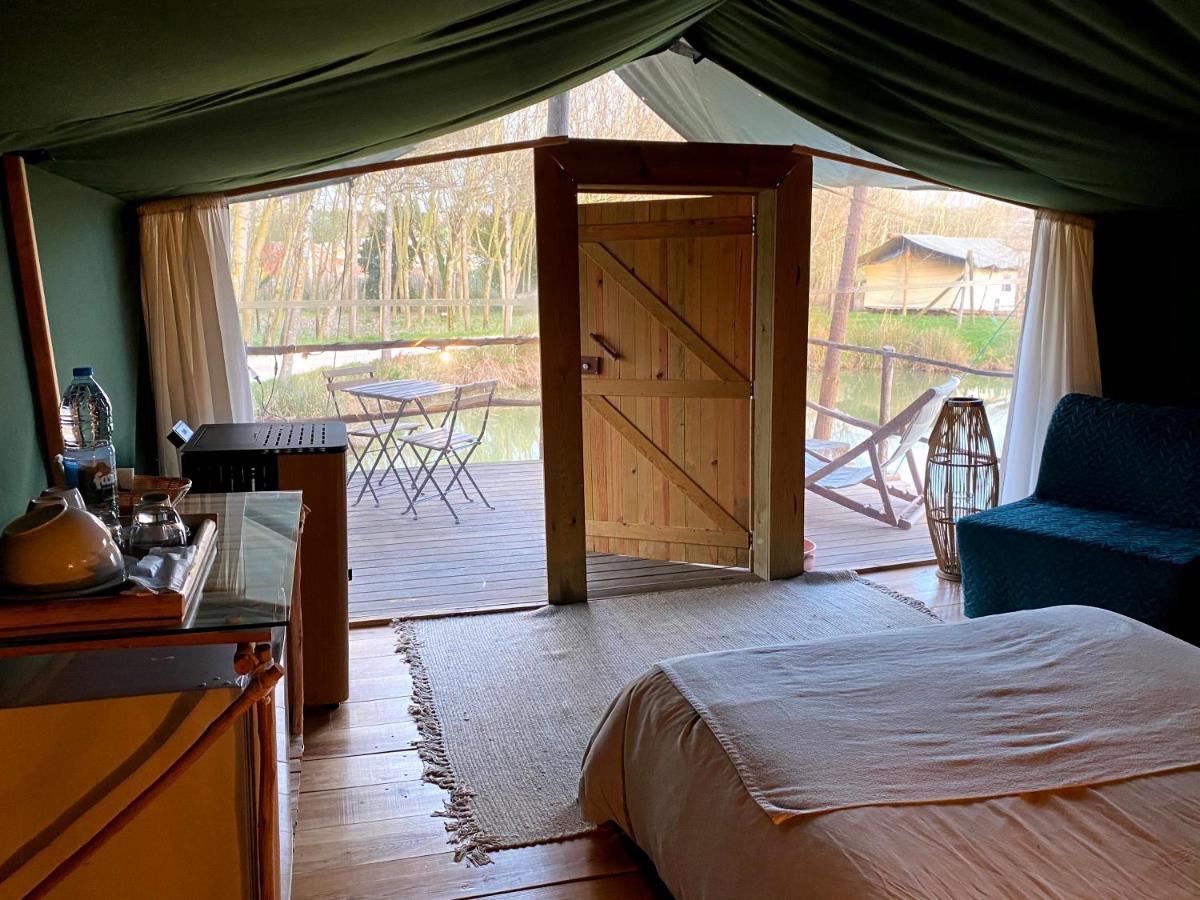 Other Glamping Destinations in Portugal
Madeira can be one of your options if you plan to hike. 
Near Porto, you can choose Santa Cruz do Douro located in the north. If you go further north, you can find tree houses in Viana do Castelo and in Ponte da Barca. If you prefer a quieter place, Portalegre can be a good option for tree houses. 
Another option can be Coimbra, through the north of Portugal. You can find many options for yurts. Besides yurts, eco-friendly cottages and teepees are also available. 
So, glamping in Portugal can be quite advantageous for you considering both the affordability and the natural beauties. Plus, you can reach the city center easily, if you prefer destinations like Setubal, Cascais, or Sintra.