Tivoli Avenida Lisboa is one of the best hotels located in Portugal's capital, Lisbon. This five-star hotel is situated in a building that dates back to the 1930s. It was also the home of Beatriz Costa for more than 30 years. Costa was a famous actress in Portugal.
Many amenities are included in this hotel. A rooftop bar with panoramic views, two restaurants, a spa center, and an outdoor pool are among these amenities.
Tivoli Lisboa is located near famous neighborhoods like Baixa, Príncipe Real, and Chiado. Thanks to its location, you can easily go shopping or nearby restaurants and bars in the neighborhood.
Let's start with the amenities and learn more about this hotel.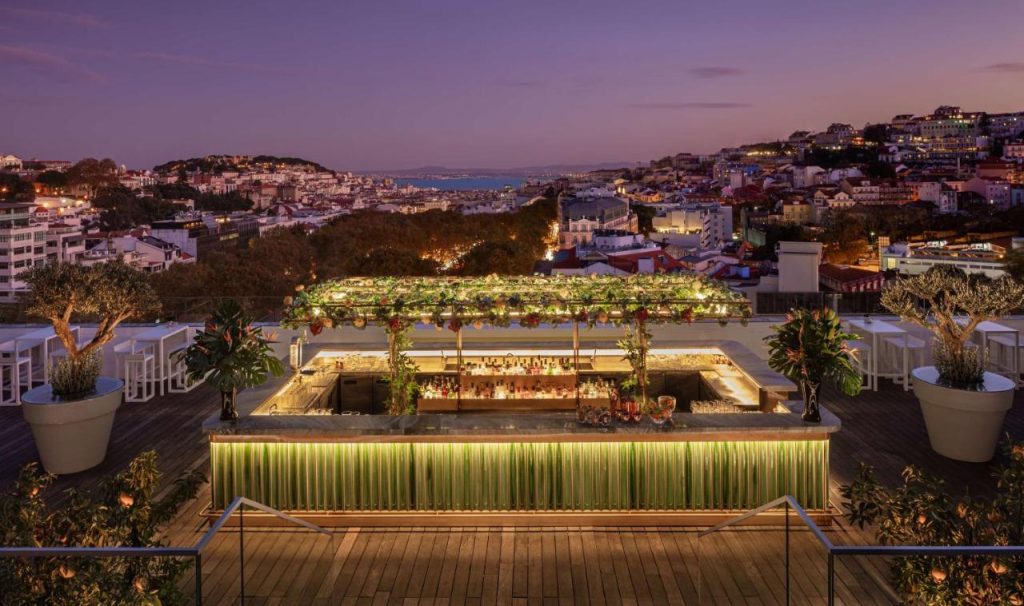 Amenities
Amenities at Tivoli Avenida Lisbon include a free outdoor pool, the Anantara Spa, a shuttle service, and private parking. Private parking costs €17,5 per day, and reservation is not available.
Air conditioners are available throughout the building, and there is an allergy-free room as well. WiFi is free in the hotel. Family rooms and a spa center are also available.
Also, the hotel is certified by the Portuguese Tourism Board. Accordingly, it complies with health and safety standards.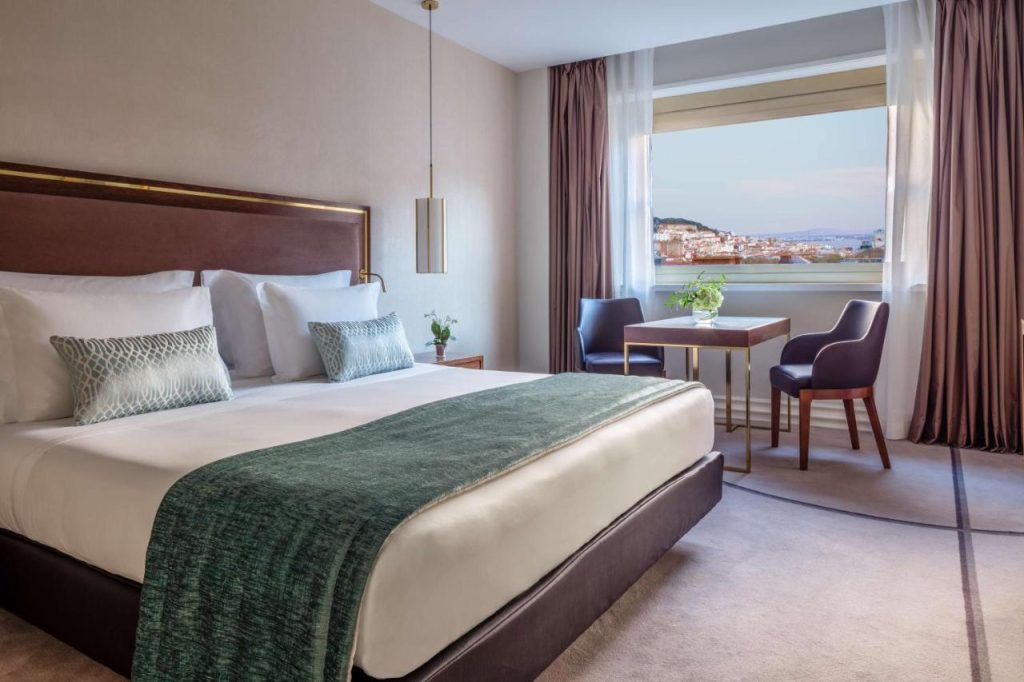 Rooms
There are a total of 285 rooms at this hotel. They are soundproof, and all rooms are decorated in a modern way. You can enjoy the views of the Tagus River and Avenida da Liberdade from your room. Some rooms have a view of the courtyard as well.
The rooms in Hotel Tivoli Lisboa include seats and a flat-screen TV with satellite channels. Bathrooms are fully-equipped, and Nespresso coffee machines are available in all rooms.
The types of rooms in the hotel are:
Deluxe rooms,
Deluxe rooms with city views,
Deluxe rooms with Avenue views,
Family Deluxe,
VIP level Junior Suites,
VIP level Suite Executive,
VIP-level Diplomatic Suite, and
VIP level Presidential Suite.
The suites are more spacious, and they're decorated in distinct ways and with classical furniture.
Activities
Most activities in Tivoli Liberdade Lisbon are subject to an additional charge. Activities include bicycle rental, live music or performance, bike and walking tours, and a kids club.
Diving, hiking, canoeing, and windsurfing are also provided off-site and with additional charges.
Babysitting and child services are also available but charged.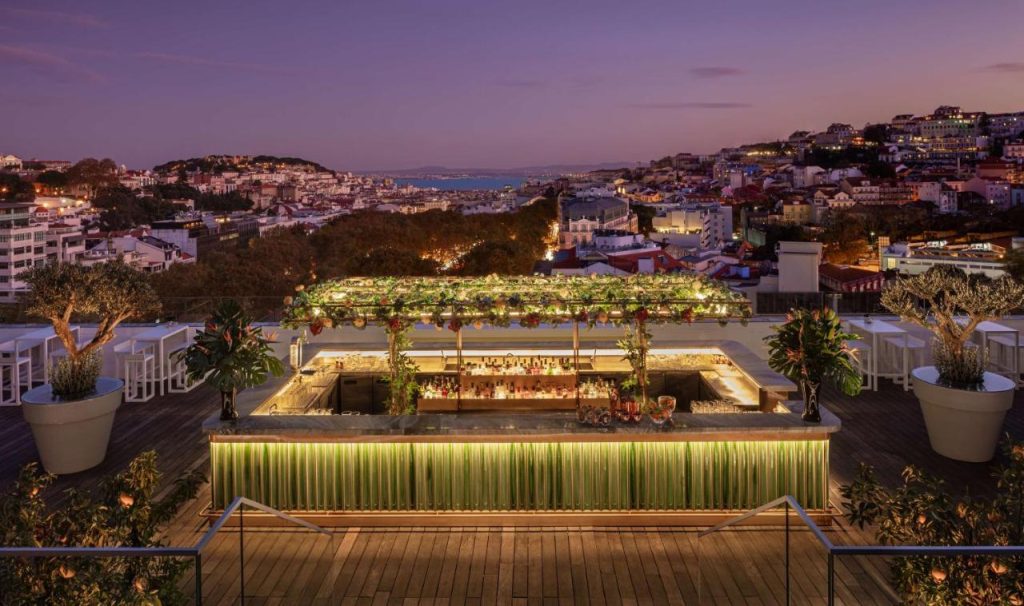 Foods, Drinks, Restaurants, and Bars
At Tivoli Avenida Liberdade Lisbon, you can enjoy your breakfast, lunch, and dinner in the onsite restaurants. A lobby bar and a pool bar are also available.
Let's start with breakfast. There's a breakfast buffet prepared each morning, and it's healthy. It includes fresh fruit juices, cheese, bread, fruit, and many others. It's also possible to ask for an early breakfast if you need to leave the hotel early. You can also order hot dishes as well.
It's possible to find Asian, American, and Continental breakfasts, and you can choose gluten-free, vegan, or vegetarian options.
Let's now look at the onsite restaurants that the hotel has.
Cervejaria Liberdade
Cervejaria Liberdade is the topfloor restaurant of Hotel Tivoli Avenida Liberdade Lisboa. The place offers delicious and fresh seafood and fish. It's also famous for its steak tartar. Cervejaria serves local and Portuguese cuisine for its guests. It has a rich wine selection as well.
SEEN Lisboa
SEEN Lisboa offers a delicious menu and drinks including cocktails. The cocktails are made by the head bartender Lucas Jaques. Like Cervejaria, SEEN Lisboa offers great panoramic views as well. The cuisine type is international at SEEN Lisboa.
Sky Bar by SEEN
This is a very popular rooftop bar in Lisbon, and it's the extension of the restaurant SEEN Lisboa. The bar at Tivoli Avenida Liberdade Lisboa promises great cocktails and wines for its guests.
Lobby Bar
The Lobby Bar offers light meals like sandwiches, salads, and snacks. It also serves soft drinks and cocktails. The place is ideal for a relax after a long day. You can also make business meetings here.
Pool Bar
Like the Lobby Bar, Pool Bar also serves light meals. Yet, it's open in the summer months. Fresh fruit juices, wines, and cocktails are also served in this bar.
Cleaning Services
Cleaning services at Hotel Avenida Liberdade Lisboa include daily housekeeping, ironing, dry cleaning, and laundry. Except for housekeeping, the other services are subject to additional charges.
Business, Meeting, and Event Facilities
There are 14 meeting rooms and a congress center for various events including weddings and business meetings. Fax and photocopying service are also available.
Check-in and Check-out Times
Check-in: Starts at three p.m.
Check-out: Until 12 p.m.
How To Reach The Hotel: Address
The address of Lisbon Tivoli Hotel is: Avenida da Liberdade, 185, Santo Antonio, 1269-050 Lisbon, Portugal.
You can reach the Avenida Metro Station from 150 meters away. It's the closest transportation to the hotel. You can use the Blue Metro Line.
The closest airport to the hotel is Humberto Delgado Airport.
In conclusion, Hotel Tivoli Avenida Liberdade Lisboa is a luxurious and sophisticated hotel located in the heart of Lisbon. With its prime location, elegant rooms, and excellent amenities, the hotel is an ideal choice for travelers seeking a refined and comfortable stay in the city. Whether you're in Lisbon for business or pleasure, the Hotel Tivoli Avenida Liberdade Lisboa is sure to provide an unforgettable experience.
FAQ
What is Hotel Tivoli Avenida Liberdade?
Hotel Tivoli Avenida Liberdade is a luxury hotel located in the heart of Lisbon, Portugal. The hotel offers guests a variety of amenities and services, including a fitness center, a spa, and multiple dining options.
Where is Hotel Tivoli Avenida Liberdade located?
The hotel is located on Avenida da Liberdade, a popular shopping and dining destination in Lisbon. It is within walking distance of many of the city's top attractions, including the historic Baixa district and the picturesque Praça do Rossio.
What room options are available at Hotel Tivoli Avenida Liberdade?
The hotel offers a range of room options, including standard rooms, suites, and executive rooms. All rooms are equipped with modern amenities, such as high-speed internet access, flat-screen TVs, and minibars.
Does Hotel Tivoli Avenida Liberdade have a restaurant on-site?
Yes, the hotel has multiple dining options on-site. The main restaurant, Viva Lisboa, serves traditional Portuguese cuisine, while the rooftop bar offers panoramic views of the city and a variety of cocktails and light snacks.
Are there any special offers or packages available at Hotel Tivoli Avenida Liberdade?
Yes, the hotel often has special offers and packages available. These may include discounts on room rates, spa treatments, or dining options. It's best to check the hotel's website or contact them directly for the latest offers and packages.