Lisbon metro is cheap, secure, and usually, a swift method to travel around the capital. There are four metro lines, traveling on a total of 46km of track and supported by 56 metro stations. The lines are distinguished by colors, (Blue, Yellow, Green, and Red) allowing you to cross the city from north to south or from east to west.
Lisbon Metro Stations and Routes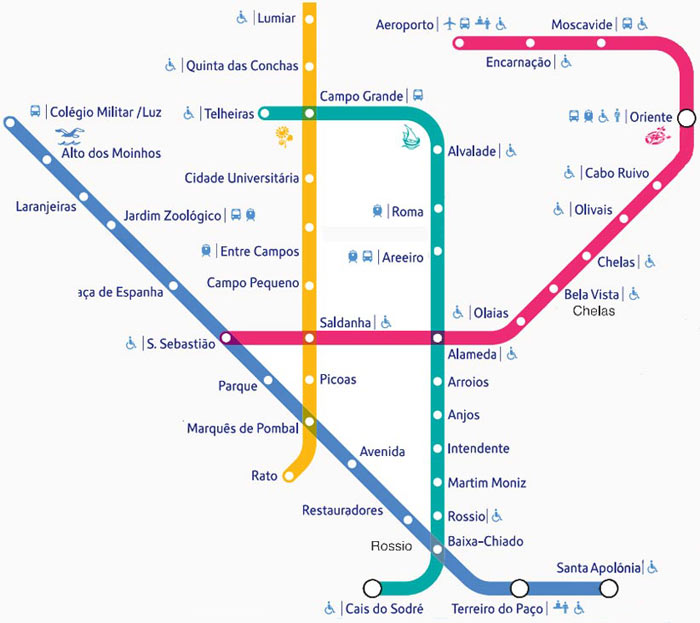 You can find each metro line and its starting and ending destinations below. The first two covers more tourist areas:
Green (Caravela): Cais do Sodré – Telheiras. It connects the tourist areas around Baixa. It also covers the train station to Cascais.

Red (orient):

São Sebastião – Aeroporto. It connects Parque das Nações and the airport to other lines.

Blue (Seagull):

Amadora este – Baixa Chiado

Yellow (Sunflower):

Odivales – Rato.
How do you use the Metro in Lisbon?
First of all, to gain access to the metro, you ought to buy a magnetic pass (Viva Viagem) worths €0.50 from a teller or at a station (displays are in English, Spanish and Portuguese). Then you must load this pass with a minimum of 3€, or multiplies of 5 up to 40€. It's used by all of Lisbon's urban and suburban public transport, and this includes the commuter ferries and trains to Sintra and Cascais. The card is valid for 12 months.
Although the card is used by all of Lisbon's public transport, it can only collect one type of fare (for example, a metro ticket, a train fare, or a 24-hour urban pass). The option around this is to use the "Zapping" credit. A zapping ticket allows credit to be charged to the Viva Viagem card, which can be used to pay for all public transport. This ticket is useful if you are going to use public transport, but are never going to use it enough to warrant the 24-hour unlimited ticket. The zapping fares are slightly cheaper than regular tickets; the metro is €1.40 instead of €1.50, the tram is €1.25 instead of €2.85.
Lisbon Metro Tickets
If you choose to buy regular tickets for the metro, you have to reach either ticket offices or ticket machines. The ticket offices are always busy at the popular metro stations, such as the one at the airport and Rossio Square; whereas they can be closed early at the quieter metro stations. However, the ticket machines are user-friendly, logical, and provide instructions in multiple languages, including English, French, Spanish, and Portuguese.
Alternatively, you can buy a Lisboa Card online, for 24 hours up to 72. If you're planning to travel around a lot and visit a couple of museums & shops as well, this option can be both economic and practical. It doesn't require refills and you can use it successively until its expiration.
Lisbon Metro Fares 2021
There are two fare zones for Lisbon's metro, but the main tourist attractions and the airport are all within zone 1. The 2019 Lisbon metro fares are:
• €1.50 – Single Fare
• €6.40 – 24-hour unlimited travel, which includes all Lisbon buses and trams, along with the funiculars and the Elevador de Santa Justa. A return on the Elevador de Santa Justa costs €5.50 and provides one of the best views of central Lisbon.
If you want to learn more about getting a Lisbon Card, you can check our article below.
Lisboa Card: All You Need To Know
Is Lisbon Metro 24 hours?
Nope. The first service of the day is at 6:30 am and the last service of the night is at 1:00 am (some minor stations close at 9:30 pm). The density of arrivals depends on the time of day and day of the week, but typically there is a departure every 6-12 minutes.
Is There A Metro Station at Lisbon Airport?
Yes – The Lisbon airport has a metro station with a direct line to the city center. The metro network is a good gadget to reach the airport or move around the city with ease. The best benefit of using the Lisbon airport metro is that it is cheap, fast, and you get the opportunity to see the diverse selection of stations in the city, each with its unique decor and style.
You can find the details about Transportation at Lisbon Airport in our article.
Beaches You Can Arrive at Through the Lisbon Metro
Costa Da Caparica
You can take a metro from the city center to the Areeiro station on the green line.
Tamariz Beach
Via metro, it takes 30 minutes to arrive at Tamariz Beach from Lisbon's center. You can take a metro from central Lisbon to Estoril station. From there, you'll walk for only a few minutes to arrive at the beach.
Praia da Torre
You'll need to take a metro to the Carcavelos station or Santo Amaro station. When you reach the Carcavelos station, you'll walk a few minutes to the east to reach the beach.
If you arrive at the Santo Amaro station, you'll walk towards the nearest Santo Amaro beach. Then, you'll walk to the west along the promenade.