Tram 28 is a very old and famous tram in Lisbon. Tourists in Lisbon are quite attracted to this type of transportation. Locals also use the tram for daily purposes. Let's now look at the details of this specific tram.
Lisbon Trams
Unlike most cities, Lisbon is insistent on keeping its historical trams. Today, they are quite popular and admired by many visitors. Out of five Lisbon tram lines, four of them provide old tram models. Tram 28 is also among the old ones.
Tourist trams are also available along with normal public trams like Tram 28. The color of the tourist trams is red. They follow almost the same route as Tram 28. The difference is that the price of these trams is higher, and there is spoken guidance.
If you want to learn more information about Lisbon trams, it is advisable to check the Lisbon public transport website.
Related Article:
History of Tram 28
Its history dates back to the beginning of the 20th century. Back then, there were old horse-drawn carriages in Portugal. They were the main means of transportation. Then in the year 1914, the tram system was imported from the United States by the company Carris. It is a company that operates trams and buses in Lisbon. In 1901, the company first began to use electric trams. Then, they built some other trams between the years 1936-1947 and some others between 1995-1996.
In time, the route of Tram 28 changed. At first, the stops started from Praça Camões and ended at Estrela. Today, it starts at Largo do Martim Moniz, and ends in Largo dos Prazeres.
Although it is public transportation aimed at regular locals, tourists are quite attracted to this type of tram. In this way, tourists can also see the great regions of Lisbon.
Summary
Tram 28 in Lisbon is basically a yellow electric carriage. Its floors are preserved with wooden floors, and its window frames are timber.
Because it is an old tram, it can be used within the narrow hills of Lisbon. As opposed to this, modern trams cannot function on most routes. Luckily, like Tram 28, most Lisbon trams are Remodelado trams, which are vintage.
You should also note that the tickets are quite affordable. Yet, you can save more money by using a Viva Viagem card or a Lisbon tourist pass. You can find Viva Viagem cards at Metro and suburban train stations. They are also available on ferries, and at PayShop locations.
Because it is a very popular tram, expect to stand only around the standing room. You should also note that you may not even find any standing room during rush hours and tourist seasons.
Lisbon Tram 28 Route Map
Tram 28 passes through many historical places during the journey. Let's now look at some of the attractions on the route.
Attractions on the Route
The tram starts at the Praça Martim Moniz. Sometimes, the line may be long, but you will get used to it. In the end, you will be able to see great monuments and unique streets during your trip. Also, all of this costs only a few coins!
The next stop is Voz Operário, where the Monastery of São Vicente de Fora is located. The monastery was an important foundation in medieval Portugal. It has a Romanesque style, and it houses the royal pantheon. The style of the façade of the building belongs to Mannerism, a Renaissance style. It also offers a view of the National Pantheon dome behind it.
---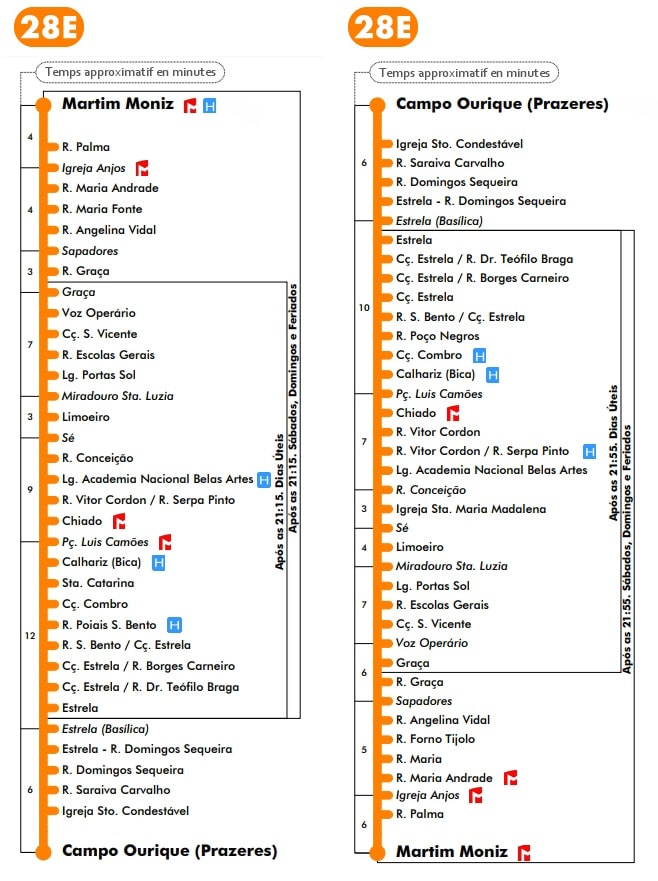 ---
Portas do Sol is another stop. It has a great view and sees the old town of Alfama. There you can see the domes of São Miguel, Santo Estêvão, and São Vicente de Fora churches.
Sé is another stop where there is The Lisbon Cathedral. It dates back to the times of the Portuguese Age of Discovery. This Gothic Cathedral has survived many earthquakes through the centuries, despite some parts of it being destroyed. Later built in a Baroque style, it still maintains its magnificence.
Conceição. It is a downtown area that has a square. Here you will find Terreiro do Paço or the Palace Yard. You'll also see great views around this area.
Estrela. You'll find Basílica da Estrela here, created when the Queen gave birth to a boy. According to the story, Queen Mary promised that she would construct a Basílica if God gives her a boy. Ultimately, she had the building constructed. Sadly enough, her son Jose died two years after. Then, the queen died because of her grief, and her body was put inside the Basílica.
Just the opposite of this Basílica lies the Jardim da Estrela. It is a green area within the city. There are lots of ponds with ducks, birds, and turtle frolic inhabiting them. Usually, families and people who wish to do exercise or picnic choose this area.
Campo Ourique. This is the final stop. You will see the Prazeres Cemetery, meaning the Cemetery of Pleasure. It takes its name from the neighborhood. The Cemetery indeed offers a calm and delightful environment to rest or stroll. It is also the largest cemetery in Lisbon. It also hosts many well-known Portuguese. Behind the park, you'll see the view of the Salazar bridge.
Touring Lisbon on Tram 28
Through Tram 28, you will be able to visit many historic parts of Lisbon by going up and down its sharp hills. This includes the district Alfama as well, where you'll see labyrinths of streets, the Azulejo houses, and many others we've described above. In Bairro Alto, you'll find lively nightlife. There are many restaurants, bars, and nightclubs. Not to mention enjoying the fado music mostly in Alfama and Bairro Alto.
Working Hours
You can find the working hours of the trams below:
On weekdays: 5:40 am – 11:30 pm

On Saturday: 5:45 am – 10:30 pm

On Sunday: 6:45 am – 10:30 pm
During the rush hour (between 7 and 8 a.m.), a new tram comes up every ten minutes. At other times, they run every 15 minutes. Sometimes, Lisbon trams break down, so the timetable may change at those times.
It normally takes around 48 minutes from the first stop to the last, depending on the traffic.
Useful Tips to Ride Lisbon Tram 28
Remember that Tram 28 is actually public transportation. So, the local people also use it, and they may need them more than a tourist does. If you want to use the trams for tourist purposes, you can opt for the red tourist trams. Their routes are quite the same.

As a general rule, respect the line, and leave a seat to the ones who need it most.

It can be practical to buy your ticket in advance. Before going to Lisbon, you can buy a Viva Card in advance (€0.50). Then, you can top it off with cash instead of tickets. In this way, you will not need to wait in line until you get your change from the driver. You also have some other ticket options. There is a single ticket option, which costs €3. Also, remember that you can also get a 24-hour public transport ticket from any metro station. This costs €6.40 but it is valid in metro, tram and bus services.

If you want to use the tram without a crowd, it is advisable to take the tram as early or as late as possible. 7-8 a.m. in the morning is an ideal time period to do this. At this hour, go to the first stop Martim Moniz, and beat the tourist crowd.

Even if you want to try the route in reverse, you need to step off at the last stop and get in line again at the first stop.

You can also see buses with 28E signs. These are small buses replacing the tram when there is a problem on the road for the tram to move. Don't worry, you can use this bus as well. Your ticket will still be valid there.

Although Lisbon is a safe city, remember that there are still some pickpocketers here and there. Also, Tram 28 is a favorable place for them. So, be more careful when you use these types of transportation. It is advisable to hold your bag in front of you and keep your valuable belongings inside your bag.

Don't forget that while passing through narrow streets, the brakes can be very sharp. So, it is better to hold on to somewhere inside the tram throughout your trip.
FAQ
What is tram 28?
Tram 28 is a popular tourist tram in Lisbon, Portugal. The route takes riders through some of the most historic and scenic parts of the city, including the Baixa district, the Chiado neighborhood, and the Bairro Alto. Tram 28 is one of the oldest trams in Lisbon, and it has become a symbol of the city's vibrant tourism industry. Every year, millions of visitors take a ride on Tram 28, making it one of the most popular tourist attractions in Lisbon.
What is the alternative to Tram 28 in Lisbon?
The 12E tram can be a good alternative to Tram 28. It passes through most of the same stops as Tram 28. They include stops at São Jorge Castle, Miradouro de Santa Luzia, the Se Cathedral, and more others.
Another option is the 25E tram to reach Campo Ourique. From there, you can reach the downtown area.
What are the working hours of Tram 28?
It usually runs from around 5.30 a.m. to 10-11 p.m. throughout the week. For more details, check the Working Hours section above.
Why is Tram 28 in Lisbon famous?
Tram 28 line covers a large portion of the city, making it a great way to see the sights. Tram 28 is also famous for its historical significance. The team was first built in 1901 and was in operation for nearly 60 years before it was finally retired in 1959. However, the tram was so popular with locals and tourists alike that it was eventually brought back into service in 1994. Today, Tram 28 is once again a popular way to see the sights of Lisbon.
How long is the wait for Tram 28 in Lisbon?
The wait for Tram 28 can be anywhere from a few minutes to an hour, depending on the time of day and year. Tram 28 is busiest in the summer months when tourists flock to Lisbon to enjoy the city's sights and sounds. However, Tram 28 is also popular with locals, who use it as a convenient way to get around the city. As a result, the Tram can be quite crowded during peak hours. If you're planning to ride Tram 28, it's best to check the schedule in advance and plan your visit accordingly.
Does the Lisboa Card include Tram 28?
Tram 28 is not included in the Lisboa Card. The Lisboa Card is a tourist card that provides free or discounted entry to many of the city's museums and attractions, as well as free public transportation. While the Lisboa Card can save you money on many of the city's attractions, Tram 28 is not included in the card. If you want to ride Tram 28, you will need to purchase a separate ticket.
Where do I catch Tram 28 in Lisbon?
The best way to catch Tram 28 is at the start of its route, which is at Praça do Comércio. This is also a good place to get your bearings before getting on the tram, as it's located in the center of Lisbon near many of the city's main sights. Tram 28 takes you past some of Lisbon's most iconic landmarks, including the castle, Jorge Duarte Square, and St George's Cathedral. The journey takes around 40 minutes, depending on traffic, and there are numerous stops along the way where you can hop off and explore. Just be sure to catch the tram back to Praça do Comércio so you don't miss your stop!
How much does it cost to ride Lisbon's Tram 28?
Ride Tram 28 prices vary depending on the time of day and day of the week but generally range from 2.85 to 3.50 Euros. Tram 28 is a great way to see Lisbon's must-see sights without breaking the bank.
How long does it take to ride Lisbon's Tram 28?
The answer depends on a few factors, including the time of day and the day of the week. Tram 28 runs every 20 minutes from 7 am to 9 pm on weekdays, and every 30 minutes from 9 am to 9 pm on weekends. However, during peak times (such as rush hour), Tram 28 can be quite crowded, which can slow down the ride. In general, though, it takes about 45 minutes to ride Tram 28 from start to finish.
What to see along the tram 28 route?
Lisbon tram 28 route takes you through some of Lisbon's most historic and beautiful neighborhoods, including the Bairro Alto, Baixa, and Chiado. Along the way, you'll see many of Lisbon's iconic landmarks, such as the Castle of Sao Jorge, the Cathedral of Lisbon, and the Rua Augusta Arch. You'll also get a taste of Lisbon's lively Culture as you pass by numerous cafes, shops, and restaurants. Whether you're a first-time visitor to Lisbon or a longtime resident, Tram 28 is a must-see attraction.
How do you pay for Tram 28 in Lisbon?
The best way to pay for Tram 28 is with a rechargeable card called the Lisboa Card. The Lisboa Card can be purchased at any tourist office in Lisbon, or online. It allows unlimited travel on Tram 28, as well as on all public transportation in Lisbon. The card also provides discounts at some museums and attractions. If you plan to use Tram 28 frequently during your stay in Lisbon, the Lisboa Card is the best option for payment.
Does Tram 28 take cash?
Tram 28 does take cash. The fare is just €3.00 per ride, and you can either purchase a ticket from the driver or at any of the city's metro stations.
Can I use a Viva Viagem card on Tram 28?
You can use a Viva Viagem card on the Tram 28. It is a reusable card that can be loaded with money or tickets. To ride Tram 28, simply tap your Viva Viagem card on the fare reader as you board the tram. Tram 28 tickets are also available for purchase at ticket machines or from the driver.
Where does the 28 Tram start?
Tram 28 starts at Praça do Comércio, which is located in the central area of Lisbon. The tram then heads up Rua Augusta, a busy street lined with shops and restaurants. After Rua Augusta, the tram turns onto Rua Garrett, a narrow street that is home to some of Lisbon's most famous museums and art galleries. From there, the tram continues through the historic Baixa district before finally ending at Campo de Ourique.