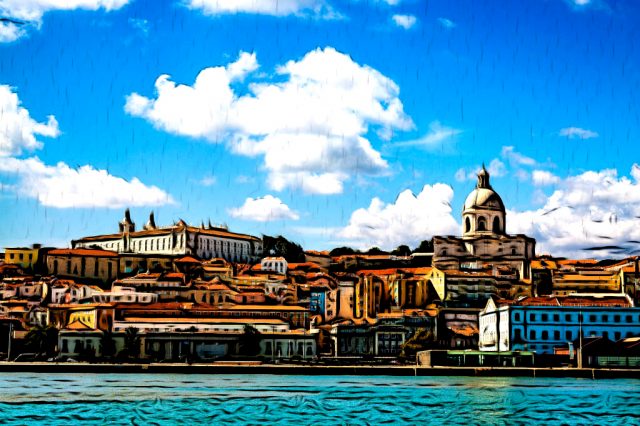 Lisbon is the capital city of Portugal. With its population of over 3 million people, it is the 11th most crowded city amongst European Union cities. Lisbon's population constitutes over quarter of the total population in Portugal. The city is one of the most popular tourist destinations in the world. As a result, Lisbon's Humberto Delgado Airport welcomes more than 20 million visitors per year.
Historically, Lisbon is one of the oldest cities in Europe. Under Phoenicians' reign, Lisbon was used as a trade port with its strategic location during 1200s BC. The city that spent several centuries under Rome's reign and then several centuries under Muslims' reign offers many antique beauties to its guests.
Apart from its historical attractions, Lisbon also offers a vibrant, modern city life with attractions for both who seek peace and adventure. The city's nightlife is among the bests of Europe. All these qualities make it very hard to finish a trip to Lisbon in just one day. This guide is here to help tourists in a hurry.
Tips to Make the Best of the Day in Lisbon
First of all, when travelling in a hurry, it is crucial to know the best means of transportation. Lisbon's famous yellow streetcars are the most popular transportation option within the city. These vintage cars connect the city's narrow and acclivitous streets. These cars have been working for the city's transportation for almost 150 years now. One trip tickets for these cars cost 2.90 euros. So, it would be more logical to buy daily tickets which cost around 6 euros. Lisbon's subway network is not highly developed, but it is efficient. However, to be able to travel through the city's unique atmosphere, subway is not the ideal choice. City's more developed bus network might be a better idea when it comes to observe the city during trips. One trip tickets for metro costs 1.40 euros and costs 1.80 euros for the buses.
Second, travelling essentials are important to be able to enjoy the day. What to pack for Lisbon, of course, differs according to the season. Considering that the most popular tourism period of the capital is summer, the essentials of the backpack are light items. Several t-shirts, shorts, skirts and swimsuits are musts of the list. Ocean winds of the capital might make the weather cool at nights even in summers. So, it would be a good idea to pack one or two jackets just in case. Considering the amount of sunny days, a hat and a powerful sunscreen are not to be forgotten before the trip. Finally, a smaller pack for daily use would be ideal since travelling around with a huge backpack might take the joy out of the trip.
Finally, obtaining a Lisboa card which grants entrance to many tourist attractions and substitutes for transportation fees is a money and time saving idea.
Lisboa Card
For museum entrances and transportation fees, tourists can obtain a Lisboa Card which has different versions for 1 day, 2 days or 3 days. These cost differently, but definitely worth the money. Lisboa Card can be obtained at the airport. One day version of this card costs 19 Euros.
Essentials of the Only Day in Lisbon
In 24 hours, tourists might arrange a program involving Bairro Alto, Alfama and the Lisbon Castle with plenty of time to spend in each. If the aim is to visit more places with less time in each, Belem, Praça de Comercio, and Chiado may be included into the itinerary.
Alfama: Starting the Day
A good day in Lisbon starts with a good breakfast in Alfama. Portugal's famous pastries named Pasteis de Nata have some of its best examples in this district. After tasting these custard pastries fresh out of oven, it is time to enjoy the district itself.
One of the more traditional districts of the Portuguese capital, Alfama is a former workers' town. The town which used to be quite poor is now one of the most sophisticated and touristic districts of Lisbon. Narrow streets of Alfama create amazing opportunities for nice photographs. Also, Lisbon Cathedral which is almost 1000 years old is nearby for a visit.
VIP (Very Important Place): Sao Jorge Castle which is the next item in this itinerary is in the Alfama region and it is one of the most important tourist attractions in the country.
Lisbon Castle (São Jorge Castle)
Within walking distance from almost anywhere in Alfama, Lisbon Castle also named São Jorge Castle is upon the hill that is visible from a lot of places in Lisbon. The queues of the castle may get quite long. So, if the trip in Lisbon is for just one day, it might be a better idea to enjoy the view from outside the castle, because once in there, it is hard to get out without strolling around for far too long in amazement.
The monumental São Jorge Castle on top of the hill can be seen from many parts of the city. From many places in Alfama, it is just a short walking distance away and the perfect next stop on your Lisbon itinerary.
Do not miss: The chance to view Lisbon from up above.
Last Stop: Bairro Alto
Bairro Alto is the district in Lisbon which is most associated with the nightlife of the city. In the morning, the district is very quiet. However, many night clubs, pubs and restaurants open later here in which tourists can have fun until the morning.