Lisbon is a city where you can join many events and festivals throughout the year. A Lisbon event can mean a music festival, a cultural event, or a sports festival. Some of these events are international festivals taking place each year.
If you want to make your Lisbon visit enjoyable, you can go to some of these events. Take a look at these activities and their dates below.
Lisbon Upcoming Events in 2023
There are many festivals that take place each year in Lisbon. Find some of the regular ones, and other Lisbon events 2023 below.
EDP Lisbon Half Marathon'23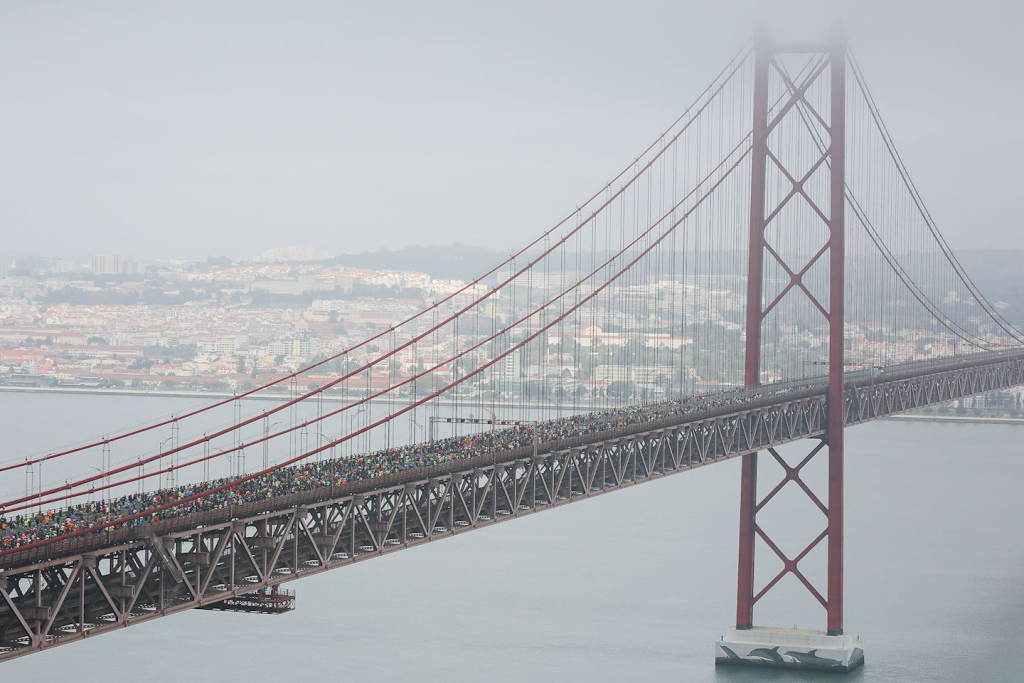 Being the most popular marathon in the city, EDP Lisbon Half Marathon hosts more than 35.000 runners globally each year. It takes place every March and offers you to run on the Ponte 25 de Abril bridge.
The marathon starts in Cascais, and a half marathon starts at the bridge of Vasco da Gama bridge. Then, you pass through the 25 de Abril bridge. The marathon finishes before the Jerónimos Monastery. Anyone can join this meetup Lisboa event.
Date: March 12, 2023
Address: Ponte 25 de Abril Praça do Império, Lisbon
Monstra – Lisboa Animation Film Festival'23
Since 2000, Monstra animated film festival has been held each year. The festival shows various animated films from all around the world. the categories of films include short films, feature films, and student films.
Date: March 15-26, 2023
Address: Casa do Cinema | Rua da Rosa, 277 – 2º 1200-385 Lisbon
Millennium Estoril Open'23
Being one of the Lisbon festivals, the Millenium Estoril Open hosts young tennis players. They are top players that come from various countries. Thousands of spectators come to Estoril to enjoy this great sports festival.
Date: April 1-9, 2023
Address: Clube Ténis Estoril Avenida Conde de Barcelona 2765-470 Estoril, Lisbon
IndieLisboa'23
IndieLisboa is one of the Lisbon cultural events taking place every year. It's an international independent film festival held between April and May. Hundreds of both Portuguese and international films are demonstrated at this festival.
The genres of these films are also manifold: short movies, documentaries, animation, and so on. It's a great opportunity to see these films that are difficult to see otherwise.
In addition to a film screening, you can attend debates, forums, and workshops. There are also networking events and a scriptwriting lab as well. Besides these, a DJ and parties accompany you at night. The festival lasts 12 days.
Date: April 27-May 7, 2023
Address: Cinemateca Portuguesa, Cinema Ideal, Culturgest- Fundação Caixa Geral de Depósitos, and Cinema São Jorge
Super Bock Super Rock'23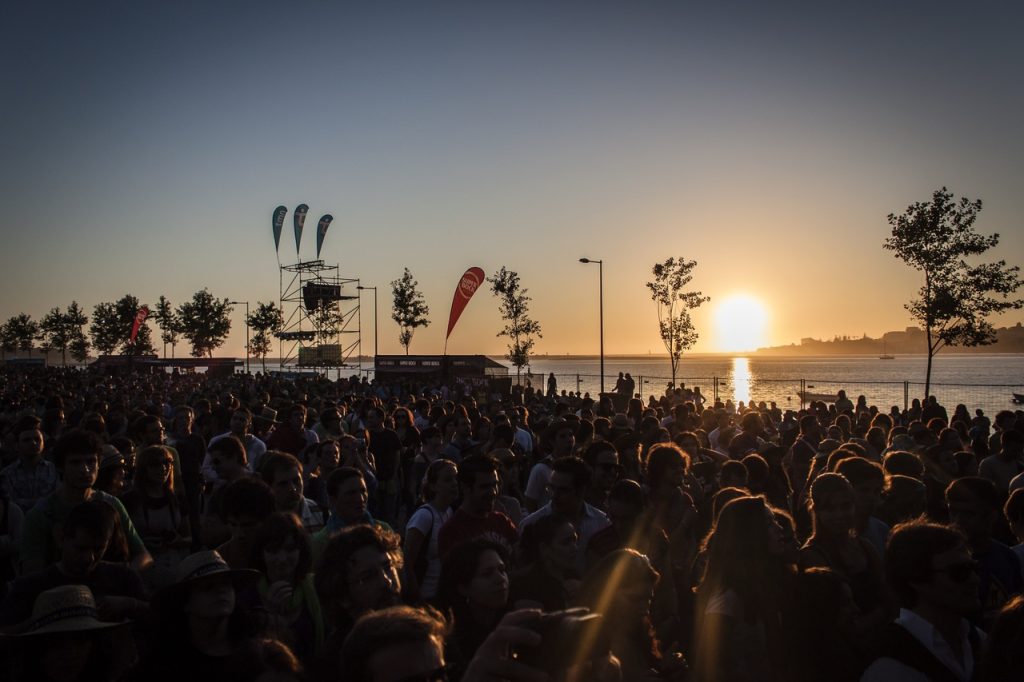 It's a Lisbon music festival that has been taking place since 1995. It's named after the main sponsor Super Bock which is the beer brand.
The festival hosts many Portuguese and international acts both indoors and outdoors. The festival lasts for three days, and it gathers many genres including electronic, metal, and rock. The location and date of the festival have not been announced yet.
Date: July 2023
Address: Not announced yet
Arraial Lisbon Pride
This meetup Lisbon event has been organized each year since 1997. Arraial Lisbon Pride takes place in Terreiro do Paço every year in June. At this festival, you can enjoy the performances of DJs, concerts, food, and other entertainment. People celebrate the equality and freedom of the LGBTQ+ community throughout this festival. This is one of the free events in Lisbon.
Date: June 2023
Address: Terreiro do Paço, Lisbon
Rock in Rio Lisboa 2023
The popular music festival, Rock in Rio Lisbon, is a must-see event for any music lover. Taking place over two weekends every June, this festival brings some of the best international bands and artists to Lisbon and allows attendees to revel in great music, delicious food, and an exciting atmosphere.
Date: June 2023
Address: Parque da Bela Vista
NOS Alive'23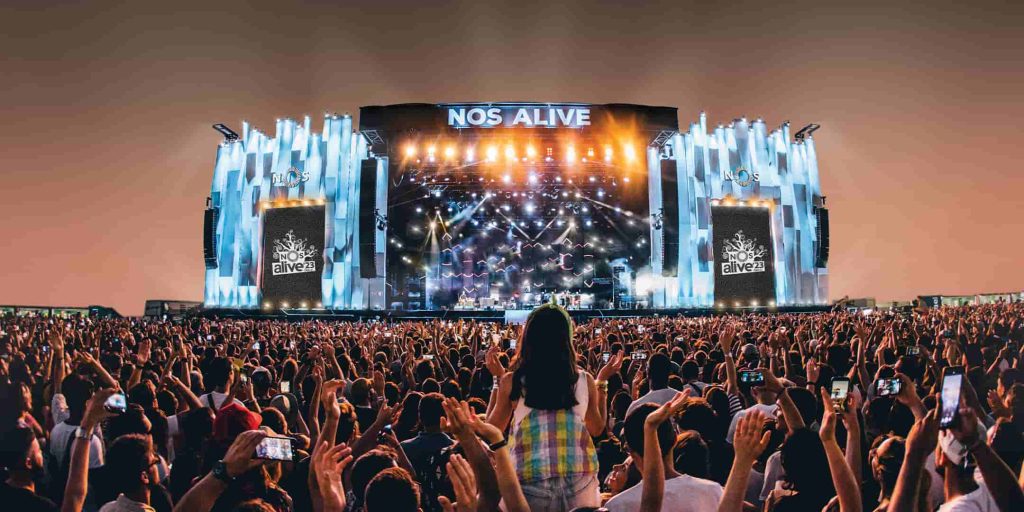 NOS Alive is another great festival to enjoy the best live music Lisbon offers. Lasting three days, NOS Alive brings together the genres of pop, rock, and indie.
This Lisbon music festival 2023 takes place at the Passeio Marítimo de Algés. Thousands of people from Europe come to Portugal to enjoy this festival. They also enjoy the beach during the day and the festival at night. Many international artists and bands take the stage throughout the festival.
Date: July 6-8 2023
Address: Passeio Marítimo de Algés Av. Brasília Algés, Lisbon
New Years' Eve
New Years' Eve is one of the important Lisbon events today. It's celebrated in the main squares of the city each year. People set up a big stage at Praça do Comércio near the Tagus River, and throw Lisbon concerts.
Another place to enjoy New Years' Eve is São Jorge Castle. It opens at midnight, and you can see the fireworks from here. The neighborhood around the Belém Tower and Parque das Nações are other areas to celebrate. If you want to enjoy your time at a bar or club, the Bairro Alto region is the perfect place to do it.
Date: December 31, 2023
Address: Several meeting points in the city
ARCOlisboa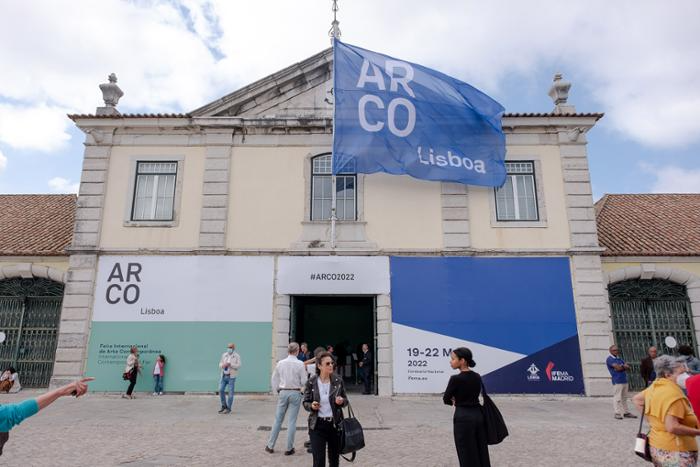 ARCOlisboa is an international contemporary art fair held each May. This event showcases some of the best art from galleries and artists around the world and features a series of lectures and conversations about modern art. It also offers visitors plenty of opportunities to explore Lisbon's vibrant culture and meet with its passionate local creatives.
Date: 25th May
Address: Feira Internacional de Lisboa
So, Lisbon is full of entertainment and fun throughout the year. No matter which date you're in Lisbon, you can find Lisbon events this week. Enjoy your time in this vibrant city!
FAQ
What are some popular events in Lisbon?
Lisbon is an exciting and vibrant city, with diverse attractions and events to experience. Every year there are plenty of popular events that draw locals and visitors alike from around the world. In 2023, exciting events taking place in Lisbon include the Sacromonte Jazz Festival, the l Estoril Music Valley Session, and the Grito Rock music festival. There's also a delicious foodie festival each April known as A Bica dos Pasteis de Natas where you can enjoy traditional Portuguese delights like egg tarts and sardines. Another amazing event not to be missed is a carnival celebration every summer called Alfama Catroco: an epic combination of jazz music, colorful costumes, and traditional gastronomy. Whether you're into music, food, or culture, there is always something going on in Lisbon to captivate your senses!
What are some good restaurants in Lisbon?
Lisbon, Portugal's capital and largest city, is home to some of the nation's most delicious restaurants. From traditional Portuguese cuisines such as deliciously fragrant bacalhau or succulent seafood-based dishes to internationally famous chefs setting up shop in contemporary eateries, dining in Lisbon can be a truly memorable experience. For fine dining, head over to The Feitoria or Alma – both Michelin-star restaurants offering exquisite tasting menus that explore local ethnicity fused with modern culinary trends. To get a taste of the local culture, pop into some of the city's many tascas, where you can sample tasty Portuguese snacks and conversar com o chefe (chat with the owner) for an authentic dining experience.
Are there any festivals or cultural events happening in Lisbon?
From summer music festivals such as Rock in Rio, which rocks Lisbon with the world's top talent over 3 days, to Rua da Prata, Lisbon's most traditional street market, there is no shortage of Lisbon events for visitors to experience and locals alike. Carpets of Flowers brings together local artists around January 25th, while Alfama celebrates Lisbon's community spirit with flower-filled streets and performances by traditional Fado singers. If you're looking for a lesson event that celebrates Portugal's culinary heritage, then visit the Taste of Lisboa Festival with food stands selling everything from seafood and portuguese pastries. No matter what Lisbon evokes you want to partake in–spectacular music or a festive market day–Lisabon has it.
Are there any food and drink events happening in Lisbon?
If you're looking for food and drink events in Lisbon, you've come to the right place. Lisbon is home to a number of incredible culinary experiences, from wine tastings to local farmers' markets. The city is also host to a variety of Lisbon events that celebrate Portugal's unique flavors. From small-scale gatherings promoting sustainable cuisine to large festivals featuring the best Portuguese wine and cheese, these Lisbon events offer something for every type of food and drink enthusiast. Whether you're an avid gourmand or just looking to try something new, Lisbon's food and drink events are sure to provide a memorable experience that'll leave you wanting more.
Are there any family-friendly events happening in Lisbon?
Lisbon is a vibrant city, offering a wide range of events and activities perfect for creating unforgettable family memories. From historical appreciation to cultural exploration, there's something for everyone of all ages to enjoy. Each month, local museums offer free events featuring workshops, art installations, and storytelling that are sure to captivate the whole family. If your family loves the outdoors and up-and-coming music acts, the Parque Eduardo VII hosts various Lisbon events all year long – everyone from rock to jazz bands performing in an outdoor atmosphere. Whatever your circumstance, Lisbon is bound to have something fun for your family to experience together.
Are there any sporting events happening in Lisbon?
There are a wide variety of sporting events held in Lisbon throughout the year, from football and basketball games to Olympic-level Lisbon events. For instance, the city hosts the annual Lisbon Half Marathon which takes place in mid-February each year and attracts thousands of runners from across Europe. What's more, if you're looking for unique entertainment experiences, you can attend any number of professional Lisbon event tournaments hosted by some of the world's best professional athletes. No matter your age or interest, there's always something new and exciting happening in Lisbon for sports fans!
Are there any theater or performance events happening in Lisbon?
If you are looking for a Lisbon event that provides a unique theater and performance experience, look no further! There is something special in store for theater lovers coming to Lisbon – the annual Teatro Nacional Dona Maria II Festival. During this 10-day festival, there are a variety of performances ranging from classical concerts to modern theater plays. It is the perfect opportunity to witness some of Lisbon's best and brightest telling incredible stories through dance and musical expression. Attendees can also participate in a meet and greet with the performers, workshops on stagecraft, and talks given by notable speakers. This Lisbon event truly brings together multiple art forms in one place, making it an experience like no other!
What is the best time of year to visit Lisbon?
One of the best times of year to visit Lisbon is during the summer months from June through August. With temperatures hitting the mid-seventies (F), clear skies, and a lack of rain, this time of year is perfect to explore all that Lisbon has to offer. Not only will visitors be able to explore numerous attractions without having to deal with cold weather, but they can also take advantage of better prices during this off-peak season. Whether you're after stunning views and impressive architecture or museums, art galleries and cultural attractions Lisbon in the summertime has something for everyone.
What is the best way to get around Lisbon?
The best way to get around Lisbon is to explore the city on foot. Walking through Lisbon's cobblestone streets offers unparalleled perspectives of the city's unique culture, architecture, cuisine, and history. Aside from foot travel, public transport in Lisbon is reliable and easy to navigate. The metro typically takes passengers anywhere they need to go in the city and many buses cover further distances with some even running 24 hours a day. Passengers should keep in mind that tickets are required for both metro and bus transportation, which can be easily purchased at any station. Taxis, ride-sharing services, and rental bikes are also great options for navigating Lisbon's streets and landscapes. With such an array of choices for exploring this vibrant city – walking, taking public transport, or hopping in a taxi – there's something for everyone looking to get around effortlessly in Lisbon.
What is the weather like in Lisbon?
Lisbon is a stunning coastal city in Portugal, known for its unique Mediterranean climate. Its location allows it to enjoy warm temperatures year-round, with mild summers and mild winters. The days are usually sunny and the temperature rarely drops below 0° Celsius or rises above 25° Celsius. Rainfall is quite common from October to April each year. Overall, the weather in Lisbon makes it a great destination at any time of the year!
What is the currency in Lisbon?
Lisbon, the capital of Portugal, is known for its beautiful lagoons and vibrant history. As a city offering something for everyone, a vital consideration is its currency which is the euro. The euro is the official currency of Lisbon and also of all other countries in the European Union except Denmark, the United Kingdom, and a few others. It is utilized in both domestic transactions as well as through international trade and exchange rates. This means that travelers to Lisbon can enjoy convenient access to a single currency while exchanging money without having to worry about conversions or value fluctuations between different denominations.
Are there any safety concerns in Lisbon?
Safety in Lisbon is generally quite good and the Portuguese are often friendly people. There are, however, certain areas where visitors should exercise caution to stay safe. Primarily, it's advisable to take care when walking alone in Lisbon at night and to take the usual precautions in crowded tourist areas against pick-pocketing or other crimes. Although casual crimes like those listed above do occur here and there, it's a minor issue that can usually be avoided with a bit of common sense. Taking extra precautions will ensure a happy and stress-free experience while exploring the beautiful city of Lisbon!