Have you ever visited Portugal and found yourself mesmerized by the intricate, colorful tiles that adorn the walls of buildings and churches throughout the country?
Known as "azulejos," these vibrant ceramic tiles have been an integral part of Portugal's cultural heritage for centuries, and they continue to captivate visitors with their beauty and charm.
In this article, we'll delve into the fascinating world of Portuguese tiles and explore their significance in the country's cultural heritage.
So, whether you're a tile enthusiast, an art lover, or simply curious about Portugal's cultural heritage, come along on a journey through the colorful and captivating world of Portuguese tiles.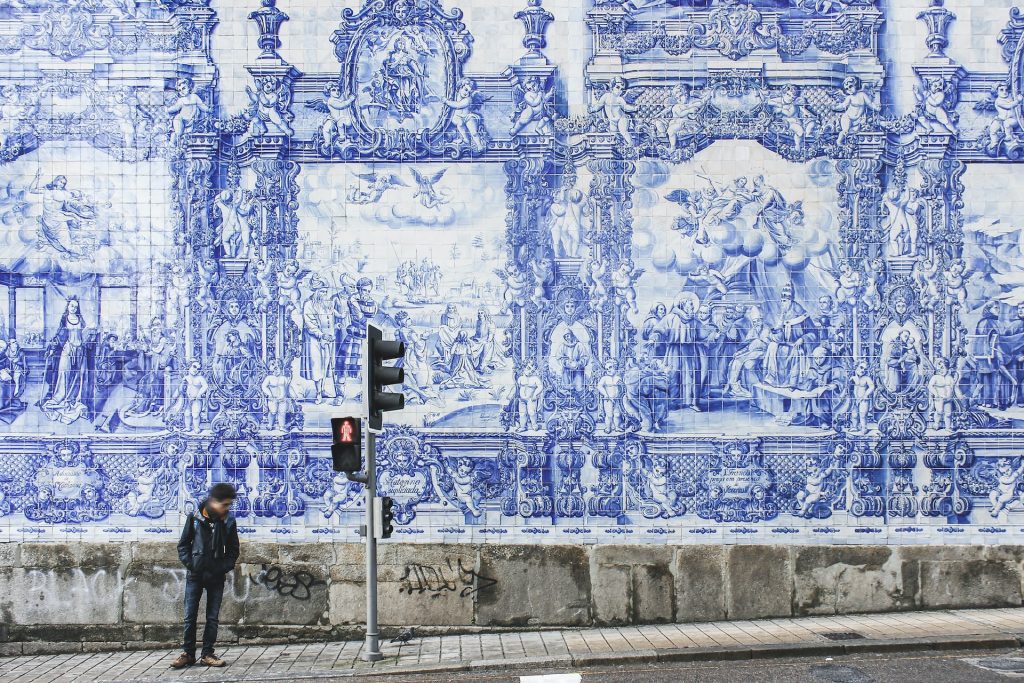 What are Portuguese Tiles?
Portuguese tiles are more than just pieces of decor – they're an essential part of the country's culture and history! Here's what you need to know:
Made from ceramic and carefully painted and glazed, Portuguese tiles are built to last. They can stand up to the elements and are designed to withstand wear and tear.
But these tiles are more than just functional – they're an integral part of Portuguese culture and traditions, with a rich history that stretches back centuries.
Creating these tiles is a highly technical process that requires specific skills and knowledge. The resulting products are known for their longevity, making them a popular choice for decorating buildings throughout Portugal.
In fact, you'll find these tiles on almost every building in the country, from grand palaces to humble homes. Some of these tiles are so old, they date back hundreds of years!
So the next time you're exploring Portugal, take a closer look at the tiles around you – you're sure to discover a rich tapestry of history and culture in every design.
A Brief History
Portugal's love affair with tiles started in the 13th century, when the Arabs brought them over from Egypt. The King of Portugal, D. Manuel I, became obsessed with the intricate pieces after a visit to Spain, bringing them back to decorate the walls of his palace. These tiles, known as "Azulejos" in Portuguese (which means "polished stone" in Arabic), are still an integral part of the country's culture today. Here are some fascinating facts about them:
So, next time you're wandering the streets of Portugal, take a closer look at the colorful tiles adorning buildings and churches – they're not just beautiful, but a fascinating piece of history and culture!
Azulejos are cut into geometric shapes before being painted, making each tile unique.
Blue tiles became popular in the 15th to 18th centuries, during the Age of Discoveries, as they symbolized wealth and power.
The Dutch started copying the Chinese porcelain style in the 17th century, which inspired the Portuguese to start producing their own blue and white tiles.
The first tile factory in Lisbon was built in the 18th century, and manufacturers still use traditional methods to produce these timeless pieces.
Portuguese Tile Art: How To Make Tiles
Have you ever wondered how those beautiful Portuguese tiles are made? The process is as fascinating as the final product itself. Here's a quick rundown:
The tiles are made in an oven, and then they're glazed on the outside so that artists can paint them.
Traditional Portuguese tiles are mostly square and thin, which makes them perfect for decorating walls.
Glazing is a crucial step to make sure the tiles can withstand weather and other conditions.
The tiles are first cut into geometric shapes, then painted with intricate designs and motifs.
Each tile tells a unique story through its decoration. For example, church tiles often depict figures and stories of saints, while others portray the voyages of explorers.

Tile styles in Portugal are influenced by the cultures of Italy and Islam, with Arab motifs of flowers and geometric shapes being particularly prevalent.

It's amazing to think that these tiles have been a part of Portuguese culture and tradition for centuries, and they continue to be a beloved aspect of the country's architecture and design.
Where Are Tiles Used in Portugal
In the past, Portuguese tiles were only used by the rich inside their homes and buildings, but over time they began to decorate the exteriors of buildings as well. Today, you can see these unique and beautifully decorated tiles all over Portugal.
They're not just reserved for the wealthy anymore, and their intricate designs are truly impressive. In fact, Portuguese tiles are becoming more and more popular in modern architecture, and can be found all around the world in stylish designs.
You'll find these tiles adorning public places, buildings, and even ceilings in Portugal, where each artist and architect decorates according to their own unique style.
Where to See the Traditional Portuguese Tiles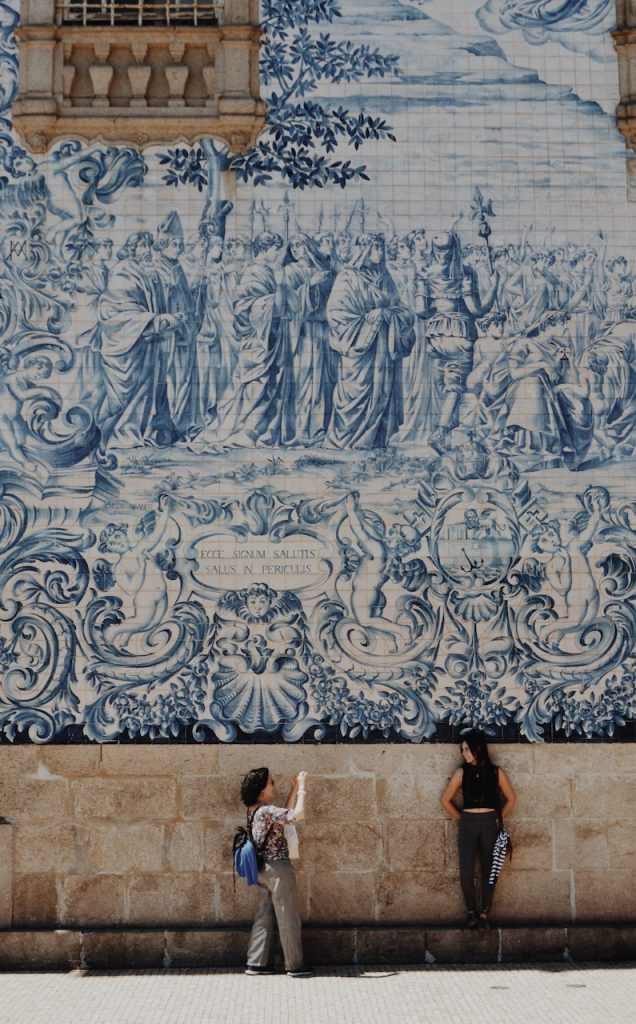 If you're ever in Porto, you definitely have to visit Porto's Cathedral from the 18th century! It's a great place to find amazing Portugal tiles. Another must-see place to see these tiles would be São Bento Railway Station, which was built in 1903. The place incorporates more than 20,000 tiles, and these tiles depict certain events from Portugal's history. Talk about a history lesson!
The Church of Saint Ildefonso is another place to add to your list. The tiles, however, were added years after it was built, in 1932 by the artist Jorge Colaço. There are more than 11,000 blue and white tiles that cover the outside of the church. And don't forget about Casa da Musica and Ribeira Negra panel, two other great places to see such tiles in Porto.
If you're in Lisbon, you'll notice these tiles color the streets and corners. The Fronteira Palace is one of the places to see Lisbon tiles. It's a palace dating from the 17th century. You can find these tiles in the main garden as well as on the walls. Another alternative is visiting the National Azulejo Museum, where you can also learn about the production process of tiles. The streets of Bairro Alto also offer poetry in motion with various colors.
In Aveiro, you can go to the old train station to see the tiles that tell you stories of workers and local activities. There are also Art Nouveau and Misericórdia Church to enjoy some examples of tiles.
If you're feeling artsy, you can visit the Cerâmica Artistica de Carcavelos factory in Carcavelos on the Estoril Coast. This place offers a store for visitors to explore and conducts works such as the restoration of tiles in churches or in other buildings. You can also visit the Parish Church of Carcavelos, where the 17th-century Spanish painter Gabriel del Barco created pieces that depict several religious concepts, such as the Passion of Christ or St. Anthony's sermon.
And last but not least, Sintra is another place to enjoy the experience of seeing beautiful Portugal tiles. Check out the National Palace of Sintra, which maintains influences from Islam and the Gothic-Renaissance. The rooms inside are decorated with blue and white tiles. You can also see the tiles covering the outside of houses in the city. And did you know that Portugal tiles are getting more and more popular in modern architecture? They are being used all around the world in stylish designs!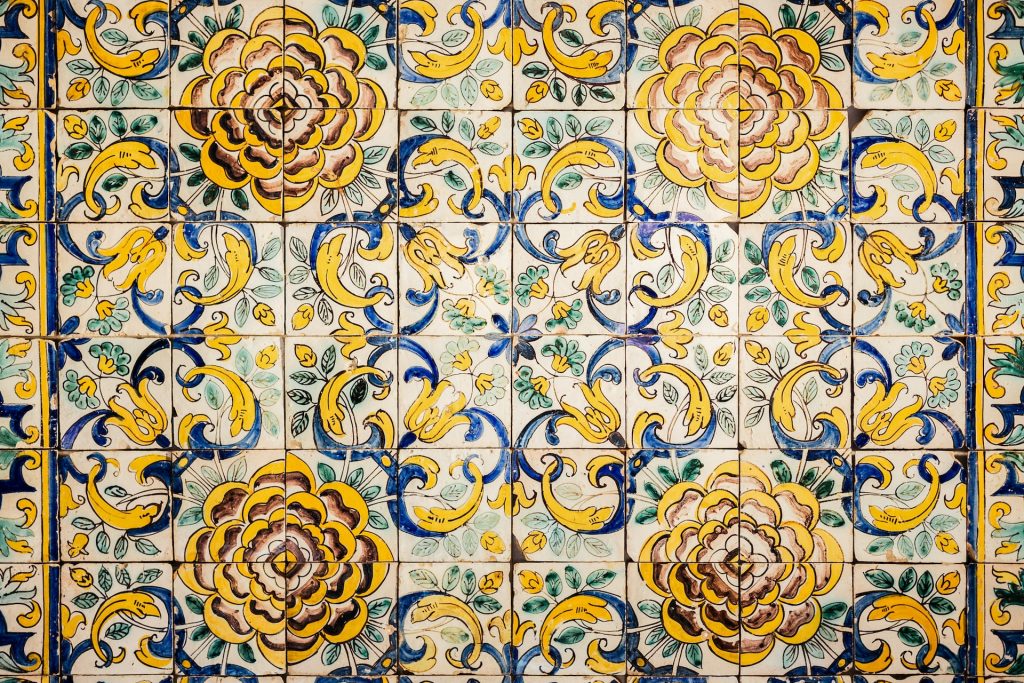 Frequently Asked Questions
How much do Portuguese tiles cost?
The cost of Portuguese tiles varies depending on where you purchase them, the artist, and their intended purpose. While some souvenir stores may sell tiles for €5 or €10, more unique or antique tiles can cost €20 or more.
If you plan to use them to decorate a large area, be prepared to spend a considerable amount of money.
Where can I buy Portugal tiles?
Many shops, online or physical sell Portuguese tiles. Some of these, depending where you're searching, include:
Online: You can find them at Manuel Marques Antunes online
In Porto: Prometeu Artesanato, Brâmica, and Zinda Atelier
In Lisbon: Santa Rufina, Cortiço & Netos, or Solar Antiques.
How are Portuguese tiles called in Portuguese?
The traditional tiles are called azulejos in Portuguese.
What are the famous Portuguese tiles?
Just like Fado music and codfish dishes, blue and white azulejo tiles are a true hallmark of Portuguese culture. These glazed ceramic tiles have been adorning the streets, buildings, and landmarks of Portuguese cities since the 14th century. You can also find them in homes, train stations, restaurants, and fountains.
Why are Portuguese tiles blue?
During the early 18th century CE, the artistic style of Portuguese tile makers was greatly influenced by the cobalt blue and white designs found in Chinese porcelain from the Ming Dynasty (1368-1644 CE) and Dutch Delftware. This resulted in the popular visual appearance of the Portuguese tiles that can still be seen throughout Portugal today.
If you're interested in the history of Portuguese tiles, you may also be interested in reading our article on the Portuguese flag. Enjoy!