Portuguese cuisine is very rich and delicious for many who try it. Mainly, it's based on Mediterranean cuisine, and it involves various spices. Portuguese dishes made with seafood are also abundant and popular. The main staples of the cuisine include olive oil, bread, and wine.
About The Portuguese Cuisine
The Age of Discovery was quite influential in traditional Portuguese food. That period involves the 15th century when for instance, Vasco de Gama explored new routes. For this reason, seafood began to be involved in kitchens.
In terms of spices, you can often find paprika, piri-piri, and cumin in traditional food in Portugal. Besides that, onion and garlic are other popular ingredients.
Let's delve into the lists of famous Portugese food in Portugal, starting with seafood.
Seafood in Portugal
Seafood and fish are used in traditional Portuguese food a lot. Bacalhau is the most popular one among them.
Bacalhau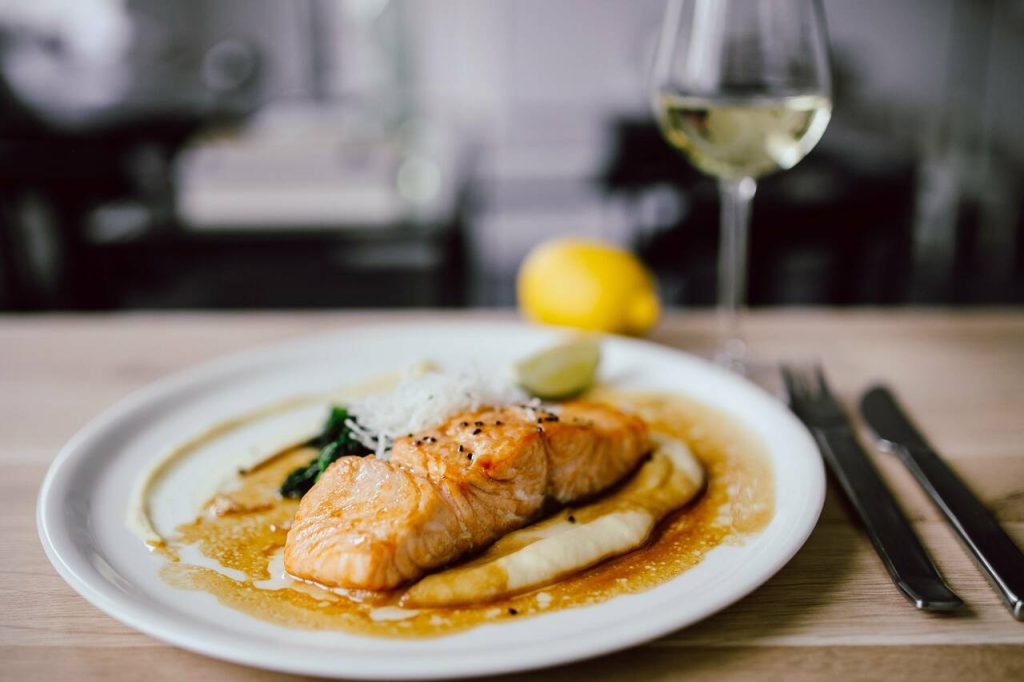 Bacalhau is a dried salted cod, and it's cooked in hundreds of different ways. Because of this, you may find different recipes when you ask cooks. Some of the most popular ones include cream and potatoes, olive oil, and cornbread separately. You can find bacalhau on many occasions in Portugal including Christmas Eve meals.
As a Portugal traditional food, bacalhau can be served grilled, with scrambled eggs, as a filet, or with fried potatoes. Bolinhos de bacalhau is a very popular one made with potatoes, for instance. You can find such food made with bacalhau anywhere in Portugal. It's the best food Portugal offers, according to many people.
Arroz de Marisco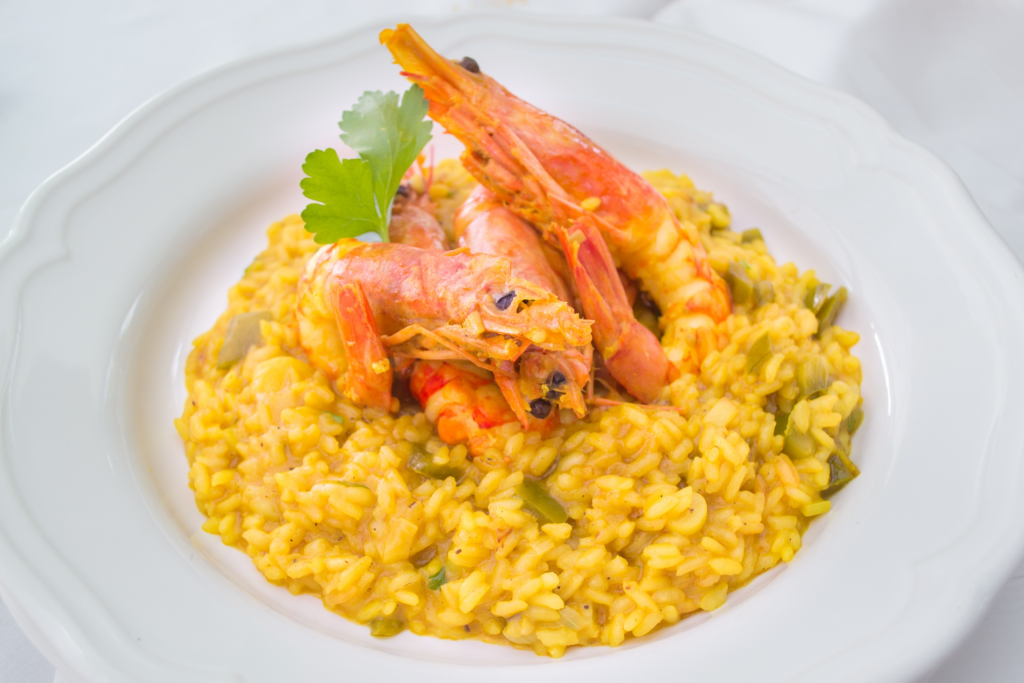 Arroz de Marisco is another food that involves seafood stew. It includes fish and rice. There are other foods similar to Arroz de Marisco including arroz de tamboril, arroz de bacalhau, and arroz de polvo. They're all favored by the Portuguese locals, and they're a bit soupy. Definitely worth a try.
Cataplana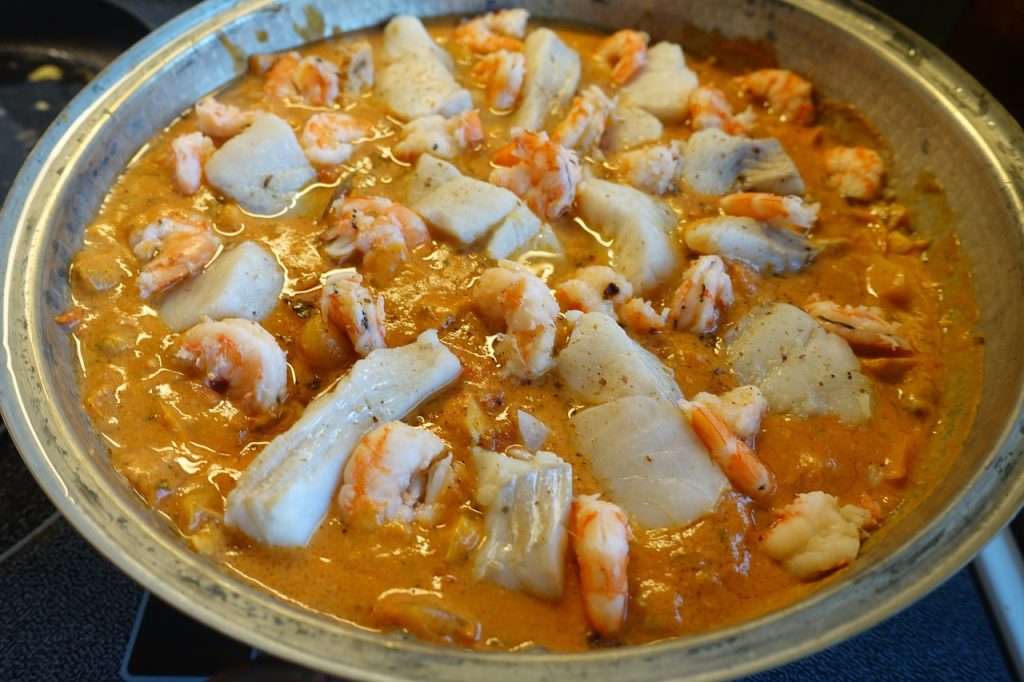 Like Arroz de Marisco, cataplana is a stew as well, but the cooking style is different from the former. Cataplana is cooked in a special cataplana dish that originated in the Algarve. Also, it's not easy to find it in other parts of Portugal. The dish allows the ingredients to be cooked in their juices.
You can find this Portuguese famous food coming in different types like fish and meat. Cataplana de peixe and cataplana de bacalhau are two of the popular ones. Usually, the dish is mixed with onions, tomatoes, peppers, herbs and spices, and white wine.
Polvo à lagareiro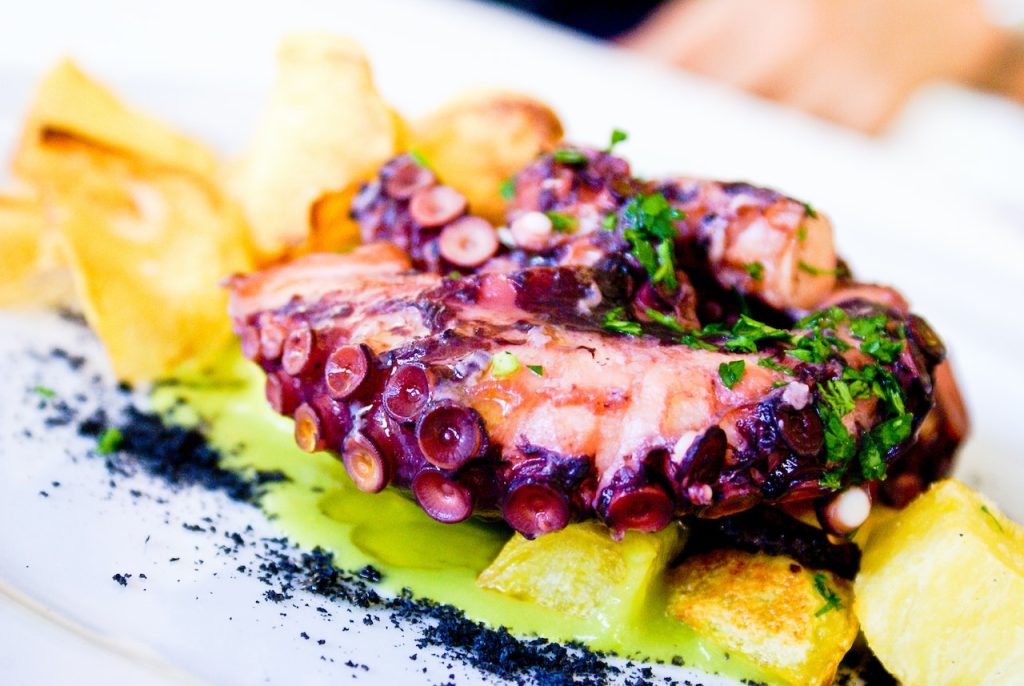 Polvo à lagareiro is another famous Portugal food made with octopus. The food simply includes octopus roasted in the oven, potatoes, and lots of olive oil. Coriander and garlic can also be added. You can find it in most seafood restaurants because it's easy to cook.
Meat Foods in Portugal
There's nothing like Portugal's national dish because there's not one food that's most famous in Portugal. In addition to seafood, there are also popular foods made with meat in Portugal. Let's start with Alheira.
Alheira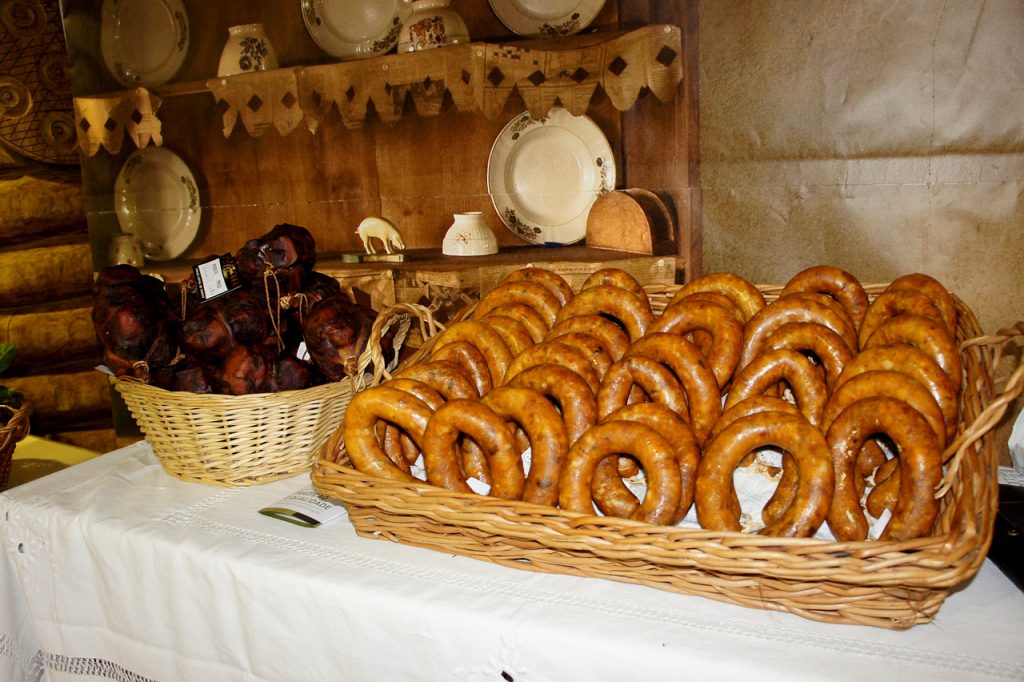 Alheira is another traditional food that is roasted or grilled. It's a Portuguese sausage that is made with different Portuguese meat such as chicken, pork, duck, and bread. Traditionally, it's served with boiled vegetables. Today, it's served with a fried egg and french fries.
Porco Preto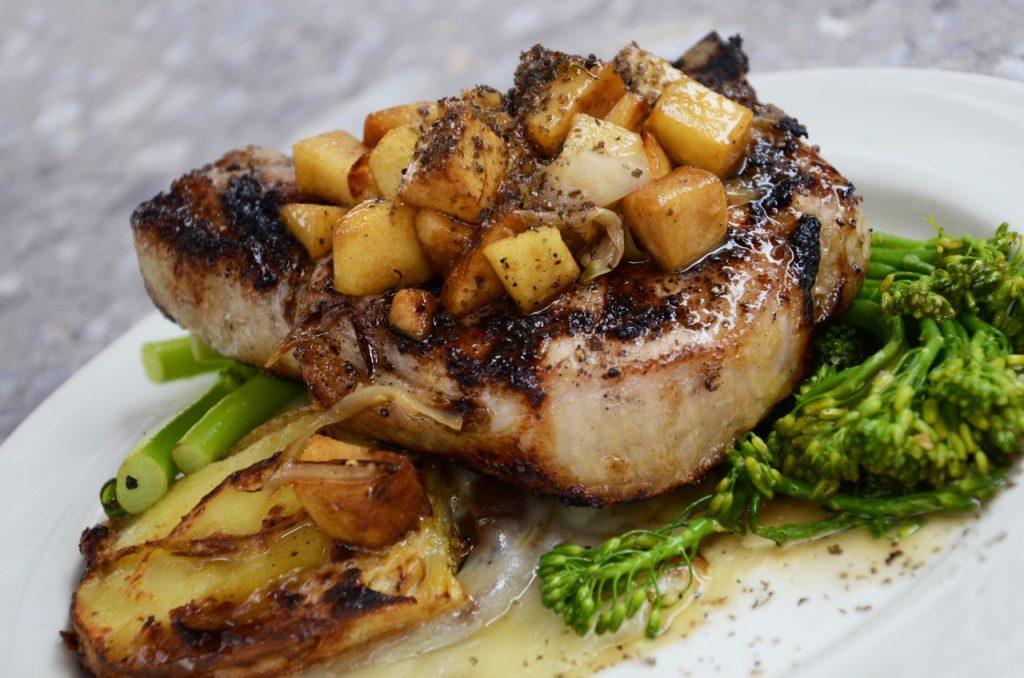 Porco preto is made from the breed of an Iberian black pig. It's expensive but delicious Portugese meat. They are mainly fed with acorns. This famous food in Portugal is popular in Spain as well. You can also find porco preto in dishes like cachacos and plumas de porco preto as well. They usually appear on restaurant menus in Portugal.
Cozido à Portuguesa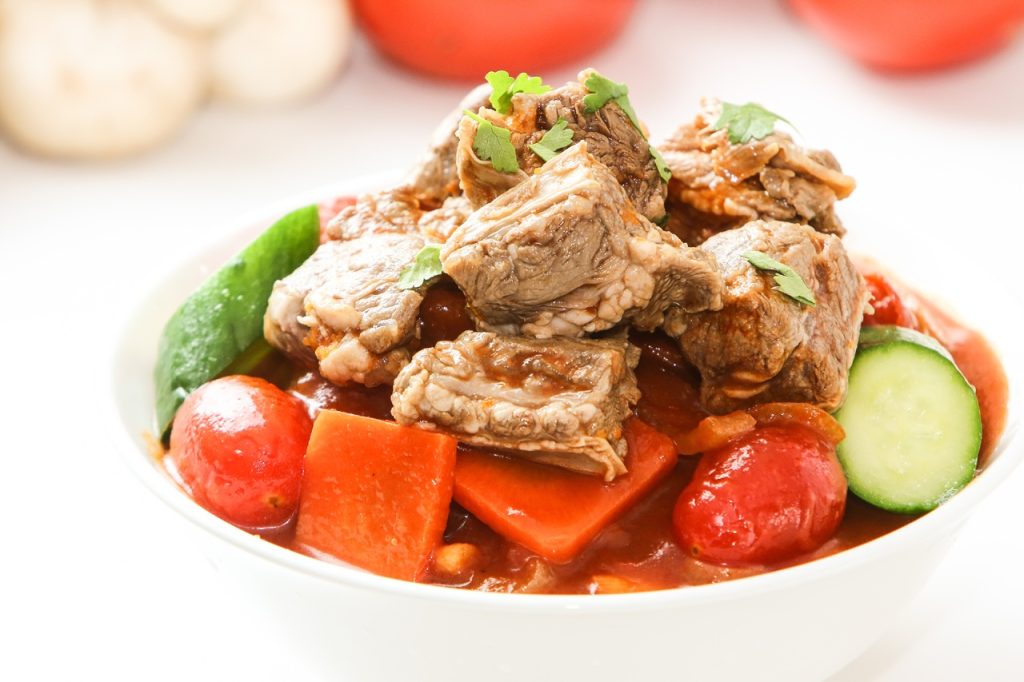 Some people think that Cozido à Portuguesa is the best Portuguese food. It's a fatty and meaty dish. It's made with lots of meat including chicken, beef, and pork. Vegetables and smoked sausages are also included as well. Some people include white pepper and red pepper paste in this Portuguese popular food.
Tripas à moda do Porto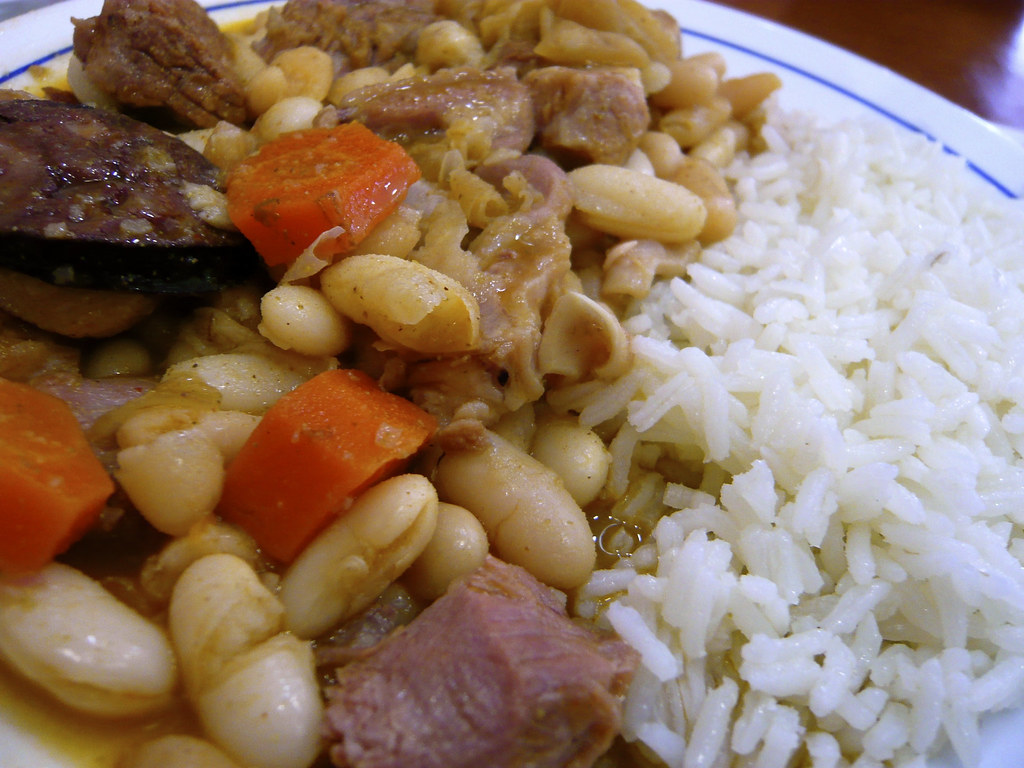 Tripas is a tripe stew that originated in Porto. You can find many types of meat, sausages, chicken, and ham in this Portuguese traditional food. While stewing the roots, they also include beans, onions, and carrots.
Piri Piri Chicken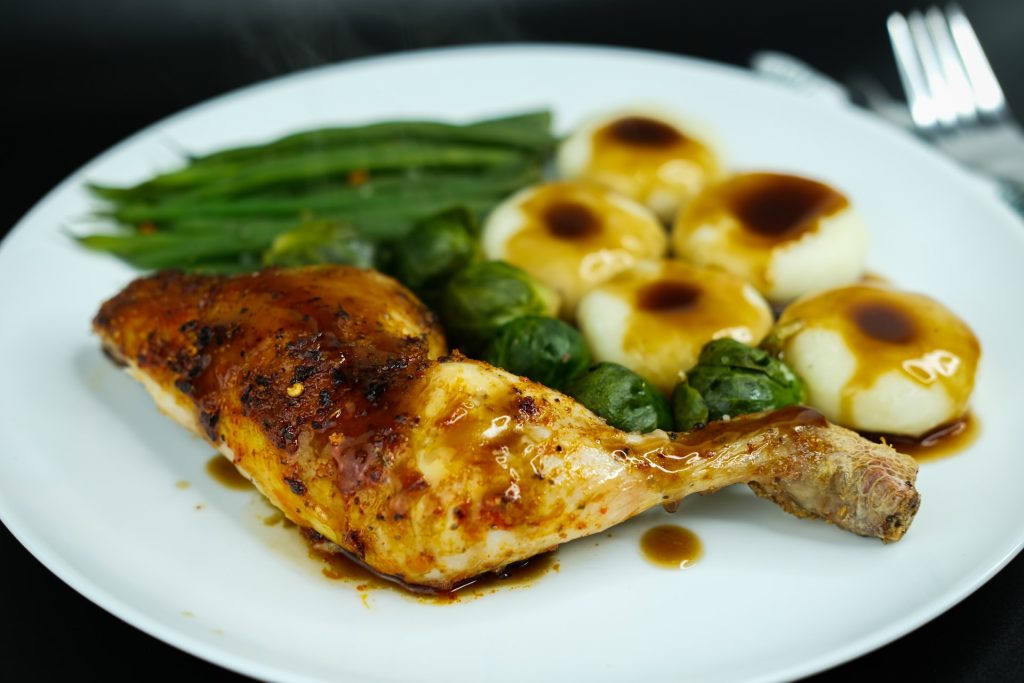 This food is also known as "Frango piri piri" or "frango no churrasco com piri piri". It's a trendy food in Portugal, so, you can easily find it in many restaurants. You can taste the best of piri piri chicken, especially in the Algarve.
The chicken in this dish is marinated in ingredients like olive oil, garlic, paprika, piri piri, and white wine. The history of piri piri dates back to the Age of Discoveries. Portuguese explorers brought piri piri from Africa. In time, it has become a part of Portuguese food recipes. Also, the name piri piri comes from an African word that means pepper.
Soups
As you see until now, there's no one answer to the question "what is Portuguese food?". Dishes made with seafood and different meats are part of traditional Portuguese best food. There are also traditional soups that are special to Portugal. Let's find them below.
Caldo Verde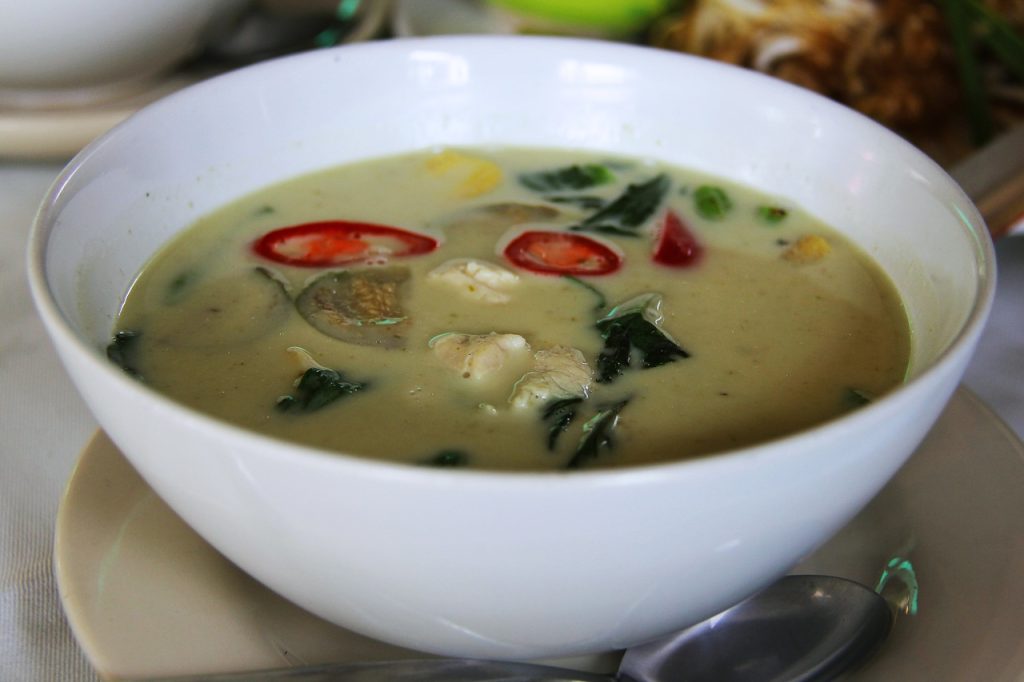 Caldo Verde is a traditional soup that originated in the north of Portugal, in Minho province. It's now served throughout the country. The ingredients of this Portugal food include garlic, potatoes, onions, garlic, shredded kale, and chouriço. It's usually served at special events such as weddings and birthdays.
Açorda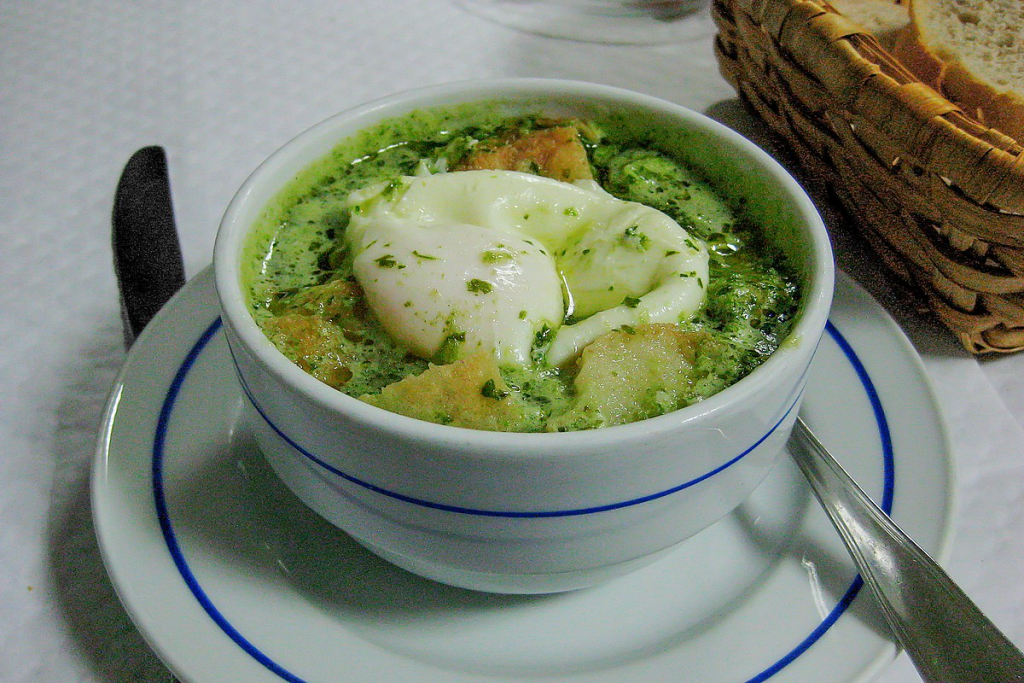 Açorda is another best Portuguese food in the soup category. The ingredients of this Portuguese food include bread soaked in coriander, garlic, broth, olive oil, and a poached egg. Shrimp and bacalhau can also be added. You may find two types of Açorda in which the bread type differs. These two types of bread are Lisbon açorda and Alentejo açorda.
Desserts
Dessert is an important part of the cuisine of Portugal. There are several desserts that are famous in Portugal. Pastel de nata and Arroz doce are the two most popular ones that you can see below.
Pastel de Nata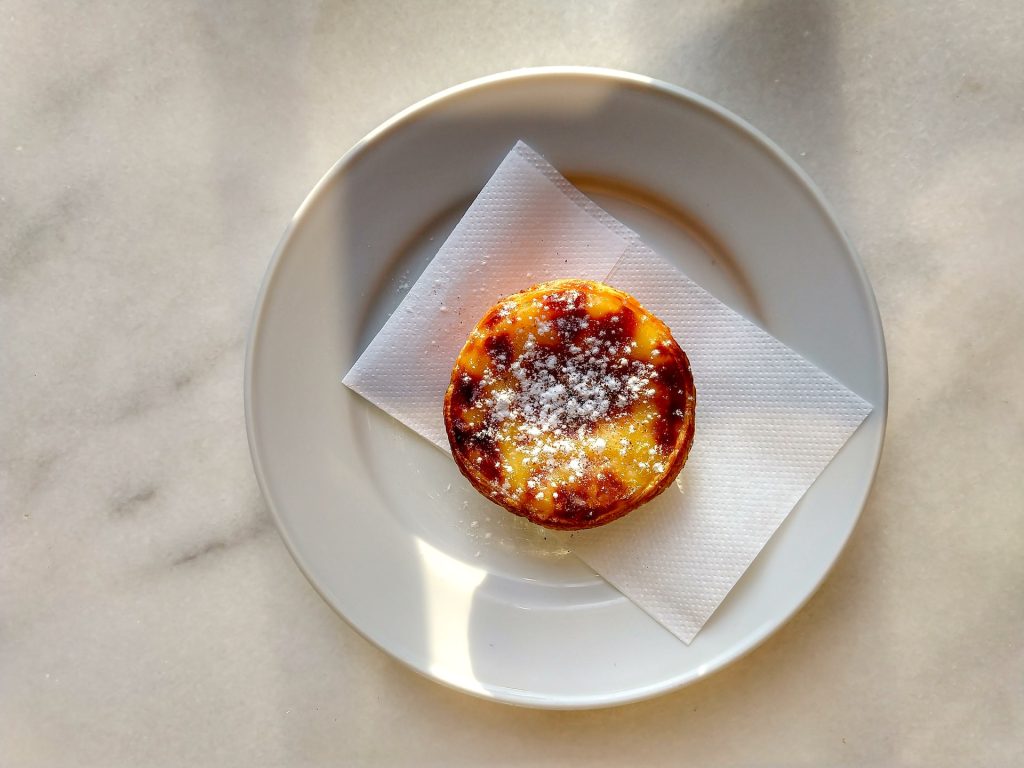 Pastel de Nata is a very famous food in Portugal. It's known as Portuguese egg tart, and its history dates back to the 17th century. Interestingly, the monks at the Jeronimos Monastery invented this dessert.
You can taste pastel de nata everywhere in Portugal. Still, Pasteis de Belem in Lisbon is the most popular one that serves it, along with other Lisbon foods.
Arroz Doce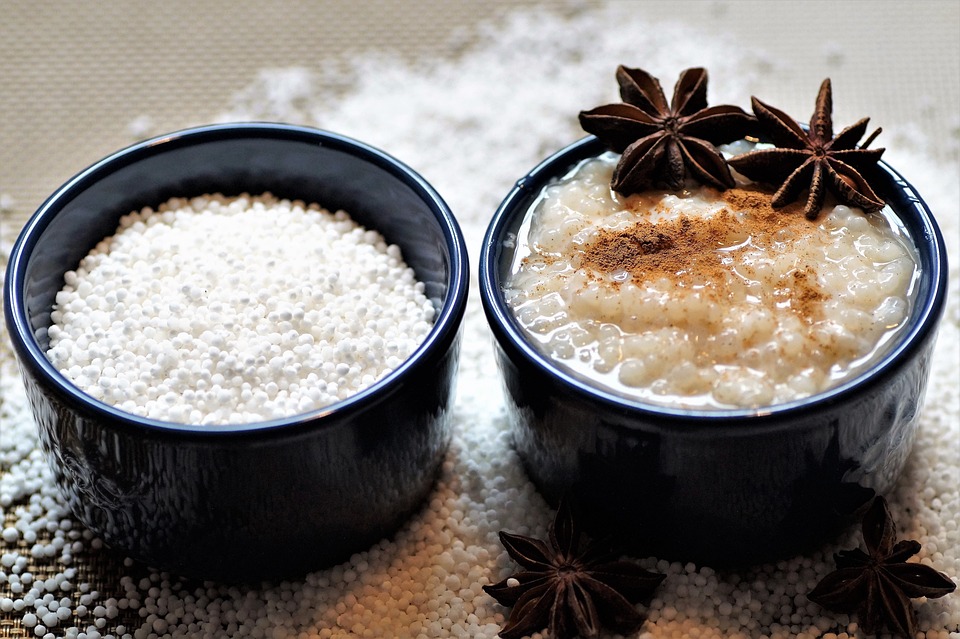 Arroz Doce is another Portuguese food traditional in the country. The dessert is made with milk, rice, sugar, salt, eggs, and cinnamon. Although it's a popular dessert throughout the world, it originated in Portugal.
FAQ About Portugal Famous Food
Is there a traditional and popular food in Lisbon?
Most of the foods described above can be found as food in Lisbon Portugal. In addition to the list above, sardine is a food of Lisbon as well. In addition, Bifana is another food Lisbon offers with pride.
Is it easy to find all Portuguese food recipes?
You may not find all the Portuguese recipes you want, because some restaurants don't share their recipes.
What is the best food in Portugal?
Portuguese cuisine offers various popular Portuguese food, so it's difficult to choose the best one. Still, the most popular ones are bacalhau and pastel de nata.
What can I eat for dinner in Portugal?
You can eat Petiscos, meat, or fish accompanied by wine as part of the Lisbon Portuguese cuisine. You can also eat Porto food like Tripas à Moda do Porto at dinner.
Are Portugal foods tasty?
Many people find Portugal cuisine delicious and tasty enough. It mostly offers a Mediterranean-based diet, and it attracts many people.
What are some popular Portuguese dishes?
Popular Portuguese dishes include Bacalhau (salted codfish), Cozido à Portuguesa (Portuguese stew), Caldo verde (kale and potato soup) Feijoada Portuguesa (beans and pork stew) Francesinha (grilled sandwich with meat, cheese, and spices), Carne de porco à alentejana (pork with clams), and pastéis de nata (custard tarts). These dishes are often served with a variety of sides including potatoes, rice, salads, and bread.
What types of ingredients are used in Portuguese cuisine?
Many traditional Portuguese dishes are made with fresh, locally sourced ingredients such as fish, seafood, vegetables, herbs, and spices. Olive oil is widely used in Portuguese cooking and garlic is often found in stews and sauces. Dried fruits such as figs, prunes, and raisins are also common ingredients. Wine is an important part of Portuguese culture, and port wine is served with many Portuguese dishes.
What are some popular Portuguese desserts?
Popular Portuguese desserts include pastéis de nata (custard tarts), bolo de arroz (rice pudding), Arroz doce (rice pudding), regional cakes such as bolo de laranja (orange cake), and Portuguese custards such as creme caramel or leite creme. Other Portuguese specialties include the famous port wine, Portuguese sugar cookies, and Portuguese pastries made with walnuts, almonds, and honey.
Are there any popular Portuguese drinks?
Yes, Portuguese drinks are as varied and delicious as Portuguese food. Popular Portuguese drinks include port wine, Madeira wine, beer, and Porto sangria. Coffee is a popular beverage in Portugal that is often served with pastries or desserts such as the famous pasteis de nata (custard tarts). Other Portuguese specialties include ginjinha (a sweet cherry liqueur) and vinho verde (a light, slightly sparkling white wine).
What is the overall flavor profile of Portuguese cuisine?
Portuguese cuisine is generally savory and comforting. The flavors of Portuguese dishes are rich and varied, combining salty with sweet and spicy with sour. Traditional Portuguese dishes often rely on the simplicity of fresh ingredients and herbs for flavor, such as garlic, bay leaves, parsley, paprika, chili pepper, and olive oil. Portuguese cuisine also features a variety of sauces made from wine or tomatoes that can be used to enhance flavors. The Portuguese palate also has a taste for sweet and sour combinations, such as the combination of port wine and oranges in Porto sangria or the pairing of pork with clams in carne de porco à alentejana.
What is the difference between Portuguese food and other European cuisines?
Portuguese cuisine is unique in that it combines both Mediterranean and Atlantic influences. This combination results in a richer and more complex flavor profile than many other European cuisines. Portuguese cuisine also features a variety of seafood, which is not typically seen in other European countries. It also relies heavily on olive oil as an ingredient, which is different from the butter and cream-based sauces of other European cuisines. Additionally, Portuguese dishes often feature a balance of sweet and sour flavors, which is not typically seen in other European countries.
What are some unique Portuguese ingredients?
Unique Portuguese ingredients include piri-piri (a spicy chili pepper), chouriço (a Portuguese sausage), carne de porco à alentejana (pork with clams), bacalhau (salted codfish), and azeite virgem extra (extra virgin olive oil). Portuguese cuisine also features a variety of herbs and spices such as garlic, bay leaves, parsley, paprika, and chili pepper. Dried fruits such as figs, prunes, and raisins are also common Portuguese ingredients.
Where can I find Portuguese restaurants in the US?
If you're looking for Portuguese restaurants in the US, there are many scattered throughout various states. You can find Portuguese restaurants near you by using a search engine such as Google or Yelp, or by visiting portuguesefoods.com which lists Portuguese restaurants in the US. Additionally, many Portuguese restaurants are part of larger Portuguese-American communities, so you can search online for Portuguese-American organizations near you to find Portuguese restaurants located nearby.
What is a typical Portuguese breakfast?
Portuguese breakfast is traditionally composed of a mix of savory and sweet elements. It usually starts with some freshly-baked bread, accompanied by cured meats and cheeses like Abjureis, chouriço, and Portuguese francesinha. The meal is often complemented with a cup of coffee or tea, honey-boiled eggs, and sweet treats like pastries filled with grated coconut or almond paste. Typical portuguese delicatessen – bolo lêvedo, queijinhos da vila, portuguese style doughnuts – tend to be included in the portuguese breakfast on special occasions! A more modern twist on portuguese breakfasts these days includes yogurt or cheese with granola plus fresh fruit such as oranges and bananas. All together make for a delicious portuguese style start to the day!
What is a typical Portuguese lunch or dinner?
Portuguese breakfasts can vary, but typically they include a cup of coffee with a pastry, such as a custard tart or croissant. Lunches and dinners, however, generally follow the same structure: an appetizer or snack followed by a main course made up of either meat or fish and accompanied by rice, potatoes, or other starchy foods. Salads are usually served as an accompaniment to the main dish. After the main course is finished, portuguese meals may end with a light dessert like fruit salad or pastel de nata (portuguese custard tarts). Many portuguese dishes are cooked in olive oil and include ingredients like garlic and smoked meats, providing unique flavors not seen in many other countries traditional cuisines.
So, you've reached the end of the list of best foods in Portugal. Try these delicious foods on your next vacation!