Four Seasons Ritz Lisbon is a five-star hotel located in Lisbon city center. Located near Parque Eduardo VII in the Marques de Pombal, the hotel is close to the coastline. Ritz Lisbon was built in 1959.
The hotel is suitable for families with children, and it offers amenities such as a spa and gym service.
More information about the rooms, restaurant and other services are listed below.
Main Services in 4 Seasons Lisbon
Rooms
Hotel Four Seasons Lisbon provides you with several options when it comes to your room style. In total, it has 282 rooms and four suites.
You can choose rooms with balconies offering a city view. Or, you can choose a specialty suite or a standard guest room.
Rooms are spacious enough and they're as luxurious as they can be. You'll find free L'Occitane toiletries in private bathrooms as well.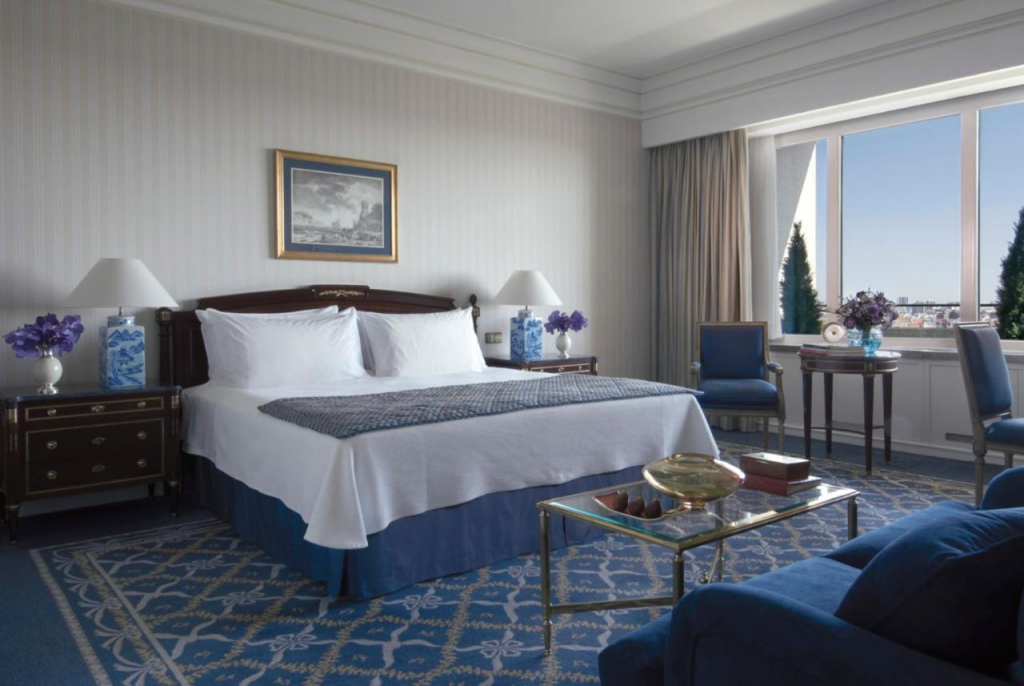 Pool, Spa, and Fitness Services
Four Seasons Ritz Lisbon includes a swimming pool as well as a spa center with a sauna. The fitness center takes place on the 11th floor. A running track also exists outside with a view of the city. You'll find a Pilates studio in the spa center, too.
The swimming pool takes place inside the hotel, overlooking the hotel's gardens and Eduardo VII Park. It's open from April to September.
The spa center includes four treatment rooms. You can get several services such as body treatments, facials, or body scrubs. Aromatherapy and Ayurvedic are also provided in this center as well. The Ritz Lisbon offers a Spa Cafe functioning as a poolside bar.
Food, Bar, and Restaurant
In Hotel Ritz Lisbon, you can enjoy a breakfast buffet every day at the Varanda Restaurant. The restaurant offers great views of the garden and park as well. You need to book a reservation before you go. The restaurant offers a children's menu as well as Portuguese cuisine. It provides lunch and dinner.
Sushi is also served on certain days at the hotel. In addition, you can always choose to have dinner in your room.
There's an onsite bar called Almada Negreiros Lounge. In Ritz Bar, you can taste cocktails on its terrace. Or, you can enjoy light fare, tapas, or the usual lunch and dinner.
It's also an option to eat outside of the Four Seasons Lisbon. Many places are available in the neighborhood.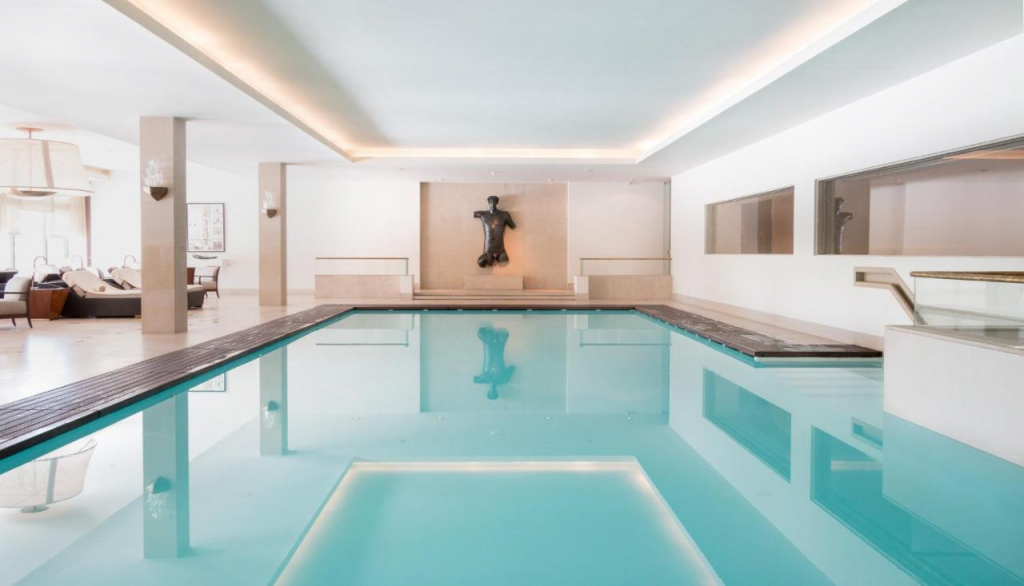 Other Amenities
A cooking class is available
For families with kids/infants, free cribs or infant beds are available. Childcare, babysitting, and in-room childcare are also available for a fee
4 Seasons Lisbon accepts pets as well. You need to pay an extra charge for each pet. Per night, the fee is €100 for each pet
Valet parking is €50 each day
Great concierge services and concerned staff
Shuttle service to Lisbon International Airport. The airport is seven kilometers away from the Hotel Four Seasons Lisbon
A welcome package with some activities and toys for children
Weekend brunch with several snacks is available in Varanda Restaurant for children at the weekend
The city guide for children to explore the city and a workshop for painting.
Hygiene Measures and COVID-19
Four Seasons Hotel Ritz Lisbon follows the cleaning practices of Clean & Safe (Portugal) and Lead with Care (Four Seasons).
The rooms are cleaned with disinfectant, and the staff wears their equipment accordingly. In addition, the hotel implements social distancing measures.
It's possible to check in contactless. Masks, gloves, and hand sanitizers are provided for guests. Also, the hotel provides 48 hours of gap period between different guests for the same room. Guests can also access protective clothing.
You can also ask for food wrapped individually at Hotel Ritz Lisbon.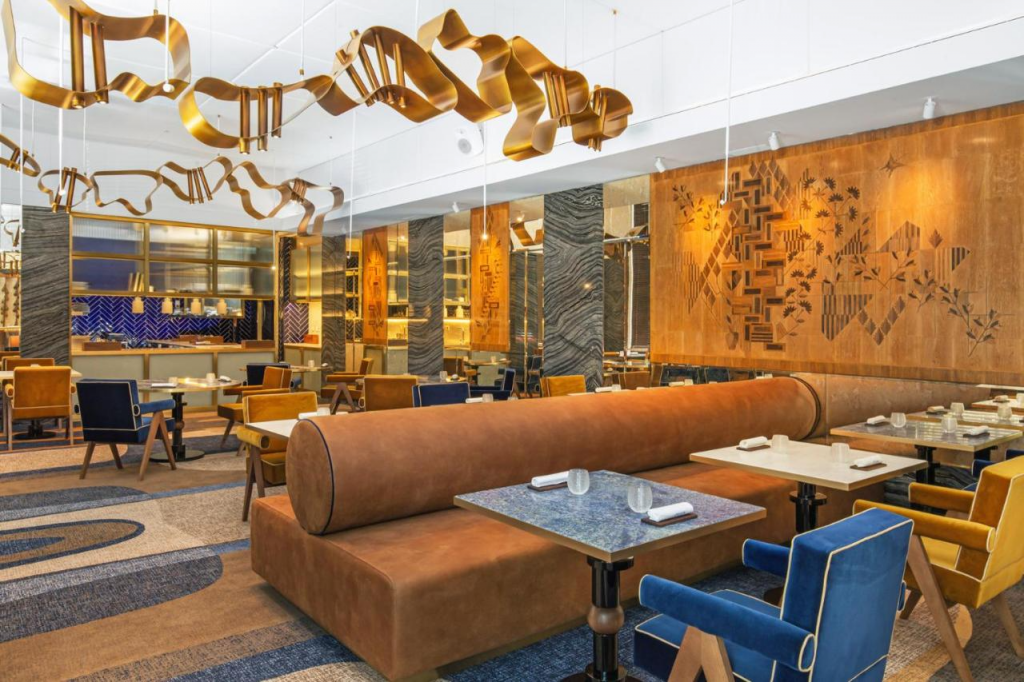 Nearby Places in the Neighborhood
There are lots of places nearby the Ritz Lisbon. If you want to check more details about them, you can check our Lisbon tour guide.
| | |
| --- | --- |
| Gulbenkian Museum | 21 min walk |
| Marques de Pombal | 0.5 km |
| Eduardo VII Park | 0.5 km |
| Commerce Square | 33 min walk |
| Amoreiras | 0.6 km |
| El Corte Ingles | 0.9 km |
| Lisbon Botanical Garden | 1 km |
| Colombo Shopping Centre | 6.1 km |
| Lisbon Cathedral | 36 min walk |
| Castle of São Jorge | 42 min walk |
Address: Rua Rodrigo da Fonseca, 88, Avenidas Novas, 1900-123 Lisbon, Portugal
If you plan to travel with your family, you should definitely check on the list of best family hotels in Lisbon before your decision.