Lisbon is a city that is known for its lively nightlife as well as bars. There are a variety of bars that you can choose to go to. Some of the best Lisbon bars are specialized in certain drinks such as cocktails and wines. In addition, rooftop bars in Lisbon offer magnificent views of the city. Although the Bairro Alto District comes to mind when someone mentions nightlife in Lisbon, it's not the only place to go to.
Here in this guide, you can find several of the best bars in Lisbon. Let's start.
Foxtrot Bar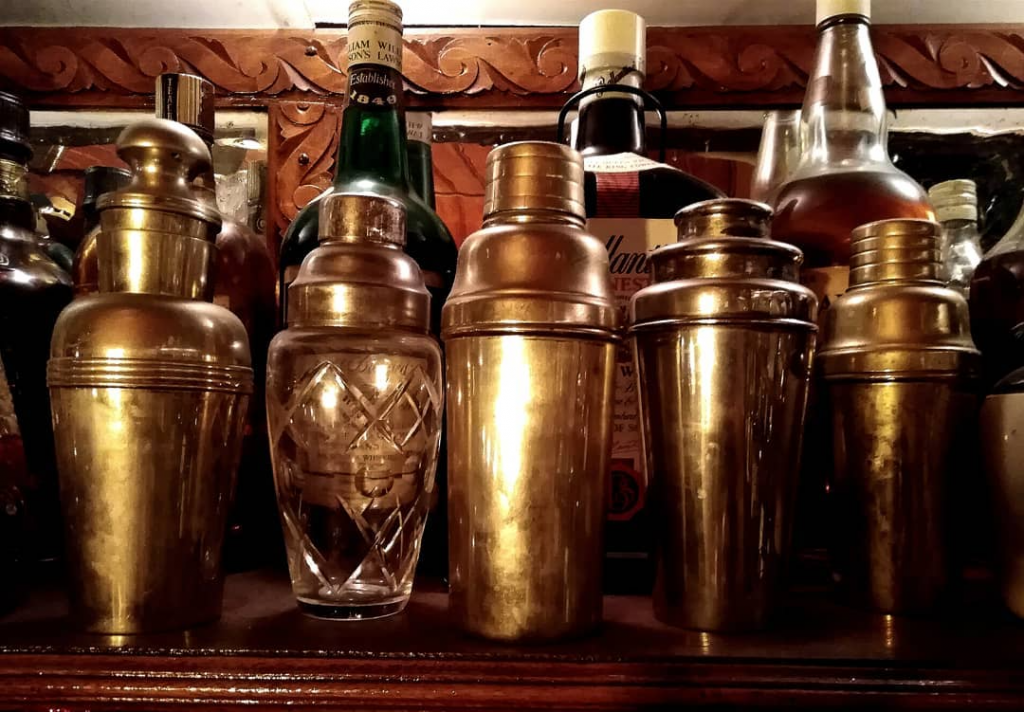 Foxtrot manages to attract its visitors from the moment they take a step into the bar. The wooden decorations make the aura of this bar quite special and cozy. There's also a snooker table, and a terrace in the bar as well. What's interesting about this bar is that you need to ring the bell to come inside the bar.
This is a bar that's been in service since 1978, and it's open until three a.m. every day. It serves a variety of alcohol including wine, rum, liqueur, whiskey, and many others. Cocktail options offer tastes belonging to the national delights as well. Drinks like the Smoked Negroni and Sorry, It's Not Tea are tastes that are worth trying here.
As one of the best cocktail bars Lisbon, Foxtrot provides happy hour on weekdays from six to nine p.m. The happy hour offers half-priced beer and a special cocktail.
Address: Foxtrot, Tv. Santa Teresa 28, 1200-405 Lisbon
Cinco Lounge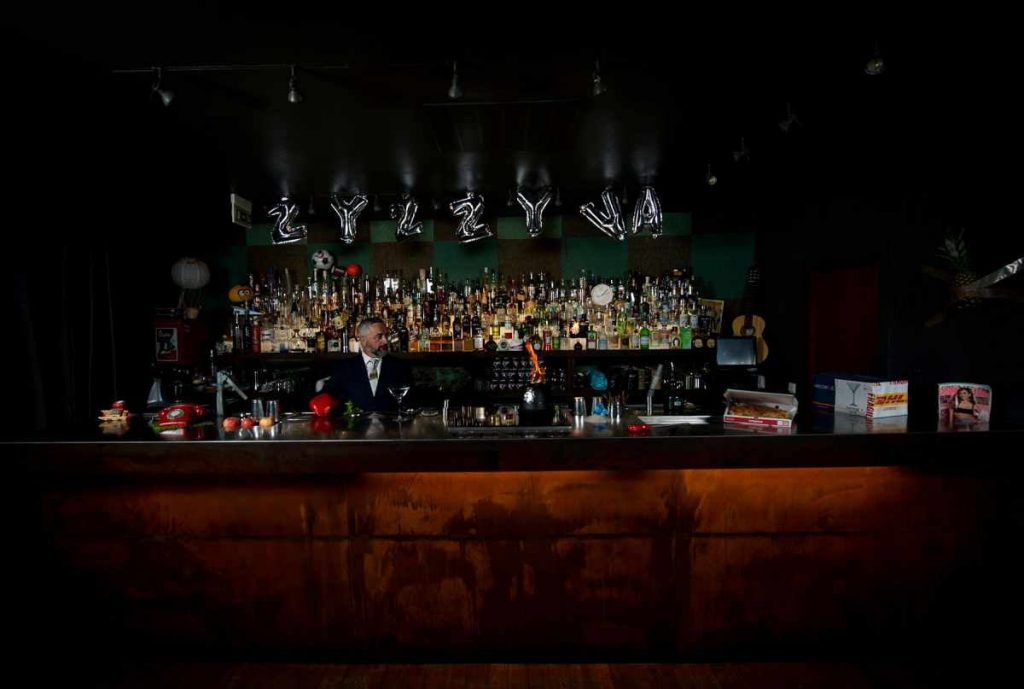 Located in Principe Real, Cinco is one of the best cocktail bars in Lisbon that's been open for 15 years. The low-lit and comfortable ambiance of the bar attracts people quite a lot. Also, you can easily chat with your friends here thanks to the quiet atmosphere. The banquettes with pillows are one of the things that make the bar comfortable.
This elegant restaurant offers original drinks and cocktails that are more than a hundred in number. The floor-to-ceiling windows make the atmosphere more attractive.
Address: Rua Ruben A. Leitão 17-A Príncipe Real 1200-329 Lisbon
Pavilhão Chinês

As one of the oldest Lisbon cocktail bars, Pavilhão Chinês is another elegant place to go drinking in Lisbon. The name means "Chinese Pavilion" in English, and the bar is situated in an old Chinese grocery store. It's been in service as a bar since 1986, and it attracts both tourists and locals.
In this bar, you feel like you're in a museum with all the antiques, plates on the walls, statues, hats, and many others. It has five rooms in total, and one of them is a pool room. The decor, posters, model planes, and several others some of which date back to the 1700s make the bar special. The drinks are also high quality and delicious here, especially the daiquiris are worth a shot.
Address: Pavilhão Chinês, R. Dom Pedro V 89, 1250-093 Lisbon
By the Wine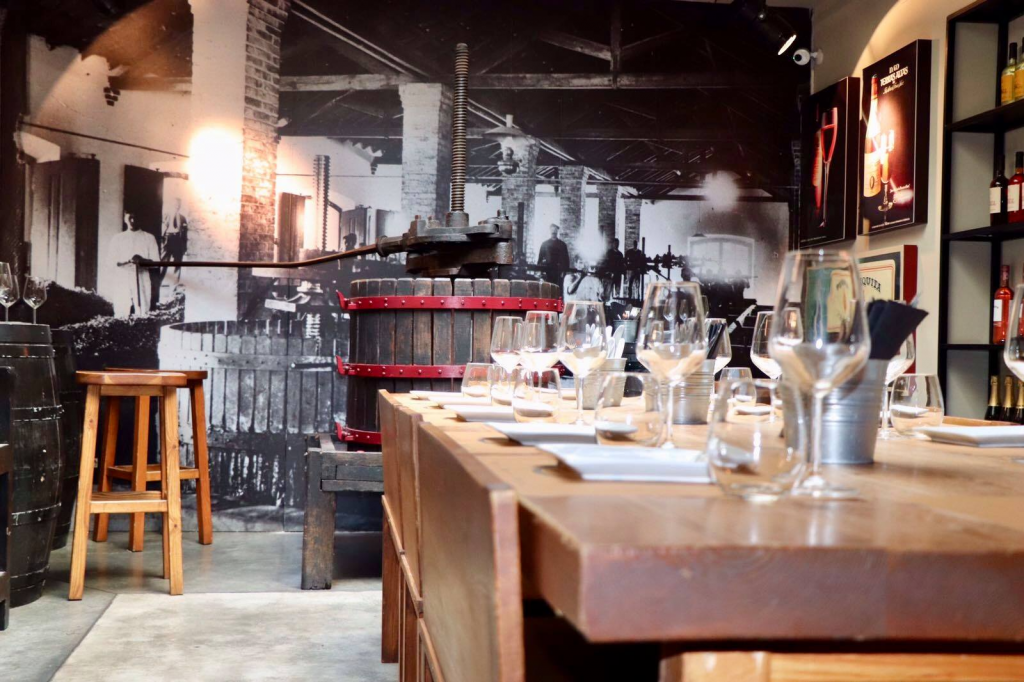 By the Wine is one of the best wine bars Lisbon, appealing to wine lovers. This is the first flagship bar of José Maria da Fonseca wine company which is a very old wine producer in Portugal.
The most appealing part of this bar is the ceiling: it's made up of glasses of green wine bottles. You can find several local wines as well including Domini from the Douro, or Puro Talha from the Alentejo. Moscatel de Setúbal is also worth trying: it's made with Muscat grapes.
Here in this bar, there are also wine courses and tastings being held for the public. Located in the Chiado neighborhood, the bar is open until midnight every day.
Address: Rua das Flores 41 43, 1200-193 Lisbon
Red Frog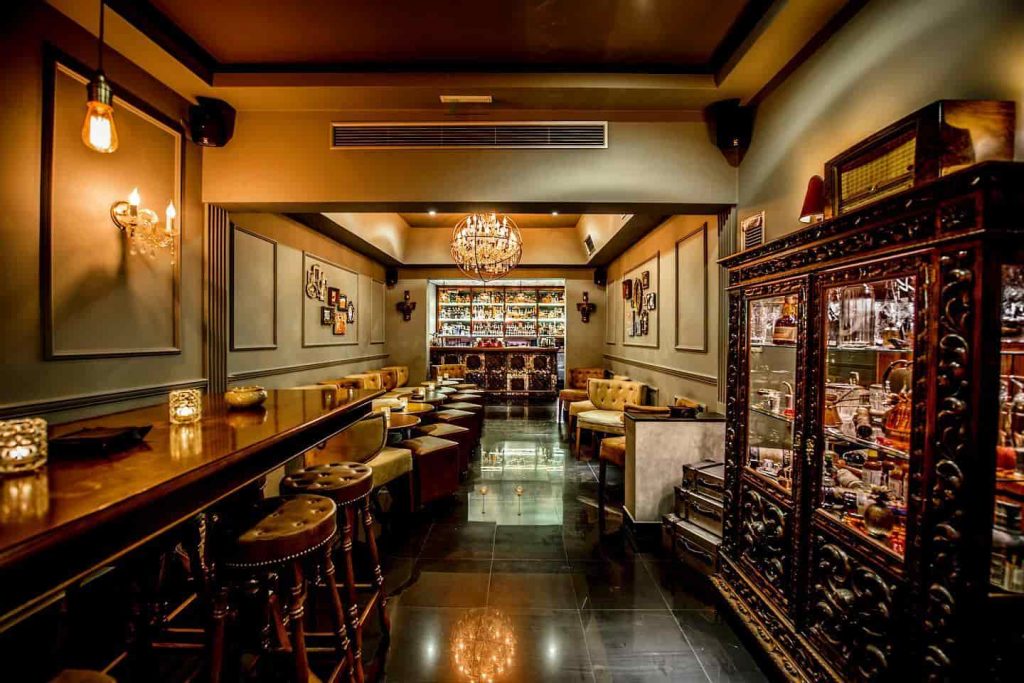 Red Frog is another one of the exquisite cool bars in Lisbon, which is located in Avenida Liberdade. This one, like Foxtrot, also welcomes you inside after you ring the bell which is under a red frog. Also, the bar has no outside signboard, and this is why it's a bit like a secret bar.
The best bar area in Lisbon offers quite special and delicious concoctions that you can find in Lisbon. You'll find a small red frog made from ceramic when your order comes to your table. Some of the concoctions that you can try include Mediterrânico, Banana Bonanza, Los Misterios, and The American Gangster.
Address: Praça da Alegria 66b, 1250-004, Lisbon
Chapitô à Mesa

First things first, know that you're contributing to youth when you come to Chapitô à Mesa. Chapitô is a non-profit organization promoting and training young individuals via the performing arts.
The bar can be noted as one of the best bars in Lisbon 2022 via its contribution to youth and the quality experience it provides for the customers. You can eat meals from a Portuguese menu while you drink as well. Note that you need to climb over a bit of stair to reach the bar. However, it's totally worth it because it offers great views of the city. You may want to go there early to find a good table that has the best view of the city.
Address: Chapitô à Mesa – Panorâmico, Costa do Castelo 1, 1149-079, Lisbon
Sky Bar at Tivoli Lisboa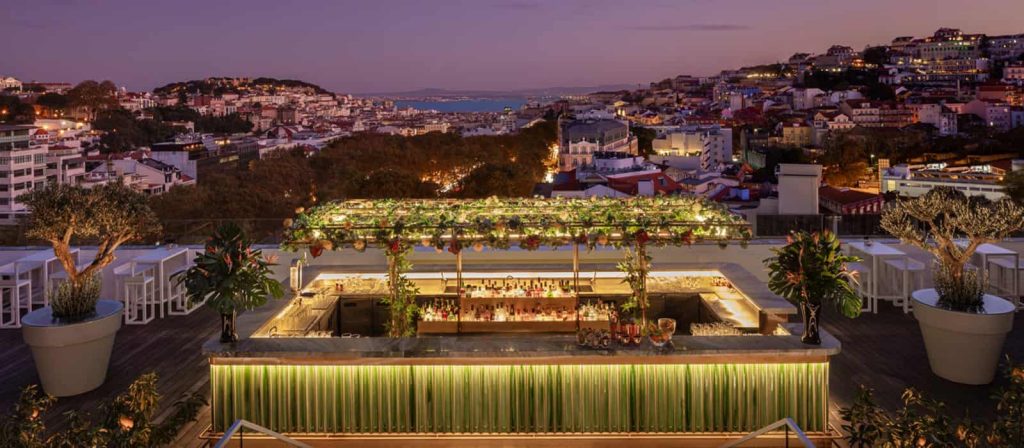 When someone asks about the best rooftop bars Lisbon, Sky Bar definitely comes to mind. The bar takes place in the five-star Hotel Tivoli in Avenida da Liberdade. The hotel Tivoli Avenida Liberdade Lisboa has been in service since 1933, and its Sky Bar is definitely one of its important elements. The bar is situated on the ninth floor of the hotel, and it's open year-round after the renovation in 2017. 
In addition to the great view it provides, this rooftop bar Lisbon offers live music, DJs, and themed parties as well. So, you may not want to miss this fun if you're in Lisbon during this specific period.
Address: Sky Bar at Tivoli Lisboa, 185 Avenida da Liberdade, Lisbon